9 New H7N9 Bird Flu Cases Reported In China A Week Before New Year's; Zhejiang Province Closes Live Poultry Markets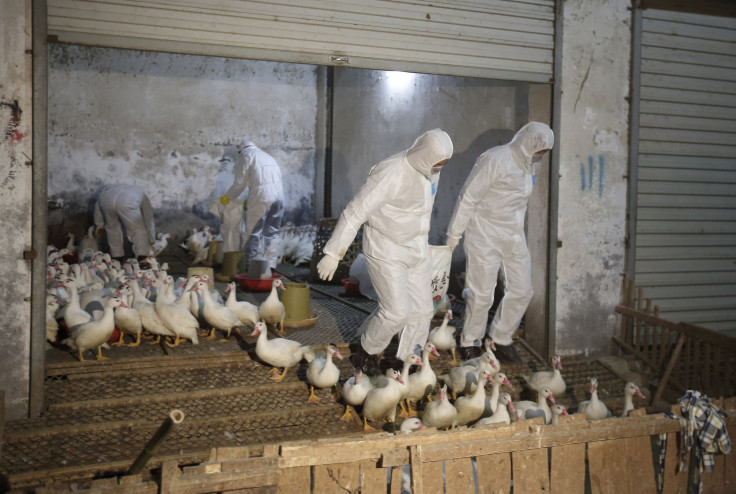 Today Xinhua reported nine new cases of H7N9 bird flu in China, including one case, the first for the year, in Beijing. Among the other new cases, one occurred in Guangdong Province, and seven in Zhejiang Province, where government officials forced the cities' live poultry markets to close.
Provincial health authorities in Zhejiang told Xinhua all those who have been newly infected, people ranging in age from 23 to 82, are in critical condition. These seven bird flu infections have brought the total number of new cases in the province so far this year to 44, the most among all regions in China. For 15 consecutive days since Jan. 9, Zhejiang has seen new human H7N9 cases, reported the provincial health and family planning commission, and as a result, the government has also suspended events such as circuses involving live animals in addition to halting all live poultry trading.
The Beijing man, who is believed to have contracted the bird flu virus on Thursday night from pigeons he purchased and ate, is receiving treatment at Ditan Hospital. The Chinese capital's disease control and prevention center confirmed the infection. In Guangdong Province, the health and family planning committee reported the 34-year-old Shenzhen city woman who contracted the virus remains in a critical condition.
Yesterday Feng Zijian, deputy director of the Chinese Center for Disease Control and Prevention, warned of a more serious flu control situation in China this winter, due to both low vaccination rates and multiple active virus strains. Health departments throughout the country have detected three major strains of the flu virus: H1, H3, and Influenza B. Feng said the flu virus is much more active, particularly in south China, compared with previous years. In past years, he explained, usually only one strain prevailed, but this winter all three strains are active. Until recently, influenza A (H7N9), the official name for this strain of bird flu virus, normally circulated among birds and had not been seen in people.
China's vaccination rate remains at two to three percent of the population each year, lagging far behind 27 percent in the U.S., according to Feng, who noted a lack of awareness about the dangers of the flu and concerns about the safety of domestic vaccines. During the winter of 2011-2012, Feng reported, 142 out of every 100,000 Chinese people were hospitalized and 12 out of every 100,000 deaths in north China were caused by the flu.
With regard to these most recent cases, the World Health Organization stated there is no evidence of human-to-human transmission and, with regard to this event, it does not recommend any travel or trade restrictions nor special screening at points of entry.
Published by Medicaldaily.com