Intensive Yoga Programs Can Help Men With Prostate Cancer Cope With Side Effects Of Radiation Therapy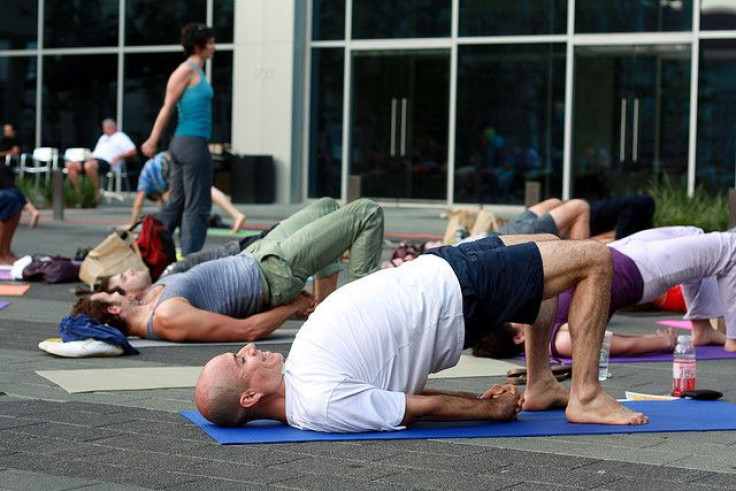 The ancient art of yoga has proven beneficial in different aspects: It helps build stronger, more flexible muscles; it provides cardiovascular fitness through controlled breathing; it's helped jailed fathers become better dads; and it can fight off depression and anxiety. A recent study has found another benefit: It can ease the side effects of treatment for prostate cancer.
Reporting at the Society of Integrative Oncology's 12th International Conference, researchers at the Perelman School of Medicine (PSOM) at the University of Pennsylvania found that men who were undergoing radiation therapy for prostate cancer could benefit from yoga. Specifically, they found an intensive yoga program helped men deal with the side effects of the therapy — fatigue, sexual health, and urinary incontinence — as well as managing the day-to-day aspects of having cancer.
"Data have consistently shown declines in these important measures among prostate cancer patients undergoing cancer therapy without any structured fitness interventions, so the stable scores seen with our yoga program are really good news," Dr. Neha Vapiwala, an associate professor in the department of Radiation Oncology at PSOM and Penn's Abramson Cancer Center, said in a press release.
Fatigue is one of the factors of cancer treatment that makes life difficult for patients, because it is different from fatigue healthy people experience — cancer fatigue can't be relieved by sleep or rest. Vapiwala explains that yoga helps with cancer fatigue, as well as improving erectile dysfunction and urinary incontinence by strengthening the pelvic floor muscles and increasing blood flow.
"There may also be a psychosocial benefit that derives from participation in a group fitness activity that incorporates meditation and promotes overall healthiness. And all of this ultimately improves general quality of life," Vapiwala said.
Between May 2013 and June 2014, 45 eligible prostate cancer patients took part in twice-weekly yoga classes that lasted 75 minutes each. Forty percent of participants had to drop out of the study due to conflicts between their treatment schedule and the yoga class times, but the rest of the group was able to complete the whole program. After the end of the program, patients reported a better overall quality of life feeling and asked that they could get personalized routines for use at home.
Researchers measured how yoga affected each patient by asking them a series of questions aiming to assess their quality of life, their cancer fatigue, and the prevalence of sexual and erectile dysfunction and urinary incontinence. The severity of cancer fatigue was shown to improve over the course of the program, while erectile dysfunction, urinary incontinence, and general quality of life scores remained steady throughout.
The researchers are now aiming to further characterize the benefits of yoga by randomizing cancer patients who participate in the program and those who don't. More than 220,000 men will be diagnosed with prostate cancer in 2015, so if anything can make the fight against radiation treatment any more tolerable, it will be welcomed.
Source: Vapiwala N, et al. Society of Integrative Oncology's 12th International Conference. 2015.
Published by Medicaldaily.com