Johnson & Johnson Pays $55M In Second Lawsuit Claiming Talcum Powder Products Cause Ovarian Cancer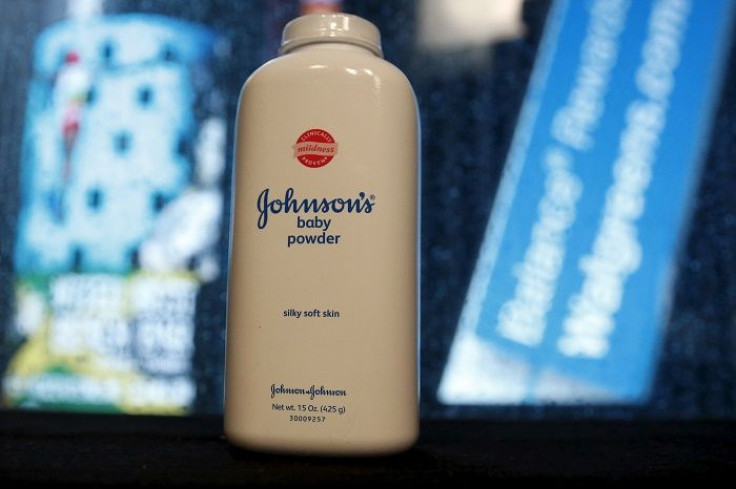 Last Monday, a woman from South Dakota was granted $5 million in compensatory damages and $50 million in punitive damages after she claimed Johnson & Johnson's talcum powder-based products caused her ovarian cancer, The New York Daily News reported. This is the second lawsuit the company has lost this year.
Gloria Ristesund used the company's talc-based powder products, including Baby Powder and Shower-to-Shower Powder, on her genitals as a part of her hygienic routine for decades. According to her lawyers, she was diagnosed with ovarian cancer after undergoing hysterectomy and other related surgeries, something she believed to be related to her use of talc-based products. Her cancer is currently in remission, Reuters reported.
Ovarian cancer is the eighth most common cancer and the fifth leading cause of cancer death in the U.S., with 20,000 women being diagnosed with the illness each year, according to the Centers for Disease Control and Prevention. It accounts for 3 percent of all cancers in women.
The verdict adds to the ongoing debate about the safety of talc-based cosmetic products, and comes just three months after Johnson & Johnson was ordered to pay $72 million in damages to the family of an Alabama woman who died from the same type of cancer. Despite these two losses, the company maintains that their products are safe and plan to appeal the recent decision.
"Unfortunately, the jury's decision goes against 30 years of studies by medical experts around the world that continue to support the safety of cosmetic talc," Johnson & Johnson spokeswoman Carol Goodrich said in a statement. "For over 100 years, Johnson & Johnson has provided consumers with a safe choice for cosmetic powder products and we will continue to work hard to exceed consumer expectations and evolving product preferences."
Talcum powder is widely used in cosmetic products, including adult body and facial powders. The powder — made from talc, a mineral that consists of the elements magnesium, silicon, and oxygen — is used to keep skin dry and protect against rashes. Some talc contains asbestos, a substance that has been linked to cancers in and around the lungs when inhaled, according to the American Cancer Society; however, this type of talc is not used in modern consumer products.
Dr. Daniel Cramer first suggested there was a link between using talcum powder on genitals and ovarian cancer in 1982. After this finding, he was reportedly called by companies for help putting warning labels on these kinds of products. A more recent study, released shortly after the February verdict, supported Cramer's finding, that applying the product to genitals, underwear, and sanitary napkins could increase the risk of developing ovarian cancer risk by a third.
Jim Onder, who served as an attorney for the plaintiffs in the two recent cases, said internal documents show that Johnson & Johnson was aware of the studies linking their products to ovarian cancer.
"The evidence is real clear that Johnson & Johnson has known about the dangers associated with talcum powder for over 30 years," said Onder, according to the New York Daily News. "Instead of giving a warning, what they did was targeted the groups most at risk for developing ovarian cancer." The groups Onder is referring to are overweight women, black and Latino people.
Johnson & Johnson is reportedly facing more than 1,200 talcum-powder lawsuits accusing the company of not adequately warning consumers about their products cancer risks.
Published by Medicaldaily.com