A Year in, the PPE Shortage Story Still Has No Ending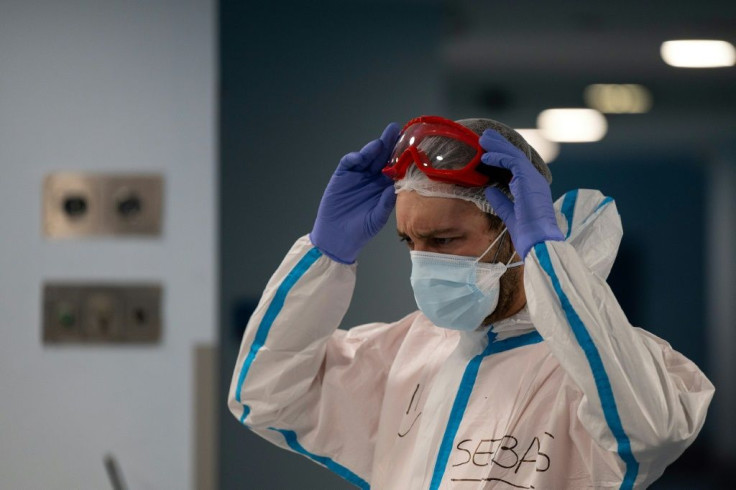 It's been a year since Covid-19 reached American shores, but frontline workers are still struggling to find proper protection. Despite increases in production and drastic measures to expand the supply, shortages of personal protective equipment (PPE) haven't disappeared. If anything, the situation has become more confusing as emergency rules linger, counterfeits litter the market, and supplies just aren't getting where they're needed.
This story will start at its beginning.
Rationing
The extraordinary PPE shortages have forced healthcare administrators to make extraordinary decisions: Hospitals, needing to preserve their limited supplies, cut back on how often supplies were doled out and strictly prioritized who gots the best supplies-- OSHA even released guidelines for dividing workers into risk tiers based on patient contact and chance of encountering Covid-19. Single-use N95 masks were stretched for days or even weeks, with official CDC guidance released for mask reuse. As recently as February, 81% of nurses surveyed by National Nurses United reported still re-using masks and the AP reported that "most" hospitals still give one or fewer masks per employee per day.
A new industry quickly sprouted around adapting masks policies for repeated use. Peter Tsai, the inventor of the N95 mask, came out of retirement to help the N95DECON project develop ways to sanitize and reuse the masks.
As of April 2020, ECRI data showed that 48% of surveyed hospitals were already using at least one method to sanitize masks for further use.
Setting the stage
When the pandemic began, the PPE situation in America was already precarious. The national stockpile had been depleted during the H1N1 crisis and not replaced, while American hospitals and other institutions became overly reliant on foreign imports. China, hammered by the pandemic months before it spread to the rest of the world, had taken two big actions: soliciting aid from other countries and clamping down on its own exports -- leaving few available for America to import.
American production capacity was too weak to pick up the slack. Previously burned by unstable demand, manufacturers like Prestige Ameritech simply weren't prepared for the dire need faced by the pandemic-hit healthcare system.
An industry resurgence
The desperate need for PPE led to a resurgence in American production. Then-President Trump used the WW2-era Defense Production Act to boost PPE manufacturing, a move that the Biden administration is poised to continue. Many US firms in other industries pivoted to produce a variety of needed goods, from gowns to hand sanitizer.
The fallout
Despite production stabilizing, hospitals are still rationing to ensure a consistent supply of masks and to keep costs down. Scientists and frontline workers are expressing concern about the supply and the current CDC guidelines and hospital policies regarding who needs higher-tier protective gear.
To make matters worse, there's also a need to question whether the PPEs that are available can be trusted.
A flood of fakes
A rare Umbrella EUA has allowed foreign masks Chinese KN95s to be used here in the US, but that's opened the door for counterfeiters and lesser options. ECRI, an organization dedicated to monitoring healthcare safety standards, found that up to 70% of tested KN95 masks did not meet minimum safety standards for use in a healthcare environment. Some imported masks arrived alongside falsified National Institute for Occupational Safety and Health (NIOSH) approval paperwork, fake registry numbers, or information copied from other products.
Government agencies are working together to weed out the fakes, with over 11 million seized in recent weeks. Healthcare providers have to consult guides like this one from the FDA to identify legitimate manufacturers and this one from the CDC try to filter out the fakes. Nonetheless, shipments of fakes are still making their way to hospitals now.
Government action is helping to keep counterfeits out of workers' hands, but in other areas, it may be causing problems.
The big disconnect
It took time, but American manufacturers did respond to the challenge. Now, they're having trouble selling them.
Despite healthcare workers not having enough PPE and the US Strategic National Stockpile not yet reaching desired levels, an export ban has been modified to allow as many as 5 million masks to leave the country each month.
Why?
Kaiser Health News obtained a FEMA memo regarding this change, which was sent less than two hours before Joe Biden's inauguration. According to KHN, the memo cites manufacturer Prestige Ameritech's difficulties finding buyers for its high-end respirators and says that lifting this ban will allow American companies to continue their pandemic-accelerated pace of manufacturing.
Advocacy groups like Get Us PPE told KHN it believes current CDC guidelines, in particular the same pandemic-era emergency guidelines that allow reuse and waive requirements like fit testing, permit hospitals and other employers to order fewer PPE and restrict who gets protection. High-end respirators also aren't yet recommended outside healthcare settings, even for people in high-traffic enclosed environments like public transit.
The domestic market is a mess. Smaller clinics and offices don't know where to get verified PPE, while big storefronts like Amazon and Facebook are keeping manufacturers from selling to the public. There's also a problem of cost, with more expensive American products reportedly struggling against the restored flow of cheaper imports.
The outlook
Keeping our healthcare workers safe is important, and the influx of fake products poses a real risk. With emergency guidelines still in place and the political field in a state of flux, it's hard to see exactly where the situation will go. The message from workers on the front lines is clear, though: get more N95s onto faces, and make it fast.
Sean Marsala is a health writer based in Philadelphia, Pa. Passionate about technology, he can usually be found reading, browsing the internet and exploring virtual worlds.
Published by Medicaldaily.com