Top 4 Laser Caps For Hair Loss In 2021
This article uses affiliate links, which means if you purchase products through these links, we may earn a commission. Click here to see our
T&C
.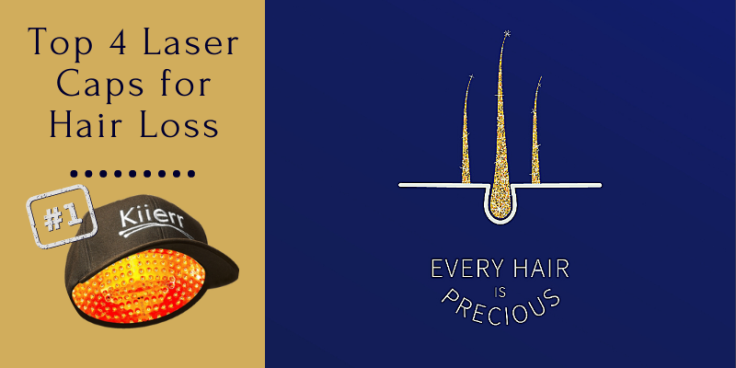 Are you starting to bald? Suffering from alopecia? Regretting that short hair cut your hairdresser talked you into? Wishing for thicker, stronger, healthier hair? Or maybe you've been fighting hair loss your whole life.
According to the Hair Loss Society, approximately 35 million men and 21 million women suffer from hair loss. Beginning at age 35 with a %40 hair loss rate for men and at age 80 rising to a %70 hair loss rate for men. By age 60, women suffering from hair loss will be in the %80 hair loss range. Hair loss is a common struggle, and most people will need professional hair loss treatment to help restore their hair.
The hair loss market today is huge! How do you choose the right products? How do you know which companies to trust? It can be a lot to take in, but we've done the research and we'll reveal the top five trustable effective laser caps for hair loss in 2021.
All About LLLT: What is a Laser Cap?
Laser caps are a medical device designed for men and women wanting to improve the overall health of their hair. Whether you're looking to regrow your thin or balding scalp, or you're just wanting to strengthen and thicken your existing hair follicles you have left. Lucky for you, laser caps do both!
These devices use low-level laser therapy (LLLT) to naturally stimulate your hair follicles and encourage new hair growth. This is done through increased blood flow to the hair follicles and by reducing inflammation on your scalp. This allows the hair follicles to be more easily stimulated and encourages stronger hair growth.
Low-level laser therapy (LLLT) is a popular technology that's gaining approval from several medical professionals and scientists all over the world for its success at treating hair loss. Not only is low-level laser therapy convenient and safe, but it actually works to treat hair loss for both men and women!
Do Laser Caps for Hair Loss Work?
The answer is YES! Many doctors are prescribing laser caps and noticing encouraging results in patients. In the course of various studies, LLLT helped slow down and stop hair loss in 85% of patients undergoing the treatment. Patients also saw new hair growth in 55% of these cases.
When compared to hair transplants, laser caps are extremely cheaper and you don't have to undergo the needle to get your hair back. Not to mention laser caps are non-invasive, pain-free, and don't come with the health risks of a hair transplant. According to the National Library of Medicine, some doctors and dermatologists are prescribing laser caps for post-hair transplant surgery patients to help speed up the healing process and boost earlier growth of the hair grafts.
** LLLT does not work in cases where baldness has occurred for many years and hair follicles are unresponsive. LLLT only works on active hair follicles.
Laser Cap for Hair Loss
Laser caps have worked their way into hair loss devices designed for at-home use. One benefit of laser caps is that they can be combined with other hair treatments like DHT blocking vitamins, Minoxidil, etc. They can also be used alone with no other treatments.
Laser cap benefits:
Prevents further hair loss
Stimulates hair growth
Increases hair strength, thickness, and overall hair health
Convenient at-home use
Unisex
Non-invasive
FDA-Cleared
How We Chose the Top 4 Laser Caps for 2021
All products in the hair growth industry must have FDA clearance before they can be sold on the market. They are in charge of clearing products that have gone through vast testing and research to prove these products are efficient and safe for human use. This clearance is confirmation that these medical devices are both safe and effective to use. All companies providing laser caps should be FDA-cleared to ensure that their laser emission is safe to use.
Many laser cap and hair growth companies use both low-level lasers and light-emitting diodes (LEDs) in their hair growth caps. What many customers aren't aware of, is that light-emitting diodes don't produce the same stimulation of hair growth as medical-grade lasers. To create enhanced cell function, light energy needs to be below a specific energy threshold and within a specific wavelength. LEDs are typically less effective because they're relatively low-powered and don't fit among the specific threshold and wavelength it takes to create this stimulation.
The top five laser caps we recommend are all FDA-cleared. We also recommend purchasing a laser cap that uses medical-grade laser diodes vs. LED lights. We're %100 confident in our top choices.
Top 4 Laser Caps for Hair Growth
1. Kiierr272Premier-MD Laser Cap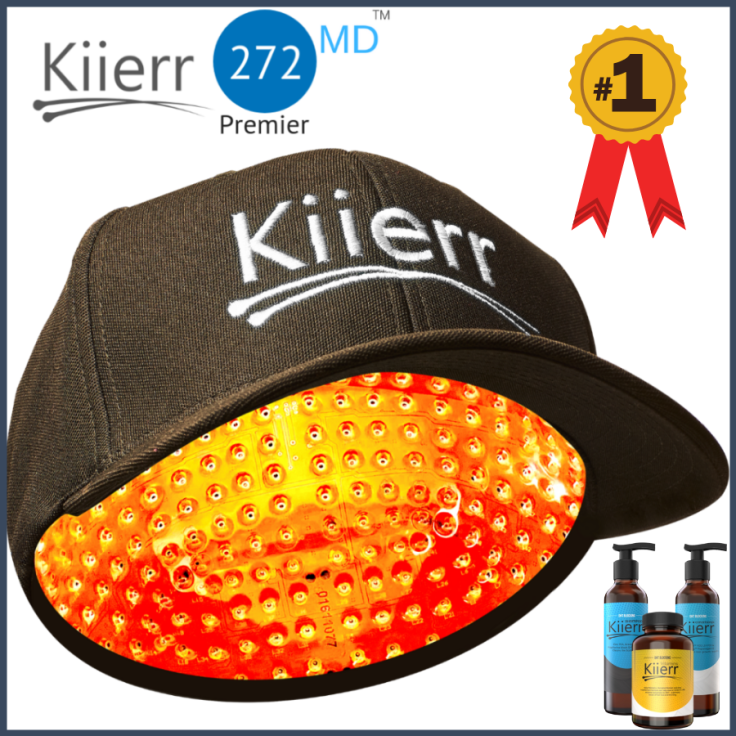 Kiierr offers a Kiierr272PremierMD laser cap hair growth bundle for maximum hair growth. This laser cap uses 272 medical-grade laser diodes and is FDA-cleared. Kiierr laser caps improve cellular respiration and stimulate hair follicles through the use of low-level laser therapy (LLLT).
The Kiierr272PremierMD cap is larger in size and offers a few other enhancements and features. Designed to be worn discreetly under a baseball cap that comes with your purchase. You can even switch it out and wear a baseball cap of your own if you choose. It comes with a built-in timer, so the laser cap automatically shuts itself off after the 30-minute period is over. Kiierr offers a 100% money-back guarantee if you don't see results after using the product continuously for at least 7-months.
Included in the Kiierr272PremierMD laser cap hair growth bundle:
Kiierr272PremierMD laser cap
DHT blocking shampoo & conditioner
DHT blocking vitamins
Laser cap carrying case
3-year product extended warranty
Kiierr Biotin Gummies for Hair Growth
2. iRestore Professional Laser Cap
The iRestore Professional laser cap uses a combination of 282 lasers and LEDs. This laser cap is FDA-cleared and designed like a helmet allowing ventilation and breathability to help keep your head cool and comfortable while promoting hair growth. iRestore also offers the option of purchasing these laser caps in a bundled system containing different supplements and topical treatments.
iRestore offers a free 1-year warranty with the purchase of your laser cap. If you wish to extend your warranty beyond this one-year mark, you can do so for an extra charge. iRestore also offers a 12-month money-back guarantee. If you're not seeing your desired results continuously after using your laser cap for at least 12-months, they offer a full money-back guarantee.
**Keep in mind that iRestore laser caps are not portable devices unless you purchase the portable battery pack separately. Otherwise, your laser cap is required to be plugged into an outlet.
3. Hairmax PowerFlex Laser Cap 272
The HairMax PowerFlex Laser Cap 272 uses LLLT to treat hair loss, designed to be worn under a baseball cap for more convenient use. This laser cap contains 272 medical-grade laser diodes and provides full scalp coverage. It includes a comfort silicone insert to conceal the internal circuit board while protecting the laser diodes. The cap offers a dual operating mode, meaning you can choose between your treatment time periods. You can wear it for either 15-minutes or 30-minutes, whichever you prefer. Treatment therapy is recommended 3 times per week.
HairMax offers a 1-year money-back guarantee with a 25% restocking fee applied to the total purchase price of the laser cap device. All HairMax laser devices purchased through Lexington International or from an authorized distributor include a 2-year factory warranty against defects in materials or workmanship from Lexington International, LLC.
4. Theradome Pro LH80 Laser Helmet
The Theradome Pro LH80 laser helmet reverses and prevents hair loss using LLLT. It's FDA-cleared, cordless, and lightweight. Designed like a helmet the Theradome Pro LH80 comes with foam fitting pads, a protective bag, AC adapter, user manual, and a getting started card.
When purchasing a Theradome Pro LH80 laser helmet, you can expect a 6-month money-back guarantee and a free 1-year warranty. This free 1-year warranty protects you from any defective products or repairs needed that are out of your control.
Conclusion
When it comes to laser caps, we recommend Kiierr as the number one choice. Kiierr's completely affordable Kiierr272PremierMD laser cap hair growth system will work wonders on your hair. Kiierr offers a full refund if you're not satisfied with your purchase after 7-months of continuous use. In addition, Kiierr offers a 2-year product warranty, so you can feel confident with your purchase. Check out Kiierr's laser cap reviews to see some of their customers' amazing success stories. Don't wait, purchase yours today!