'530 Fatties' Facebook Page Attacks Overweight People; California Residents Outraged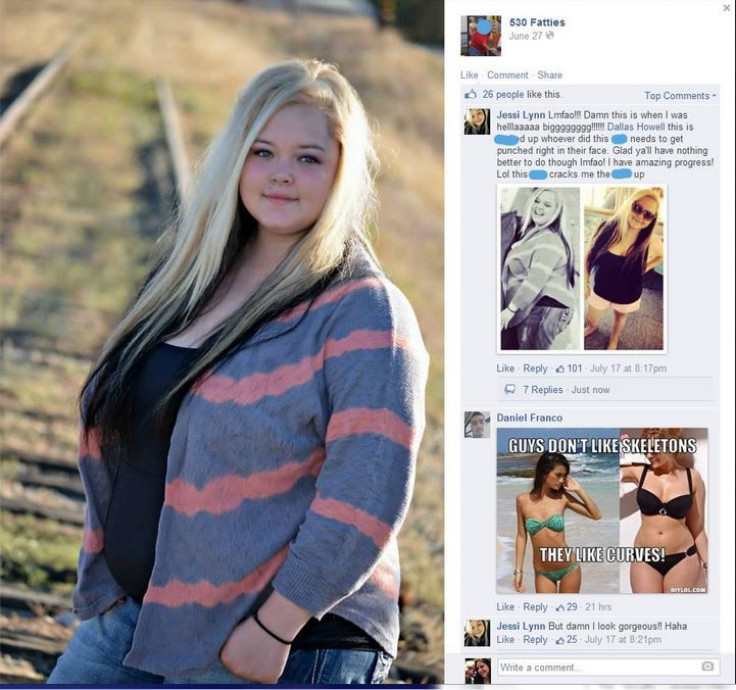 A fat-shaming Facebook page has spread throughout Yuba, Calif., causing outrage to those featured on the page and those who merely heard about the cyber bullying. The "530 Fatties" page, named after the area code from which its creator originates, features pictures of overweight or obese people without their permission in order to mock their weight.
"It's really hurtful and it's really embarrassing. I know it's probably someone from around here, and whoever it is they need to stop because that's ridiculous," 18-year-old Jessi Lynn Howell told CBS Local 13 News in an interview after she found her photo on the Facebook page, accompanied by comments from strangers.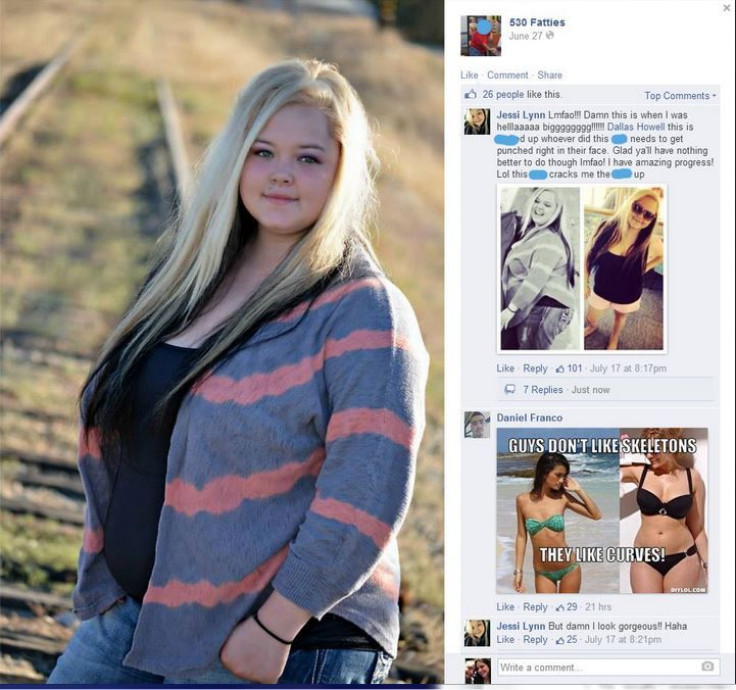 All the photos were posted from an unknown source. Currently, Facebook has taken down the page. However, the police are investigating the source of the user. In the past, detectives have been able to pinpoint the Facebook page creator's location using his or her IP address, which every computer has.
As for Howell looking forward, she wants to stand as a voice for those who've been unknowingly posted on the hateful page and weren't heard. Her photo was of a picture taken in October 2013, and Howell has since lost 50 pounds after learning of a certain health condition she takes medication for.
"I feel so much better like, the way I get dressed, the way my clothes fit," Howell said.
Making people feel bad about overweight or obesity doesn't actually help them by making them aware of their weight problem. In fact, a 2013 study published in PLOS ONE found participants who reported weight discrimination were 2.5 times more likely to be obese by the follow-up over four years later. According to the results, researchers believe mental health closely correlates with weight discrimination.
"Like other forms of discrimination, body weight is a highly visible, personal characteristic that can evoke strong stereotypes and strong reactions from others," the study's authors wrote.
With 34.9 percent of American adults obese, according to the Centers for Disease Control and Prevention, this topic hits home for many, and fat-shaming those who are overweight won't bully them into becoming thin. Researchers want to shift the focus away from people wanting and obsessing over becoming skinny and toward the goal of becoming healthy, because in the end that is what separates people from high risks of cardiovascular disease, type 2 diabetes, and certain cancers, and those who go on to live healthy, active lifestyles.
"Weight discrimination, in addition to being hurtful and demeaning, has real consequences for the individual's physical health," said the study's author Angelina Sutin, a psychologist and assistant professor at the Florida State University College of Medicine in Tallahassee, Fla.
"I'm not where I want to be, but I'll get there, I'll get there," Howell said. "Cyberbullying — bullying period — it needs to stop. It needs to stop. So I'm going to be a voice today for those people that don't have that voice."
Published by Medicaldaily.com