Ana Paula,Toddler Born As Conjoined Twin, Set To Have Corrective Surgery For Her 3 Legs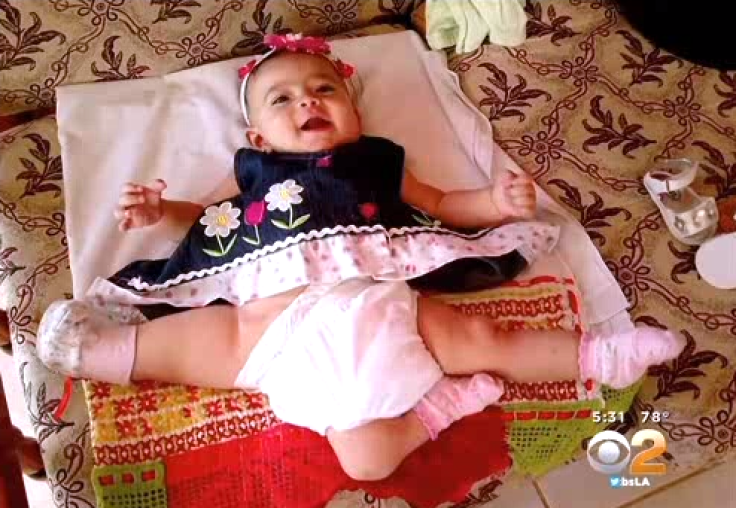 A 22-month-old girl from Panama has arrived in Los Angeles, Calif., to undergo life-changing surgery after being born as a conjoined twin. The toddler, Ana Paula, born conjoined at the pelvis with her twin sister — a condition known as ischiopagus — was left with three legs, three kidneys, and various reproductive tissues after her other half did not survive the separation surgery. Now, with the help of Children of War Foundation, a non-profit, Ana Paula and her mother, Ileana Monrroy, were flown from rural Panama to Los Angeles to seek surgeries to help her be healthy and learn how to walk.
"I think she'll be very functional as a walker, at the very least with crutches or with the arm crutches or something similar," said Dr. Phoebe Scott-Wyard, who works at the Shriners Hospital for Children in Los Angeles, where the procedure is set to be carried out, CBS LA reported. The surgical treatment plan for the toddler includes removing her middle leg, and amputate her right leg from above the knee since it does not have a functional knee or foot. Ana Paula will then be fitted with a prosthetic and will hopefully be able to walk.
The prosthetics will play a pivotal role when it comes time for the toddler to walk at some point. Despite the corrective surgery, the toddler will not be able to run and play like other children. "[B]ut she will be able to move about, be able to keep up with her peers and be able to have a childhood and hopefully a very good adult life as well," reassured Dr. Kit Song, chief of staff at Shriners Hospital for Children in Los Angeles.
Monrroy, optimistic about Ana Paula's upcoming surgeries, said through a translator: "Well, my hope is that she will be fine and she will do well with her health … and she will also be able to walk," the Daily Mail reported. The toddler's scheduled to have her first surgery in a month, after doctors come up with a through medical plan for the three-legged girl. It will most likely be a month before she has her first surgery.
Ana Paula's case is so unique that there are only 12 survivable cases like it in the world annually. In 2011, an Indian toddler, Lakshmi Tatma, successfully had a 27-hour operation to remove her "parasitic twin," that originally left her with four arms and four legs. Like Monrroy, Tatma was born with the rare condition ischiopagus, meaning twins can share two legs, three legs — with the third often being two fused legs — or four legs. However, Lakshmi's conjoined twin stopped developing in the mother's womb, with a torso and limbs, but no head. The twin was joined to Lakshmi at the pelvis.
One in 100,000 live births, and one in 10 conjoined twin births are affected by ischiopagus with separation being the only treatment for the rare condition.
Published by Medicaldaily.com