Bird Flu Outbreak In South Korea: 20,000 Ducks Slaughtered At Contaminated Farm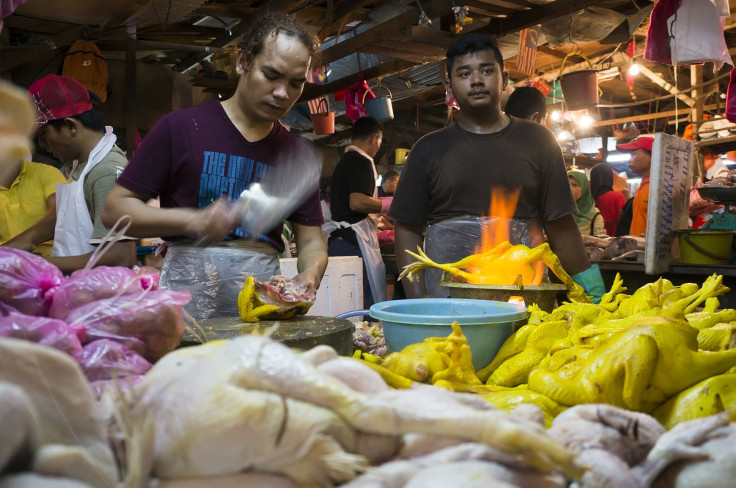 The H5N1 avian flu virus has now reportedly reached South Korea, though no cases of human infection have yet been confirmed. According to the Ministry of Agriculture, Food and Rural Affairs, a duck farm in Gochang, North Jeolla Province — about 186 miles from the capital, Seoul — may have been the origin of the H5N1 outbreak among poultry.
Tests are being carried through to identify whether the Gochang duck farm was indeed the source of the virus, and the results will be available in the next few days. The provincial government has also ordered a cull, or slaughter, of over 20,000 poultry at the contaminated farm, Reuters reports. Twenty-four more poultry farms in four different provinces will also be quarantined as preventative measures.
In the past decade, there have been four major outbreaks of bird flu in South Korea. In 2011, more than 3 million birds were slaughtered after the country experienced an outbreak.
According to the Centers for Disease Control and Prevention (CDC), H5N1, also referred to as highly pathogenic avian influenza A, is a strain of bird flu that is highly contagious, though it's not typically found in humans. It's also impossible to transmit the virus from human to human. Most H5N1 cases are reported after the victim has had contact with contaminated poultry. Up to 60 percent of those infected die from the illness. Nearly 600 cases of human infections, have been reported since 2003 — throughout 15 different countries.
About 150 people throughout Asia have been infected by the newest strain of bird flu, H7N9, since it emerged in China last year. Forty-six people have died, and cases have been reported in China, including Hong Kong, as well as Taiwan. The World Health Organization (WHO) reported 62 human cases of the virus in 2011, with 34 deaths that occurred in five countries: Bangladesh, Cambodia, China, Egypt, and Indonesia. These countries along with India and Vietnam currently have ongoing infections.
Published by Medicaldaily.com