Bra Size Linked To Online Shopping Habits: Women Bigger Than B-Cup More Likely To Spend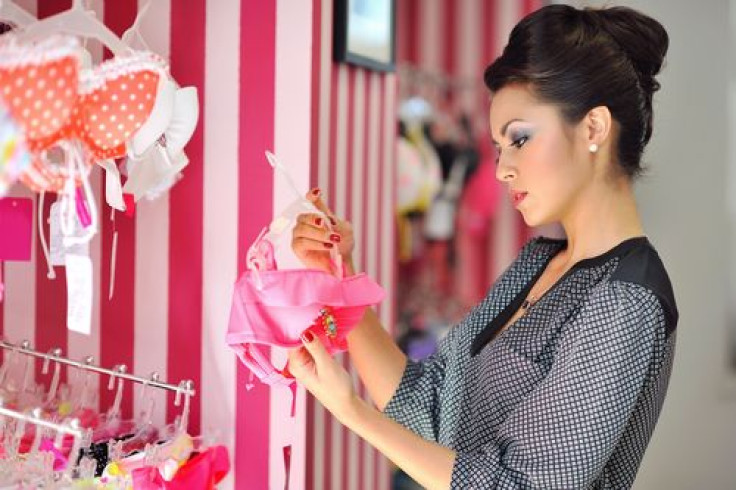 The holiday season is fast approaching as Black Friday, the day after Thanksgiving, launches the start of the holiday shopping season. We may set ourselves back in debt until next Christmas with buying gifts for Mom and Dad and, not to mention, splurging on something for ourselves. However, whether or not our shopping habits break the bank this year all depends on our bra size, according to data form Alibaba, a Chinese e-commerce giant.
Alibaba came across a curious trend among women and their spending habits with the help of Big Data. Customers who bought a bra with a cup size of B or smaller tended to spend less than their more endowed counterparts. The company was able to divide the total money spent into five categories: low, slightly low, middle, slightly high, and high.
The online giant has a lot of consumer data at its fingertips as one of the largest e-commerce companies in the world. Via Big Data, companies like Alibaba get information on how they can make more money.
"We've only seen the tip of the iceberg," Alibaba Vice President Joseph Tsai told Quartz of the company's data-dive. "We really haven't done even five percent of leveraging that data to really make our operations more efficient, consumers more satisfied."
The data crunching revealed only seven percent of B-sized women buy in either of the "high spending" categories, while C-sized women are at 17 percent, D-sized women are at 24 percent, and E-sized women are at 33 percent. Overall, analysts saw 65 percent of women with a B-size cup fell into the "low" spend category, while those of a size C or higher mostly fit into the "middle" or higher group. Although the retailer found this correlation, it does not prove causation; there is no further data about the correlation between bra size and spending habits other than the fact that it exists.
Quartz offers this explanation: "Younger women with less purchasing power may be the ones buying smaller-sized bras." However, this is purely an assumption and can easily be refuted, since less-endowed women can also earn a higher income, such as singer Shakira, who has a 34 B-cup size.
The reason more well-endowed women are spending more could be linked to the possibility specialty sizes for larger-breasted women are more expensive than smaller ones. Or simply, women who go under the knife for breast augmentation with E-cup breasts could also afford to go on a shopping spree at high-end lingerie stores. While the exact correlation remains unknown, Alibaba plants to use this information to inform logistics decisions and merchant interactions in the future.
Whether or not women with bigger breasts are bigger spenders is unknown, but a 2011 University of Chicago study found larger-breasted women scored an average of 10 points higher than other women in IQ tests. Women with average-sized breasts also scored higher than the smallest size group. The researchers included women who fell into five categories, including really small breasts up to extra-large breasts.
The U.S. is among one of the countries with the largest average bra size. According to a survey by Intimacy, a lingerie retailer, the average bra size has jumped from a 34B 20 years ago to a 34DD in 2013. The increase in breast augmentation and weight gain has played a role in increase.
So what do these findings all mean? Absolutely nothing and everything. America and the rest of the world may be infatuated with breasts — big or small. How's that for size?
Published by Medicaldaily.com