FDA Bans Chemicals In Pizza Box And Other Food Packaging Linked To Cancer, Birth Defects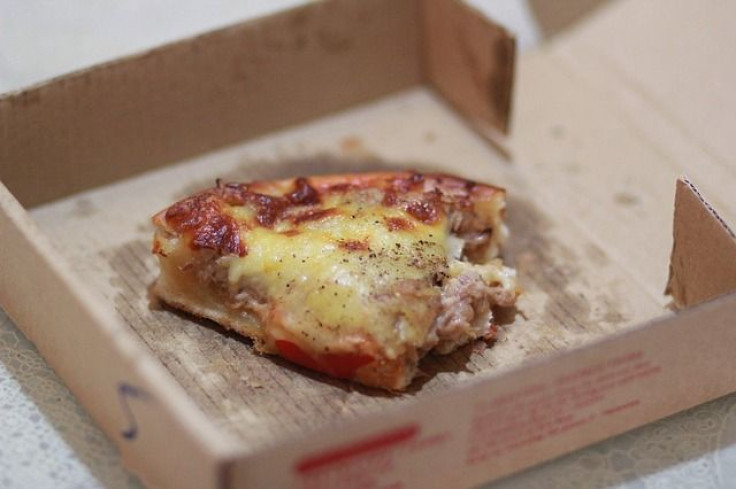 Sorry pizza lovers, but your mouthwatering cheesy pizza will no longer be delivered in its traditional cardboard box. The U.S. Food and Drug Administration (FDA) has declared it toxic after various health-related groups, including the Breast Cancer Fund and the Center for Food Safety, filed a petition against the chemicals.
"There is no longer a reasonable certainty" that specific chemicals found in most pizza boxes and food packaging, are of no harm, according to the FDA report. These perfluorinated compounds (PFCs) — diethanolamine salts, pentanoic acid, and perfluoroalkyl — consist of perfluoroalkyl ethyl, which puts them in the aspoly- and perfluoroalkyl (PFASs) category. PFCs can be passed through the umbilical cord to the fetus, and are responsible for contaminating drinking water for more than 6.5 million people in 27 states, according to U.S. Environmental Protection Agency.
Meanwhile, PFASs are used in food contact substances (FCSs) that act as oil and water repellants for paper and paperboard, which comes in contact with aqueous and fatty foods. These chemicals have been used to make DuPont's Teflon and 3M's Scotchgard. And despite the current ban, organizations, like the Environmental Working Group, believe the FDA is doing too little, too late.
"Industrial chemicals that pollute people's blood clearly have no place in food packaging," said EWG President Ken Cook, in a press release. "But it's taken the FDA more than 10 years to figure that out, and it's banning only three chemicals that aren't even made any more."
Various human studies in the U.S., Japan, and Denmark have found links between PFCs and birth outcomes, pregnancy outcomes, and developmental effects. A 2009 study found higher PFC levels were associated with a longer time to get pregnant and irregular menstrual cycles. In animals, PFCs have been linked to a wide range of health effects, including liver cancer.
A rising concern has to do with replacement chemicals, that it won't be as toxic or carcinogenic as its counterparts; environmental scientists suggest a chemical called GenX could be a newer, but still questionable alternative to these chemicals. Thomas H. Samples, Dupont's head of risk management for the division that manufacturers chemicals (GenX), explained the levels exposed to animals in previous studies were so high they were intended to cause health complications, The New York Times reported. However, environmental specialists are urging consumers to avoid purchasing products that have PFASs.
"It's likely they're going to have some health effects, it just may take us a while to figure out what it is," Thomas F. Webster, a professor of environmental health at Boston University's school of public health, told the NYT. "It might take five or 10 years to really do the research."
The FDA's ban is a first step toward improving our food safety. The ban is expected to go into place 30 days after the FDA makes it official with the Federal Register.
Ordering in pizza or takeout will never be the same as we know it.
Published by Medicaldaily.com