Children With Gay Dads Are Well-Adjusted, But Same-Sex Families Still Face Stigma: Study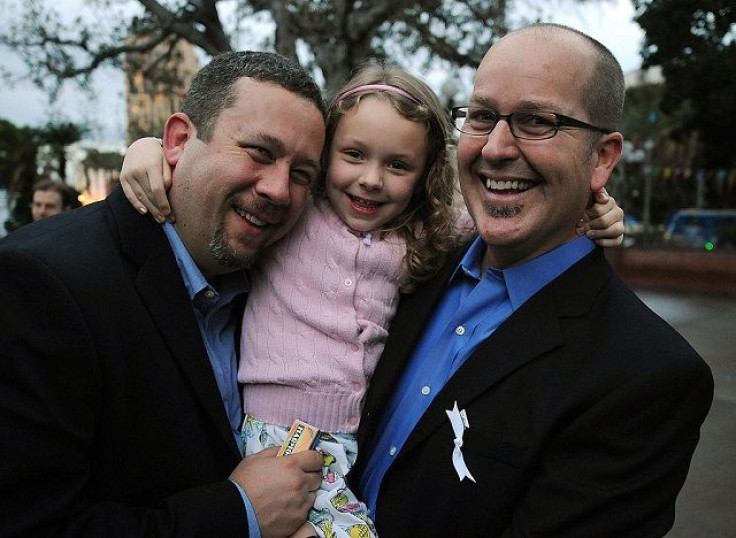 New preliminary research presented at the annual Pediatric Academic Societies meeting (PAS 2016) this week adds more evidence to a growing consensus — families with same sex parents are just as healthy as anyone else's.
This latest study, led by scientists from Boston's Tufts University and affiliated medical center, looked at gay fathers raising children under the age of 18. They elicited online survey responses from 732 gay fathers across 47 states on a variety of questions concerning why they chose to be parents, how they raised their children, and whether their families experienced any stigma or discrimination.
Comparing their answers to those obtained from an earlier survey of straight fathers, the researchers found no difference in the frequency of self-reported parenting activities, like reading to their children or going on outings. Similarly, 88 percent of gay fathers disagreed that their children were unhappy, compared to 87 percent of straight fathers; and 72 percent reported that their kids didn't "worry a lot" versus 75 percent of straight fathers. Unfortunately, nearly a third reported feeling stigmatized for their decision to raise children, oftentimes from their own families. And a similar percentage said their children experienced stigma as well, though mostly from friends and religious institutions instead.
"Gay fathers report that their parenting activities and their perceptions of their children's well-being are similar to those of children with heterosexual parents, despite barriers to becoming fathers and ongoing experiences of stigmatization," the authors concluded.
A Different Approach
The researchers took a different approach to examining same sex parenting than have previous efforts, which mostly looked at lesbian parents. "It has been established that children raised by lesbian parents are likely to be successful in emotional, academic, social, and vocational realms," they explained. Indeed, an earlier study of lesbian parents published last month found that these children were just as emotionally and physically healthy as children raised by heterosexual families. But when it comes to the home lives of the approximate 31,000 children currently living with gay fathers in the U.S., we know a lot less about the specifics.
That includes how these families came to be, which the researchers also asked about. Thirty-six percent of the children in the survey were born during an earlier heterosexual relationship; 38 percent were adopted or fostered; and 14 percent were conceived through the use of a surrogate carrier. Of these, 33 percent experienced struggles in obtaining shared custody; 41 percent felt the same about the adoption process; and 18 percent felt the same about their surrogacies.
The findings of this study and others indicate that while same sex families may not be any different from the typical nuclear family, there are still plenty of people stubbornly willing to believe otherwise. "Because stigma continues to interfere with the efforts of gay men to become parents and with the lives of gay men and their children, our research underscores the need for social and legal protections for families headed by same-sex parents," said lead author Dr. Ellen C. Perrin in a statement. "Our data add to those of other investigators showing that children of same-sex parents do as well in every way as children whose parents are heterosexual."
Source: Perrin E, Pinderhughes E, Hurley S, et al. Experiences of Children with Gay Fathers. Pediatric Academic Societies Annual Meeting. 2016.
Published by Medicaldaily.com