Jack Butler, Pittsburgh Steelers Hall Of Famer, Dies At 85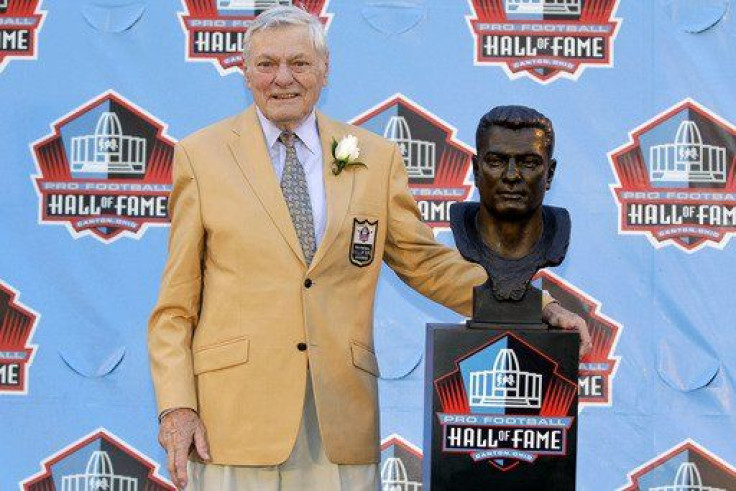 NFL hall of famer Jack Butler, known for being one of the league's top cornerbacks during the 1950s when he played for the Pittsburgh Steelers, died on Saturday morning. He had been fighting a staph infection since his career ended in 1959. He was 85.
Butler's son, John, said his father's heart stopped suddenly on Saturday morning. Butler had been in the hospital for the past several months fighting the staph infection, the Associated Press reported.
"It had been a long road," John Butler told the AP. "It wasn't completely out of the blue."
Staph infections are caused by the staphylococcus bacteria — a bacteria that about 25 percent of people normally carry on their skin — when they enter a cut. The infection could manifest in several ways, from a boil to a flesh-eating infection at its worst. Antibiotics are the primary form of treatment for the infections — newer, stronger antibiotics are being developed for resistant strains, according to WebMD. It is unclear how severe the staph infection was in Butler.
Butler's career was impactful. He played in the Pro Bowl four times and was first-team All-NFL three times. He had a record of 52 intercepted passes during his career, including a league-high 10 in one season in 1957. His career as a player was brought to an end after Pete Retzlaff of the Philadelphia Eagles crashed into him, injuring Butler's knee.
"He caught the ball and I was coming over to him, to tackle him and before I got to him, he tripped or caught his foot or something," Butler said in July, 2012. "As he was going down, his shoulder hit my knee."
Butler had 10 surgeries and eventually knee replacement surgeries, but his mobility was impaired for the rest of his life, according to the AP.
His health issues did not limit him from leading a productive life. He scouted for the Steelers for more than 40 years. In-between 1969-74, he helped the Steelers draft nine players, including Terry Bradshaw and Joe Greene, who would become the group that helped the team win four Super Bowls in the span of six years. Last year, he was inducted into the Hall of Fame as the No. 268 player in the NFL.
"He was an excellent person both on and off the field, and he played an integral role in the BLESTO scouting program and our entire draft process before his retirement," Steelers Chairman Dan Rooney said to the AP. "His family was very close to the entire Rooney family, and he will be missed."
Published by Medicaldaily.com