Kellogg's Special K Sales Have Dropped; Dieters Move On From Days Of Calorie Counting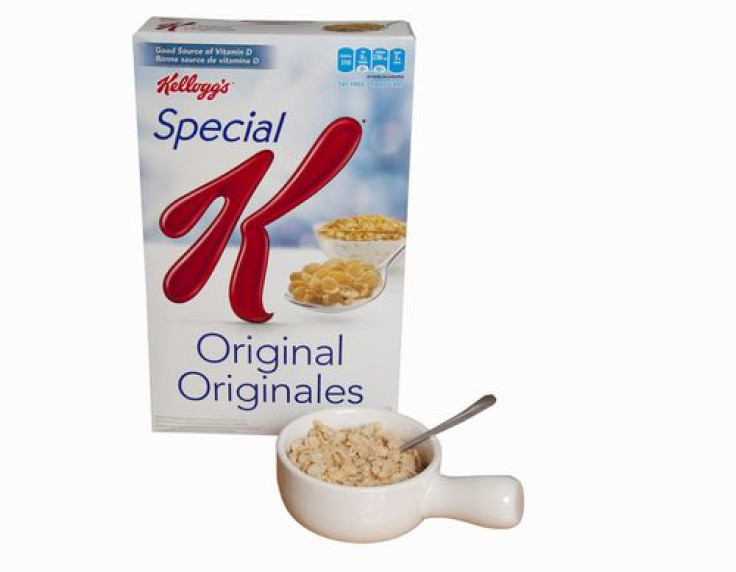 Weight loss cereal brand giant Kellogg's Special K has seen a drop in sales recently and faults consumers' new and ever-changing diet fads. The struggling sales showed a 16 percent drop in the second quarter and missed analysts' expectations by two million, but the CEO has plans for the coming months.
"There's a shift in consumer expectations," Kellogg's CEO John Bryant told The Associated Press.
Cereal sales in the United States have been struggling now that the recently popularized Greek yogurt has taken on the breakfast market, along with egg sandwiches and whole wheat waffles. Dieters are starting to look for higher quality foods rather than lower calorie foods, which has always been Special K's niche market. With their 100-calorie bags of chips, cookies, crackers, and snack bars, the dieters are leaning away and into a different health approach.
Special K's products are all relatively low in calorie portions, but as more people become educated in dieting and the value of exercise and necessity of calories for fuel, their tiny bags and wrappers have been tossed aside.
To meet the new demands of the dieting world, Special K has already released new products, which include instant hot cereal with grains such as protein-packed quinoa, another recently popular food for dieters. The new products haven't made a dent in the 4.9 percent sales loss they've been experiencing in the morning foods unit in the last quarter, but addressing new nutritional trends is a growing pain every food company must go through.
"I think consumers are changing their views on weight management from 'reduce calories' to 'nutritious foods,'" Bryan said. Special K can "absolutely meet that criteria. It's a very nutrient-dense food form. But we haven't been communicating it that way. So we are increasing our communication more down that path as opposed to reduce calories."
New advertisements designed to disseminate their new messages out to the public are scheduled to release later this year and in early 2015. Bryant declined to say exactly what new Special K products Kellogg's plans on introducing at the end of the year.
"I don't want to give my friends in Minneapolis any more help than they need," Bryant said, referring to Kellogg's competitor General Mills, which is based in Minneapolis and makes cereals, including Cheerios and Lucky Charms.
Kellogg's is already making moves in new management as well. With the loss of its own employee David Denholm, who left to take role as president-chief operating officer of Chobani in 2013, they created a new position to invite him back to their company. Denholm will now oversee production of Kellogg's Bare Naked whole grain and energy bar brand, in addition to returning as CEO of Kashi, which Kellogg's purchased in 2000. Recently Kellogg's has agreed to dropping "all natural" and "nothing artificial" from their Kashi packaging thanks to a class-action lawsuit.
The Kellogg Company stands as the largest breakfast cereal maker in the U.S. and has stood as one of the first to break into the breakfast cereal market in 1906 with 31,000 employees. The company has high hopes to keep up with its rebranding efforts to appease dieters.
Published by Medicaldaily.com