Maria Sharapova's 'Sugarpova' Candy Draws Criticisms From World Obesity Forum, Tennis Star Called 'Irresponsible' For Promoting Sugary Candy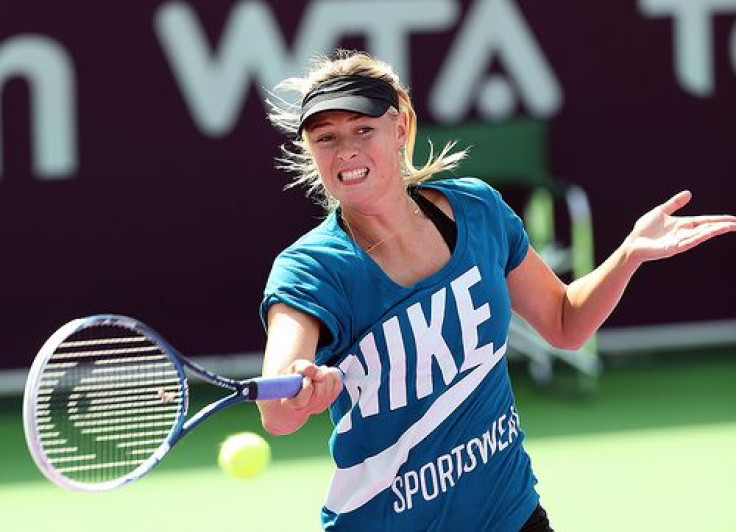 The darling of the tennis world, Maria Sharapova, has come under fire recently for her new line of sugary candy, Sugarpova, which critics say irresponsibly promotes an unhealthy lifestyle to the role model's band of young followers.
Sharapova's candy line surprised many when it debuted last summer in the United States, and now that it's popping up in department stores around London — Selfridge's to begin with, now that Wimbledon is underway — Sugarpova has nutrition experts scratching their heads in confusion and stomping their feet in frustration.
"Maria promoting her sugary sweets is OK," Tam Fry, a member of the National Obesity Forum and chairman of the Child Growth Foundation charity, told Reuters, "but only if she makes clear that you can only eat sweets like that every day and look like her if you are playing tennis 15 hours a day."
Fry added that the third-seeded tennis star should consider the "unintended consequences" of selling a product such as Sugarpova, which comes in 15 varieties that bear names like Chic and Flirty, all of which have distinct shapes, such as lips, high heeled shoes, and chewing gum that's shaped like tennis balls.
Packaged in shapely white bags, Sugarpova's image was designed to promote the upscale nature of the brand, said Max Eisenbud, Sharapova's agent. The bags cost anywhere from $4.99-$5.99, admittedly pricey for candy.
But as Eisenbud said, "We're not looking to be on the shelves next to the $1.99 candy."
Sharapova's foray into the candy business may seem unorthodox given the level of her athletic rigor, but celebrity endorsements have never quite needed to fit a certain mold. Consider Bob Dylan releasing a CD for Victoria's Secret, Hulk Hogan building the "Pastamania" brand, or Sylvester Stallone's ambitious line of high-protein pudding.
For her part, Sharapova says she's cut back on the calorific treat; though she says she used to binge for hours on Quirky, the rainbow licorice variety of Sugarpova.
"I used to eat a lot more than I do now," she said at the product's launch earlier this week in London. "In the beginning, I used to have it in my home, in my hotel rooms, to the point where it was nonstop. I was like, 'Unless I need to give gifts to people, I'm not ordering it for my house.'"
Sugarpova's nutrition facts rival those of any major candy product. One five-piece serving of Sugarpova Quirky contains 130 calories and 24 grams of sugar, about the same as Twizzlers' Strawberry Twists — a four-piece serving containing 160 calories and 19 grams of sugar.
Those who criticize Sharapova for her business practices argue she should play a more prominent role in dissuading kids from overindulging. As the top-paid female athlete in the world and the former No. 1 seed female tennis player, Sharapova, they argue, is exploiting her role model status to promote a product she knows is unhealthy.
Sharapova, however, says the extremes to which critics take her candy's impact are overstated.
"Of course sugar is meant to be bad for you," she told reporters at the Sugarpova launch. "But my philosophy has always been everything in moderation."
Published by Medicaldaily.com