Obese Moms Who Breastfeed Lose More Pregnancy Weight; But Following National Guidelines Is Key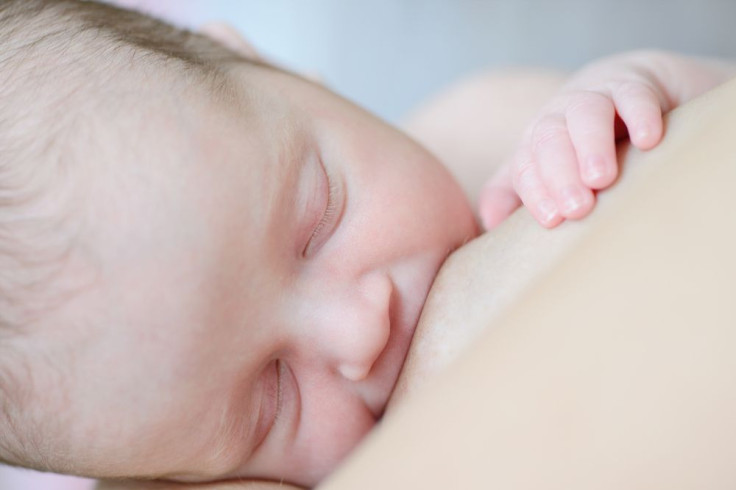 Losing pregnancy weight can be challenging for women of all sizes, but new research shows that obese mothers who breastfeed may lose more pregnancy weight. However, it only seems to happen to moms who were obese before their pregnancies.
For the new study, led by Andrea Sharma from the Centers for Disease Control and Prevention, researchers found that obese women who breastfed for at least four months after giving birth kept less pregnancy weight. Mothers who followed the American Academy of Pediatrics' (AAP) breastfeeding recommendations weighed 18 pounds less than obese moms who didn't breastfeed at all, Health Day reported.
The study involved data from 726 women, taken between 2005 and 2007. Researchers compared the women's information from their last trimester of pregnancy until six years after they gave birth. At the time data was recorded, the AAP recommended women to breastfeed exclusively for the first four months after birth, and to continue breastfeeding for up to 12 months more while also giving the baby other food. Out of all the women, only 29 percent breastfed for the first four months, while 20 percent breastfed for up to a year. Eighteen percent of the women didn't breastfeed at all.
Results showed that obese mothers (with a body mass index of 30 or higher) who followed national breastfeeding guidelines kept up to 18 pounds less than obese women who didn't breastfeed at all. "This study suggests that improving adherence to breastfeeding recommendations may help reduce long-term maternal weight retention among obese mothers," the researchers wrote. They also found that women who breastfed, and who were a normal weight or overweight before their pregnancies, showed no significant changes in pregnancy weight retention up to six years after birth.
Despite their results, the researchers weren't able to make a direct connection between adherence to breastfeeding guidelines and pregnancy weight loss among obese mothers, saying that further study had to be completed in order to fully understand the correlation between the two. It was also unclear why normal-sized and overweight women who adhered to guidelines didn't experience similar weight loss.
"The full understanding of how breastfeeding leads to improvements in metabolism for both mother and her baby is incomplete, but there are multiple epidemiological studies showing the association," Dr. Lori Feldman-Winter, a pediatrician and professor of pediatrics at Children's Regional Hospital at Cooper University Health Care in Camden, N.J., told Health Day.
Overall, the research gives hope to obese women who want to get pregnant and are worried about their weight. Following AAP guidelines could be a good first step to losing and keeping off pregnancy weight. The AAP's most recent guidelines recommend mothers exclusively breastfeed their babies up to six months, and then continue to breastfeed for up to 12 months while introducing other foods.
Source: Sharma A, Dee D, Harden S. Andrea J. Adherence to Breastfeeding Guidelines and Maternal Weight 6 Years After Delivery. Pediatrics. 2014
Published by Medicaldaily.com