Pancreatic Cancer Action's 'I Wish I Had Breast Cancer' Campaign Criticized As 'Offensive' And 'Horribly Insensitive' [VIDEO]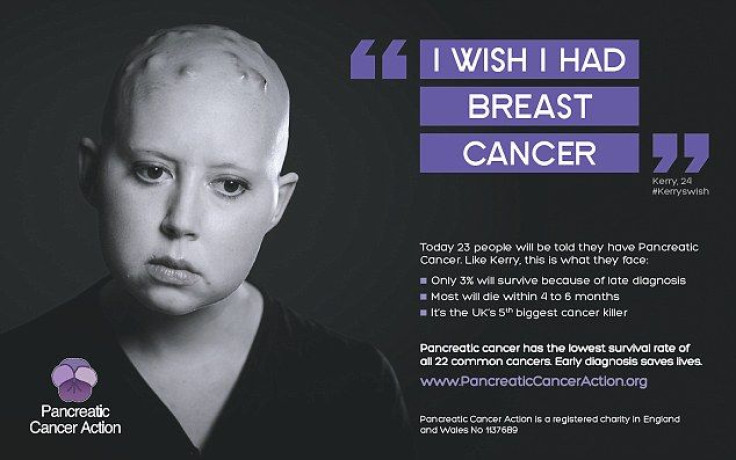 Pancreatic Cancer Action, a charity in the UK focused on raising awareness and funding for pancreatic cancer research, came under fire recently following the launch of its "envy" campaign. While the charity admits its new advertising campaign is "hard hitting," other people are not sure "I wish I had breast cancer" is an appropriate message that should be splashed across newspapers and television.
"We strongly dispute any message which suggests that one type of cancer is preferable to another. We believe Pancreatic Cancer Action's recent campaign does just this," CEO of Breakthrough Breast Cancer, Chris Askew, said in a statement. "I've yet to meet a man or woman with breast cancer who would consider themselves in any way fortunate to have received a diagnosis."
TV and print advertisements making their way around London's Underground and newspapers across the UK feature actual pancreatic cancer patients and their rate of survival. In one ad, 24-year-old pancreatic cancer patient Kerry Harvey declares "I wish I had breast cancer" while statistics involved with pancreatic cancer diagnosis flash across the screen. (For example, "Today 23 people will be told they have Pancreatic Cancer.")
A second ad features another woman, 51-year-old Penny Lown who also announces "I wish I had breast cancer" along with 42-year-old Andy Luck who states "I wish I had testicular cancer." Compared to the survival rate of breast cancer patients at 85 percent and men with testicular cancer at 97 percent, people with pancreatic cancer are given a five-year survival rate of just three percent.
Ali Stunt, CEO of Pancreatic Cancer Action, who diagnosed herself with pancreatic cancer back in 2007, is well aware the message may be off-putting to some, but she says the campaign is not meant to downplay the importance of breast cancer research. The charity is only looking to draw more attention toward the impact of a pancreatic cancer diagnosis and what effect it can have on the patient. Most patients will die within four to six months of being diagnosed.
"When I was diagnosed with pancreatic cancer age 41 in 2007 and started to understand the gravity of the disease, only a 3 percent chance of survival and an average life expectancy of just months, I did feel at times that I wish I had a cancer that would give much better chance of survival; as the odds of me being around for my loved ones for longer would be significantly improved. In fact the cancer I personally wished I had was breast," Stunt explains in a blog post.
Stunt continues by saying the reason for the "envy" campaign's hard-hitting message is to grab the reader's attention and compel them to read on. During an online survey conducted by Pancreatic Cancer Action and the creative advertisement agency that developed the ad, Team Darwin, respondents were asked to watch the 1:25 commercial and give their opinion: "A little uncomfortable and shocked at seeing the phrase 'I wish I had'… but when I read the pancreatic cancer statistics, I respect the ad for using that phrase to make me think," one said.
Another respondent: "A lot of cancer ads rely on shock tactics. But this campaign leverages shock for information, not just emotion. So even though they`re sensational, they`re justified. 'How can anyone say that? Oh I see. Wow!'"
What do you think about Pancreatic Cancer Action's "Envy" campaign?
Published by Medicaldaily.com