Proposed Food Labeling Act Would Make Labels Clearer; Ending 'Chaos On Food Labels'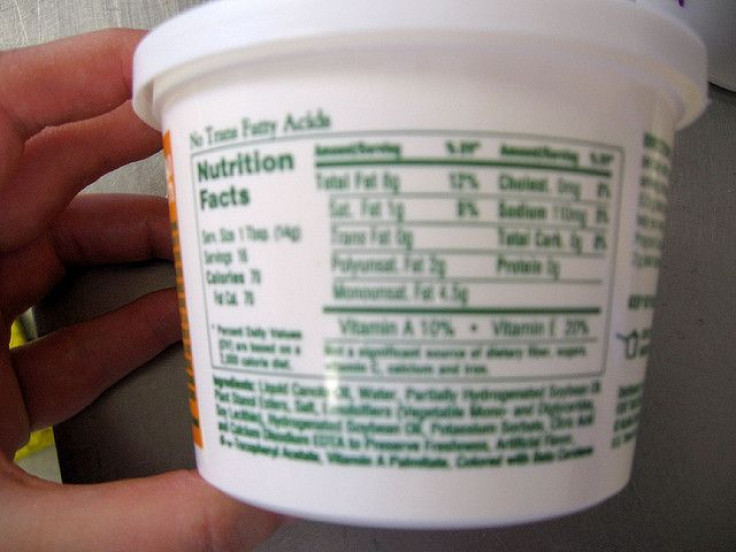 The Food Labeling Modernization Act of 2013, introduced to Congress on Thursday by three democrats could become a major victory for American consumers if passed. That's because it would force food makers to clearly label their products, as well as other things, intended to help consumers make educated decisions about the food they buy.
"The Food Labeling Modernization Act is a comprehensive approach to updating labels so that consumers have the clear, consistent information they need when making important decisions about the food they buy and give to their families," Rep. Frank Pallone (D-N.J.) said in a statement.
Pallone, Sen. Richard Blumenthal (D-Conn.), and Rep. Rosa DeLauro (D-Conn.) are behind the bill. It wouldn't only require food labels to have clearer ingredients lists, with bullet points and more readable fonts (see here), but it would also seek to set a standard for front-of-package labeling; it would come up with new definitions for certain terms; and it would require the percent daily values of calories and sugar, as well as the amount of sugar that is not naturally occurring, to be labeled on the Nutrition Facts Panel.
"This bill would give consumers confidence that the claims they read on food labels — like 'healthy,' 'natural,' 'made with whole grains,' and so on — are grounded in reality," Michael Jacobson, executive director of the Center for Science in the Public Interest, said in the statement. "Simply making ingredient lists legible, this bill would be a historic advance for consumers. Anyone who shops or eats should support the efforts … to end the chaos on food labels."
Lawmakers said that clearer labels would allow families to make educated, healthy decisions that, in the long-term, would be both cost-effective and help in preventing obesity-related disease. "Preventative health care is the most cost-effective," Blumenthal told The Hill.
Obesity has almost tripled among children and teenagers, ages two to 19, and currently stands at about 17 percent, according to the Centers for Disease Control and Prevention (CDC). But research has shown that these numbers are starting to level off and even decline, as more families become more health conscious.
As with any bill, this one also had its skeptics. The Grocery Manufacturers Association (GMA) was concerned that the bill would have "serious unintended consequences" on certain products and that it would "only serve to confuse consumers," Brian Kennedy, a spokesperson for the GMA, told The Hill, calling current regulations "robust." The U.S. Food, Drug, and Cosmetic Act hasn't been updated since 1990, with some of its legislation dating as far back as 1938, when it was passed.
Published by Medicaldaily.com