Singing Or Playing An Instrument Improves Brain Function, Offsets Rich Kid/Poor Kid Academic Achievement Gap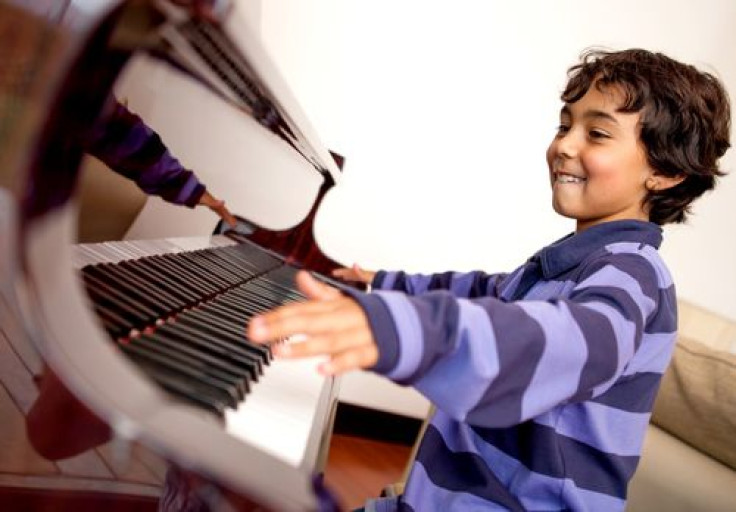 Past studies have shown differences in the brains of children raised in poor environments that impact and may even limit their ability to learn. How, then, do you narrow the academic achievement gap between kids with more advantages, including highly nutritious diets, and kids with less advantages? New research involving hundreds of students in Chicago and Los Angeles public schools finds disadvantaged children who learn to sing or to play a musical instrument show not only improved neural function but also enhanced learning abilities over time. "While more affluent students do better in school than children from lower income backgrounds, we are finding that musical training can alter the nervous system to create a better learner and help offset this academic gap," says Dr. Nina Kraus, a neurobiologist at Northwestern University and presenter of the research at the American Psychological Association's 122nd Annual Convention.
Up until now, research on the impact of musical training has been primarily conducted on middle- to upper-income students participating in private music lessons. For this study, though, the team of researchers drew on a different pool of students: younger children learning music at the Harmony Project in Los Angeles and teens from lower economic backgrounds who participated in either band or choir at three public high schools in Chicago. These musically engaged children were compared to their peers from similar backgrounds. In the case of the Chicago schools, the students in the non-musical comparison group were enrolled in Junior Reserve Officer's Training Corps classes, teaching character education, achievement, wellness, leadership, and diversity.
At the start of the study, all participants had comparable reading ability and IQs, the research team found. To begin, the team recorded the children's brain waves as they listened to a repeated syllable against soft background sounds meant to replicate a typical, busy environment, such as a classroom or a playground. Then, the researchers repeated these measures after one year and again at the two-year mark. Surprisingly, they discovered music students' neural responses had strengthened while the JROTC students' responses had remained the same. Apparently, the musical training enhances the way children's nervous systems process sounds in a busy environment and this improvement appears to boost memory and attention spans. In turn, kids seem to focus better in the classroom and develop their communication skills.
"We're spending millions of dollars on drugs to help kids focus and here we have a non-pharmacologic intervention that thousands of disadvantaged kids devote themselves to in their non-school hours — that works," says Dr. Margaret Martin, co-researcher of this study and co-presenter at the convention. Interestingly, the differences in the music students' brain waves occurred after two years but not at one year. For this reason, these programs cannot be used as quick fixes, yet even after the lessons stop, Kraus explained, the brain still reaps benefits. In a separate study, her team surveyed college students and found those with more than five years of musical training in elementary or high school had improved neural responses to sound when compared to college students who had not been trained in music.
Published by Medicaldaily.com