Toilet Of The Future Winner Combines Ergonomics With Screening System That Tests For Disease … And Pregnancy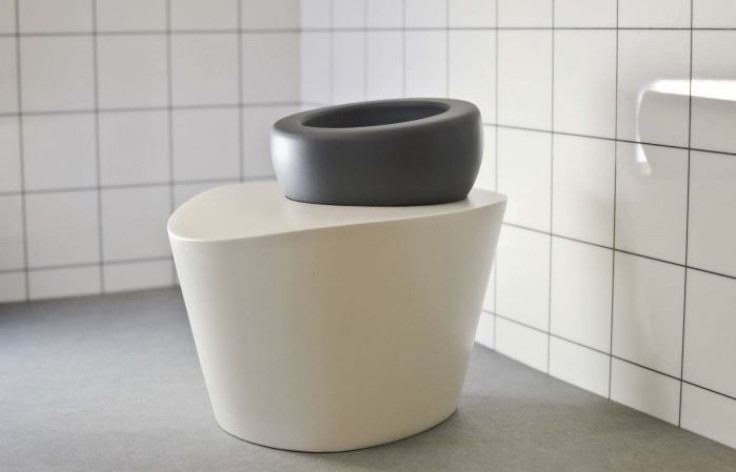 The winner of the most recent Toilet of the Future Competition harvests lessons from nearly every past method and innovation in bathroom accommodation, from the easiest way to "go" in the wild to NASA-designed commodes. Yet, the truly winning aspect of the "Wellbeing Toilet" is that it combines ergonomics with built-in screening systems that are able to analyze waste matter and urine for biomarkers and indicators of disease, such as diabetes. Plus, the system can even test for nutritional deficiencies and pregnancy.
Of course you want one!
In designing a new porcelain throne, Sam Sheard, Pierre Papet, and Victor Johansson, students at the University of the Arts in London, considered various scientific studies that indicated a seated position may not be the optimal experience when eliminating waste. For instance, an Israeli scientist investigated the effects of posture on defecation; he discovered that when people sat, it took 130 seconds on average to complete their bowel movements, while squatting allowed people to finish in just 50 seconds. Most participants in this 2003 study claimed they found this alternate posture to be more comfortable than sitting as well. Squatting advocates also assert that this more natural position would likely prevent serious and not so serious health conditions, including colon cancer and hemorrhoids.
Based on both research and belief, then, the designers of the Wellbeing Toilet molded the bowl in such a way that an occupant's posture forms a 45-degree angle, rather than the usual 90-degree angle assumed when sitting. While users still sit down on the bowl as accustomed, they also lift their legs and rest their feet on a raised platform so that their bodies easily assume the healthier squatting posture. In effect, the unique design offers users an easy transition as opposed to an immediate reset of a years' long habit.
The Toilet of the Future Competition was organized by plumbing supplier Dyno-Rod, the UK's largest plumbing and drainage company. To mark half a century of servicing 25 million drains and toilets, Dyno-Rod commissioned graduates from Central Saint Martins, which includes University of the Arts, to design the loo of tomorrow. Graduates from the university's Industrial Design and Design programs were prompted to consider issues of sustainability, the environment, and health when envisioning a next generation commode.
Shortlisted designs included not only the winning entry, but also the 'Modular Construction Toilet,' which runs on grey water collected from showers and sinks, and the 'Zero Waste Toilet,' which consists of a waterless system that converts waste into grey water, fertilizer, and biogas. The "Wellbeing Toilet" was announced as the competition winner on World Toilet Day, Nov. 19, by judges Cliff Huxley, Dyno-Rod senior engineer, and designer Wayne Hemingway. "Design is about improving things that matter in life, and going to the toilet matters," Hemingway stated in honor of the event.
As for those who want one of these winning latrines, like, now, the Wellbeing Toilet is still just a concept and "far from ending up in retail," according to its designers. Considering the positive reaction from many quarters, that goal might not be as far off as these innovators imagine.
Published by Medicaldaily.com