Top Ten Kid-Friendly Vegetarian Meals for School Lunch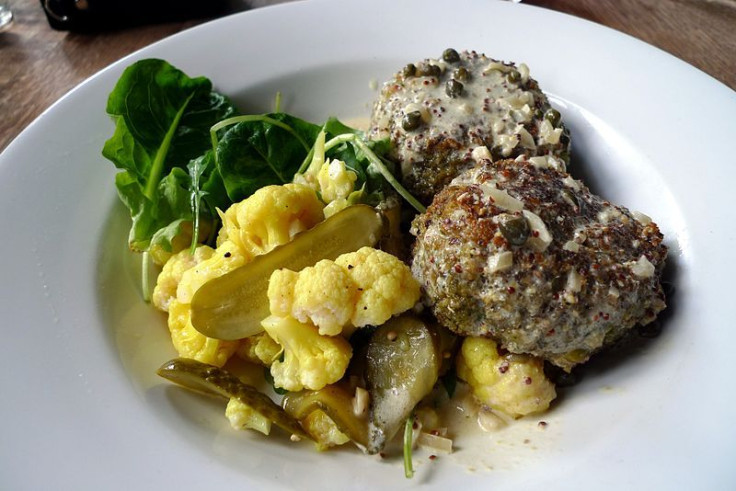 Schools across the United States are offering an all-vegetarian meal plan for students. Healthy alternatives have now become a staple diet in American youth. An assortment of nutritious meals are now available for kids to ensure that they receive their daily dose of essential nutrients like calcium, iron, protein, and zinc.
Below is a list of the top ten vegetarian meals that have got a kid seal of approval.
10. Whole-Wheat Macaroni and Sweet Potato Cheese.
The sweet potato contains nutritional yeast that gives it a cheese-like taste. It is a plant-based source of vitamin B12 and contains no whey, reports the National Center for Biotechnology Information. The combination of sweet potato cheese with whole-grain will provide a delicious and highly satisfying mac 'n' cheese experience.
9. Veggie Burger.
A healthy-hearty veggie burger contains bulgur wheat and pinto beans. Mayo Clinic asserts that these two key ingredients are known to boost fiber, since the grain-refining process in refined or processed foods removes the bran from grain and thus lowers its fiber content. The veggie patties can be pan-fried in olive oil and served on whole-wheat buns. Extra toppings like avocados, mushrooms and sliced tomatoes are optional.
8. Egg Salad.
A creamy, succulent, high-protein egg salad mixed with hard-cooked eggs, mayonnaise, mustard, onion, and celery is a healthy choice with a low calorie count. It is an excellent way to develop muscle strength, especially in young children; thanks to the benefits of important amino acids that the eggs provide. Egg salad can tackle high cholesterol, the sulfur can make hair and nails strong, and onions can reduce fat levels in the bloodstream with the added bonus of lowering blood pressure says the National Institute of Health (NIH).
7. Baked Spaghetti with Mozzarella.
A baked pasta casserole with sauce and garlic mixed in with fresh mozzarella, basil, and spaghetti is a scrumptious meal for children of all ages. The National Institutes of Health (NIH) evaluates that the low fat content in spaghetti is a good choice because it contains very low saturated fat. It is rich in carbohydrates, vitamin A, folic acid, and potassium.
6. Mediterranean Chickpea Burger.
The chickpea burger can be grilled on whole-wheat bread with extra toppings of scallions, cumin, ginger and peanuts. Mayonnaise or mustard may be added to satisfy cravings. This delicious burger can be high in sodium, but its pros are that it is low in saturated fat, contains no cholesterol, and is high in dietary fiber with only 120 calories says Calorie Count.
5. Grilled Mozzarella Sandwiches.
A mix of heavy cream and egg put into the pan with butter will create this grilled cheese bite.
This sandwich is low in sodium and contains 'good fatty acids' like omega-3 and omega-6. These fats are key for growth and development in children and have been known to reduce the risk of heart disease, according to the University of Maryland Medical Center.
4. Noodles.
Noodles with soy sauce and added fresh veggies or just plain noodles can lower cholesterol reports National Institute of Health. Egg noodles will contain more cholesterol but if the yoke from the egg is removed, it will be cholesterol-free. Also, they can help with bowel movements and alleviate constipation.
3. Rolled Omelet with Spinach and Cheddar.
A simple omelet with milk, flour, and eggs with spinach will provide a creamy texture. Mayo Clinic reports Spinach can aid digestion, alleviate constipation, maintain low blood sugar, and control hungry. It has rich antioxidants, such as vitamin C, vitamin E, beta-carotene, manganese, zinc, and selenium. These antioxidants can fight osteoporosis, atherosclerosis, and high blood pleasure.
2. Falafel.
Mashed chickpeas, cumin, coriander, sesame seeds, parsley, and fresh mint accompany the pan-fry patty. Falafels are commonly served in pita pockets with tomatoes, lettuce, and tahini sauce for a creamy touch. Live Strong unveils this meal only contains 170 calories for two patties. Omega-3 and omega-6 are present as the fatty acids in this quick fix.
1. Taco-Salad Wraps.
The best thing about taco-salad wraps is that no cooking is required! A can of mashed black or kidney beans with cumin and chili powder will provide the seasoning. Flour tortillas covered in cheddar cheese and extra toppings, like diced avocado and mango, will satisfy hungry taste buds. This 120 calorie meal is a good source of fiber and protein and contains little to know sugar, depending on the selection of toppings.
These top ten kid-friendly vegetarian tasty meals promote healthy eating habits that the youth can adopt at a young age.
Published by Medicaldaily.com