Twin Newborns Hug During Bath: Nurse Sonia Rochel Gives Babies Relaxing 'Spa Bath' To Mimic Life In The Womb [VIDEO]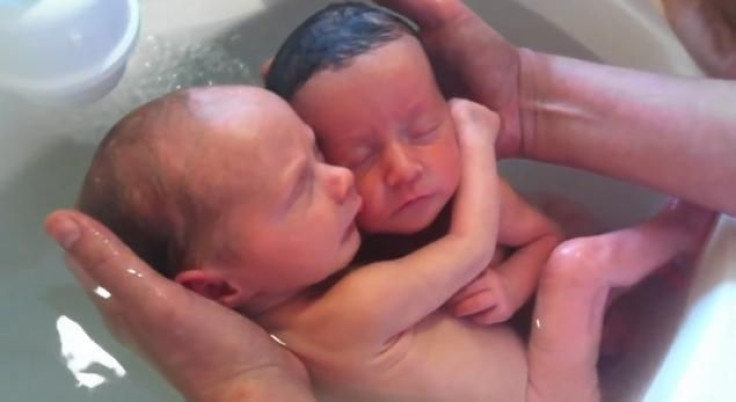 French twins, a boy and a girl, hugged as nurse Sonia Rochel bathed them using a technique that is meant to mimic life in the womb. And, of course, the video of the adorable bath has gone viral.
It's almost as if the twins are unaware that they have been born as they grip each other tightly, keeping their eyes closed during the bath. According to The Local, Rochel specializes in early childcare development and developed the relaxing spa bath technique for newborns.
The technique, called the Thalasso Baby Bath, is used on newborns just a few weeks old, according to Today Moms. The babies are bathed without using any gels or creams. The bath lasts about 15 minutes as relaxing music is played and the babies are massaged. The goal is to relax both baby and parent.
"The newborns cling to each other as they float in a basin full of water, with adult hands gently cradling and supporting their tiny bodies," Today Moms described. "At one point, water is carefully poured over their foreheads and eyes, while their noses and mouths stay above the surface so they can breathe comfortably."
Rochel is 51 and has six grandchildren. She says she came up with the idea for the Thalasso Baby Bath after taking a shower and realizing how good the water felt running over her face. The twins in the video had been bathed together once or twice before being filmed.
"The babies' amazing response to the water is always beautiful to see," Rochel said in an interview last year.
The video has already gotten close to 8 million views since being posted on Nov. 8. Watch the footage below.
Published by Medicaldaily.com