Type 2 Diabetes Patients Can Regulate Blood Sugar With Big Breakfasts And Small Dinners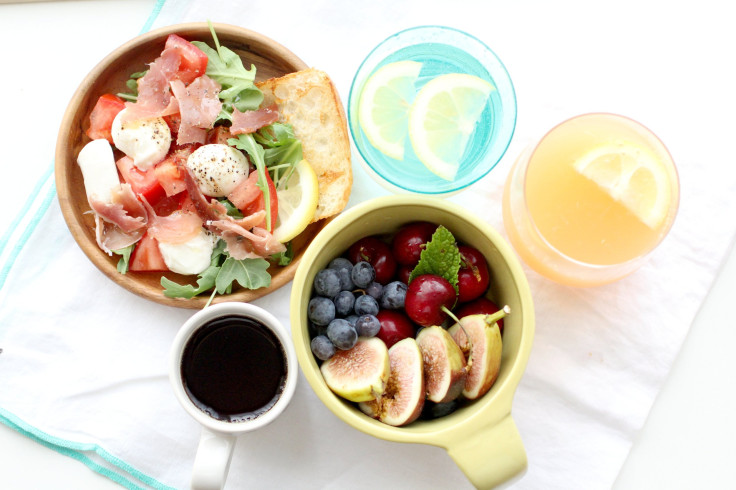 A new study offers more evidence to the notion that eating a healthy, high-energy breakfast will keep you better powered throughout the day rather than barely eating breakfast, then pigging out during dinner. This is especially true for people with diabetes, who have to carefully regulate their meal intake and blood sugar.
Published in Diabetologia, the journal of the European Association for the Study of Diabetes, the study found that people with type 2 diabetes who ate high-energy breakfasts and low-energy dinners had improved blood sugar control compared to those who ate the opposite: less for breakfast and more for dinner. People who consumed more for breakfast and less for dinner overall had less hyperglycemia throughout the day compared to the reversed meal schedule.
Hyperglycemia is a condition caused by the intake of too much food and sugar, and the body is unable to produce insulin enough to get blood sugar levels to normal. It can occur to people with type 2 diabetes when they miss an insulin shot, and can lead to fatigue, increased thirst and urination, and agitation. Hypoglycemia, on the other hand, occurs when a diabetic person misses a meal or snack and results in dizziness, blurred vision, or nausea.
"These observations suggest that a change in meal timing influences the overall daily rhythm of post-meal insulin and incretin and results in a substantial reduction in the daily post-meal glucose levels," Professor Oren Froy at the Hebrew University of Jerusalem, an author of the study, said in the press release. "A person's meal timing schedule may be a crucial factor in the improvement of glucose balance and prevention of complications in type 2 diabetes and lends further support to the role of the circadian system in metabolic regulation."
The authors examined 18 participants — eight of whom were male and 10 female — who all had type 2 diabetes for less than 10 years. They were all aged between 30 and 70 years old and had a body mass index (BMI) of somewhere between 22-35 kg/m2. They were divided into two groups: the first was given a bigger breakfast, and the second received a much smaller breakfast and larger dinner, though the total energy of both was equal. The larger meal typically consisted of milk, tuna, a granola bar, a scrambled egg, yogurt, and cereal; the smaller one was sliced turkey breast, mozzarella, salad, and coffee. Breakfast was given at 8 a.m., lunch at 1 p.m., and dinner at 7 p.m., every day for six days.
On the seventh day, after consuming their meals, the participants had blood samples taken at different intervals throughout the day. The researchers thus measured post-meal glucose levels, insulin levels, c-peptide levels, and incretin — an indicator of glucose metabolism that triggers the release of insulin. The participants then switched over to the opposite diet plan two weeks later and repeated the test.
The researchers found that post-meal glucose levels were 20 percent lower, while insulin, C-peptide, and incretin levels were 20 percent higher in people who had bigger breakfasts. This means that for diabetics, bigger breakfasts definitely helped prevent any adverse effects that day for their disorder.
"The mechanism of better glucose tolerance after high-energy breakfast than after an identical dinner may be in part the result of clock regulation that triggers higher beta cell responsiveness and insulin secretion in the morning, and both a lower rate of breakdown of insulin by the liver and the increase in insulin-mediated muscle glucose uptake in the morning," Professor Daniela Jakubowicz said in the press release.
A solid breakfast isn't just important for diabetics, but it's essential for any person trying to lose weight or maintain a healthy weight. Whether you're overweight or skinny, eating a full breakfast is vital to making sure you don't get hungry, fatigued, or dizzy during the day, then make up for it by eating an unhealthy lunch or dinner, which is less likely to be broken down by your body later on in the day. It's why most health experts and doctors consider breakfast the most important meal of the day.
But going all out for breakfast — eating bacon, eggs, pancakes, and the like every single day — probably would offset the positive results of this type of diet. Instead, aim for high-energy but healthy items like oatmeal, cereals, yogurt, boiled eggs or egg whites, and granola.
"High energy intake at breakfast is associated with significant reduction in overall post-meal glucose levels in diabetic patients over the entire day," Jakubowicz concluded. "This dietary adjustment may have a therapeutic advantage for the achievement of optimal metabolic control and may have the potential for being preventive for cardiovascular and other complications of type 2 diabetes."
Source: Jakubowicz D, Wainstein J, Ahren B, Bar-Dayan Y, Landau Z, Rabinovitz H. "High-energy breakfast with low-energy dinner decreases overall daily hyperglycaemia in type 2 diabetic patients: a randomised clinical trial." Diabetologia, 2015.
Published by Medicaldaily.com