In Valentines Day Announcement, CDC Says An Epidemic of STIs are Sweeping The Country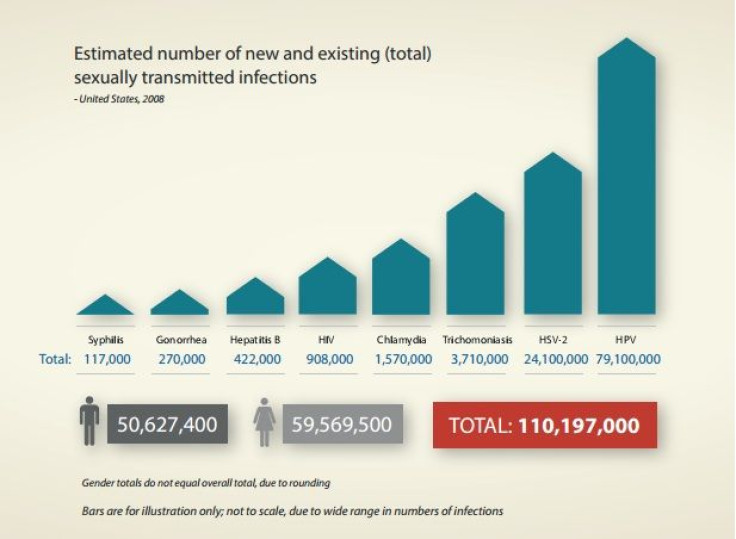 The CDC released a statement saying that there is a "ongoing, severe epidemic" of sexually transmitted infections sweeping the US. They state that there are over 20 million new cases every year of easily preventable diseases.
They said that there were 20 million new infections every year and that there were a total of 110 million STIs floating around the US right now. This costs the American public $16 billion annually because many people do not get tested and their infection can get worse and lead to complications.
The fact sheet from the study (which can be found here) shed light on which populations were the most likely to obtain STIs. People 15 to 24 years old only constitute one quarter of Americans and they reportly have 50 percent of all new infections, a significantly disproportionate amount.
The study found that HPV, Human Papilloma Virus, accounted for 14 million of the new infections per year. Although 90 percent of HPV infections go away within two years, it is a preventable disease. Vaccination is currently suggested to 11- and 12-year-old boys and can be taken well into a person's 20s.
"All STIs are preventable. They're all treatable, and many are curable. But if they're left untreated, they can lead to pretty serious lifelong problems and even death," says Catherine Satterwhite, a CDC epidemiologist and lead author of the new estimates.
"Individuals need to talk openly to their sexual partners, and to their doctors about getting tested and they need to reduce their individual risk. They need to vaccinate. They need to consider ways to reduce their risk like practicing abstinence, using condoms correctly and consistently every time, and being in a mutually monogamous relationship."
The CDC concluded the report with a few points and suggestions:
All adults and adolescents should be tested at least once for HIV.

Annual chlamydia screening for all sexually active women age 25 and under, as well as older women with risk factors such as new or multiple sex partners.

Yearly gonorrhea screening for at-risk sexually active women (e.g., those with new or multiple sex partners, and women who live in communities with a high burden of disease).
Syphilis, HIV, chlamydia, and hepatitis B screening for all pregnant women, and gonorrhea screening for at-risk pregnant women at the first prenatal visit, to protect the health of mothers and their infants
Trichomoniasis screening should be conducted at least annually for all HIV-infected women.
Screening at least once a year for syphilis, chlamydia, gonorrhea, and HIV for all sexually active gay men, bisexual men, and other men who have sex with men (MSM). MSM who have multiple or anonymous partners should be screened more frequently for STIs (e.g., at 3 to 6 month intervals. In addition, MSM who have sex in conjunction with illicit drug use (particularly methamphetamine use) or whose sex partners participate in these activities should be screened more frequently.
Published by Medicaldaily.com