Pound A Day Diet: Rocco DiSpirito Says You Can Lose 5 Pounds In 5 Days By Eating The Foods You Like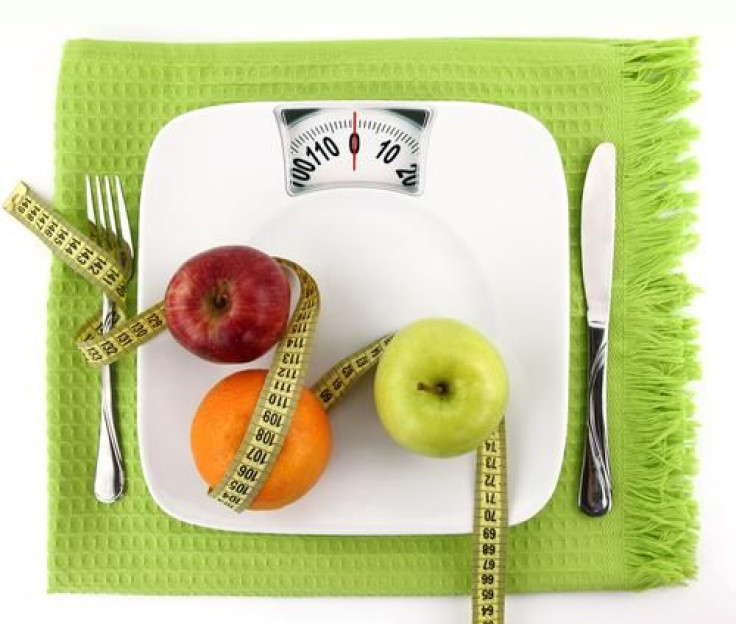 It's the start of a new year, and for many that means meeting one of the most high-ranking resolutions on the list: going on a diet. Celebrity chef Rocco DiSpirito's "The Pound A Day Diet" recently hit bookshelves on Jan. 7 just in the nick of time to cater to a dieter's common woes. The accelerated weight-loss program is designed to help you shed up to 5 lbs. in five days while eating your favorite foods, but just how exactly does DiSpirito's diet help you cut the fat?
DiSpirito's A Pound A Day Diet: Pound By Pound
The 47-year-old chef at 6-foot-1 went from weighing 226 lbs. to 185 lbs. by ditching his unhealthy habits of overeating and drinking too much alcohol. DiSpirito's motivation to shed the pounds was driven by a terrifying trip to the doctor who revealed the chef needed to take several meds for his cholesterol and high blood pressure. At 40 lbs. overweight and in serious danger of heart disease, the chef realized he had to rethink his lifestyle. "Out of desperation, I was like, 'What else can I do?' and he said, 'Well, you can try diet or exercise, but here you go, no one ever does that,'" Dispirito said to Piers Morgan on Piers Morgan Live.
As a chef specializing in Italian-American cuisine, DiSpirito devised his very own two-phase weight-loss plan centered on the Mediterranean Diet. Phase one of the program is a 28-day plan that aims to correct the dieter's calorie and carbohydrate intake to speed up their metabolism to help them lose weight fast. Dieters are restricted to 850 calories on weekdays and 1,200 calories on the weekends, with carbs such as whole grains, part of the diet. DiSpirito provides complete menus — four five-day plans and four weekend plans — for dieters to follow. First, the dieter must start out with the five-day plan, switch over to the weekend plan, return to the five-day plan for the second week, and continue with the weekend plan-alternating like this right down to their goal weight, according to The Pound A Day Diet synopsis. The menus provided in the book aim to help shed the pounds while allowing the dieter to consume the favorite foods they love.
"I am surrounded by the most delicious food available on the planet every day of my life. And if I can do it, anyone can do it," DiSpirito said.
Within a four-week time frame, dieters should be at their goal weight and begin phase II of the Pound a Day diet plan. In Phase two, the celebrity chef shows dieters how to rebalance portion size, consume less meat, and add more vegetables, fruits, and whole grains. Although this two-phase diet plan seems like a quick and easy way to lose weight without sacrificing too much of the dieter's taste buds, psychologists and nutritionists warn the Pound a Day diet could be mentally and physically unsafe.
Pound A Day Diet: How Safe Is The Diet Trend?
The Pound a Day diet restricts calorie consumption to 850 lbs. — considered to be a Very Low Calorie Diet (VLCD) — which can have several health implications on the body. "… a person taking less than 1000 calories per day is going to have trouble getting in enough nutrition to maintain a healthy body — vitamins, protein, minerals, and other nutrients must be carefully consumed in order to avoid malnutrition when a person is on a diet with so few calories," said Dr. Brian Quebbemann, a surgeon and founder of the N.E.W. (Nutrition, Exercise, and Wellness) Program in Newport Beach, Calif. Dieters may put themselves at a high risk for the rapid onset of severe malnutrition that could occur within a month of starting the diet.
Shifting from 850 calories for five days to 1,200 calories for two days can lead to ineffective weight loss. When the dieter is placed on a VLCD and then consumes 1,200 calories, "their body will change from an active calorie-burning mode to a calorie-storing mode," which will in turn, decrease their metabolism," Quebbemann said. Dieters may also being to feel immediate differences such as the feeling of fatigue, low blood sugar levels, and possibly binging on bad, sugary foods.
Weight Loss' Mental Health Risks
While the thought of losing weight may be exciting and riveting, rapid weight loss could pose several mental health risks for dieters. At first, dieters may feel more alert, energetic and sharp, due to the production of ketone bodies from the fat loss, said Dr. J Shah, chief medical director of Amari Medical. However, if a person is starving if they fast and is losing muscle and water, this may lead to confusion, mind fogginess, anxiety, and eventually depression. A person may even lose their memory, orientation, and develop more systemic complications such as cardiac and renal.
Post diet, dieters may feel they are unable to keep the weight off. They may struggle with "feelings of failure, helplessness, frustration, and a resumption of yo-yo dieting patterns," said Dr. Ramani Durvasula. Ramani has observed diets are the single most consistent predictor of eating disorders, and believes the Pound a Day diet may set people on that path. "As a psychologist — don't recommend it."
The Best Way To Lose Weight
One thing most diets have in common is their inability to help dieters lose weight and keep that weight off. Rigid diet eating plans may work for a short while, but mostly fail in the long run. Medical experts like Quebbemann, Ramani, and Shah believe if the diet is not something the dieter can continue forever, then it's of no use. A weight loss program should be tailored according to the dieter's body composition and their physiological condition because these diet plans are not a "one size fits all."
Published by Medicaldaily.com