Selfies While Brushing Lead To Better Dental Hygiene, New Study Finds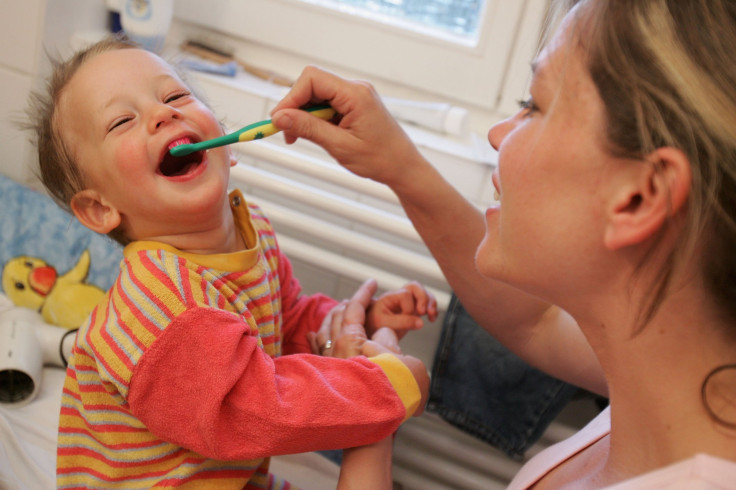 The "selfie" fad may be causing a number of unfortunate incidents across the globe but it also has its upside. According to a new study, recording video "selfies" while brushing teeth can help improve a person's oral health.
The study's participants used stands to hold their smartphones and film themselves as they brushed their teeth. Even though the period of time for which the participants brushed did not change, the researchers found an overall eight percent improvement in their skill. The brush strokes were noted to be more accurate and increased in number.
"Often, tooth-brushing is learned and practiced without proper supervision," Lance T. Vernon, co-author and a senior instructor at the Case Western Reserve University School of Dental Medicine, said in a press release. "Changing tooth brushing behaviors — which are ingrained habits tied to muscle memory — can take a lot of time and guidance."
The participants were assessed on their brushing habits before the study to correct any wrong technique. During the course of the study, the time spent brushing and on skill mastery was marked. The skills included were using a circular motion while brushing, achieving a 45-degree angle while tackling the facial surfaces of teeth and positioning the arm correctly.
"Our study suggests that, in the future, recording these selfies can help shift some of this time investment in improving brushing to technology," added Vernon. "Patients can then receive feedback from dental professionals."
Recording themselves as they brush makes people more conscious of their technique and can help get rid of ingrained habits that may be harmful for dental hygiene.
Vernon explained that medical fields are already using the selfie concept to monitor and assess a number of conditions under a method called mobile health or "mHealth." However, this report is the first to use the technology to study tooth-brushing behavior, according to the authors. They also hope to see a video-based monitoring app that can help oral health professionals review people's dental hygiene.
"The cost of an app could be minor, while potentially there could be major long-term benefits to a user's oral health and quality of life," Vernon said.
Oral diseases like tooth decay and periodontal disease can be prevented by proper brushing. However, there exists no standard brushing technique that is recommended universally by oral health experts or dental organizations, Vernon explained.
The study was published in the Indian Journal of Dental Research.
Published by Medicaldaily.com