100-Vehicle Car Crash On Bridge In UK: Witnesses Blame Fog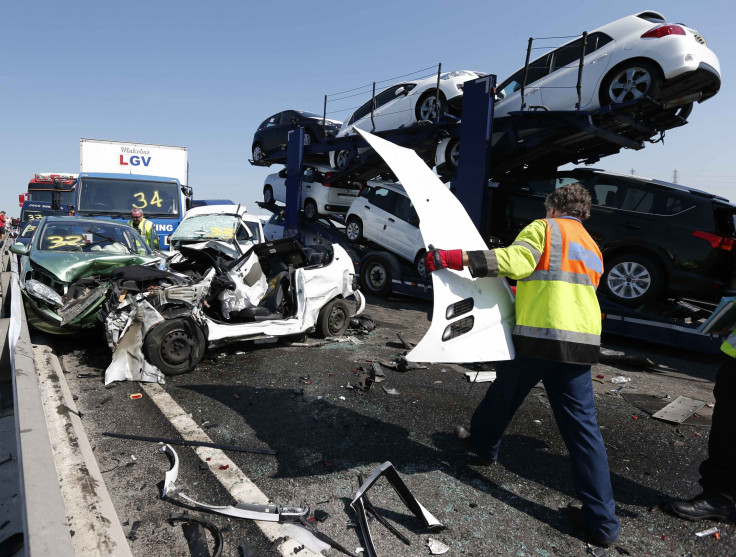 More than 100 cars crashed on the New Sheppey Crossing Bridge in Kent, England during morning rush hour yesterday, BBC News reports. No one died in the crash. Kent Police confirmed six people were seriously hurt, with more than 200 others injured, while ambulance crews said 35 casualties required transport to a hospital.
The Isle of Sheppey is an island off the northern coast of Kent; mainland and island are connected by the Sheppey Crossing bridge.
Witnesses blamed the fog and poor visibility. The Highways Agency informed BBC News that the national speed limit applies to the bridge, with cars able to travel up to 70 mph. Although Jaime Emmett, a 19-year-old student, said she was able to stop in time, a van collided into her car, which caused her vehicle to hit another in front. The fog was so thick that Emmett could see only a few cars ahead. "All I could hear was the cars smashing in front of each other and I could not know how far ahead the accident was," she told BBC News.
Witnesses said the series of crashes went on for 10 minutes as cars collided with each other on this stretch of the A249.
A witness spoke of a quick-thinking truck driver who saved lives by blocking the road to prevent more cars piling into the crash. "Whoever that guy is I'd like to shake his hand because he's probably saved lives today," Chris Buckingham told Sky News.
Six fire engines and more than a dozen ambulances arrived on the scene following a call at about 7:15 a.m. Five people had to be cut out of their cars, Examiner.com reports. Commenting on weather as a potential cause, Chief Inspector Andy Reeves said that it was a factor. "It was... very hazardous. It was described to me as a very thick fog and it was certainly low visibility at the time," he told BBC News.
Published by Medicaldaily.com