102-Year-Old Woman BASE Jumps For Her Birthday: Idaho Native Dorothy Custer Dives Off the Perrine Bridge [VIDEO]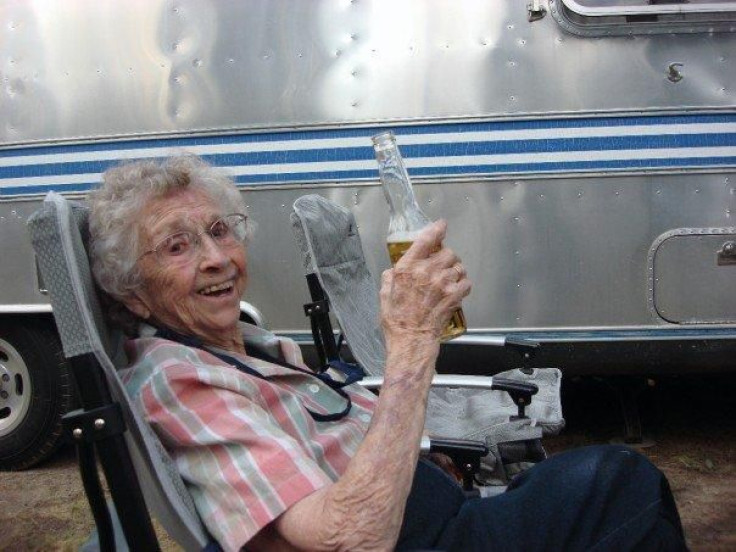 "3...2...1..." And they jumped.
So began Dorothy Custer's 102nd year, as the centenarian stepped off the ledge of Idaho's Perrine Bridge with a professional BASE jumper at her back.
Custer's adrenaline-filled birthdays are becoming something of a tradition, as she spent her 101st birthday zip-lining across the same canyon she BASE jumped into on Sunday.
The accomplished harmonicist and comedian said she isn't quite sure why she decided to go BASE jumping — that is, why she decided to jump 486 feet, untethered, off a four-lane bridge.
"Why am I? I've kind of asked myself that too," Custer told KMVT before the jump. "I guess probably because I don't know any better."
Originally, she had planned on spending her birthday skydiving but thought the price too much, so she resigned herself to a quiet night in. Her relatives had other intentions.
"No, I've never even thought of it until Greg and Sean came out," Custer said of the idea to BASE jump. "I was thinking of going to jump out of a plane but then I found out it was too much. So then I said forget it, I'll just have a very calm birthday."
Well, so much for that idea.
Dorothy Custer's "old" age puts her among a unique group of individuals. According to the 2010 Census, the United States currently has 53,364 centenarians — people who have lived to, or beyond, 100 years. Custer is also part of another majority, as women comprise 82.8 percent of the U.S. centenarian population, the greatest number of any nation.
Custer admits she has no secrets to achieving her centenarian status. She concedes only that she doesn't worry about age.
"I never thought of age. I just went on living and having a good time, and doing what was necessary," she said. "I don't think of age right now."
Her sentiments echo those expressed by a handful of other centenarians.
"Mind your own business and don't eat junk food," said Besse Cooper, 116, who at the time was the oldest person in the world, until she died in late 2012. "Treat everyone the way you want to be treated, work hard and love what you do."
Cooper's story, along with others', was published in nutritionist Gwen Weiss-Numeroff's collection, Extraordinary Centenarians in America: Their Secrets to Living a Long Vibrant Life, which profiles 30 people who have thrived into their 100s.
Weiss-Numeroff found a large majority of those she interviewed rarely dwelled on their problems, and often felt compelled to help others — two qualities, she concluded, that were tantamount in crossing the 99-100-year threshold.
Doctors, meanwhile, also offer practical advice to maintaining one's bodily health for a century, such as flossing, eating vegetables, maintaining a normal sleep pattern, and not smoking. However, as Dr. Thomas Perls, founder and director of the New England Centenarian Study, founded in 1994, said, "Being close to family members appears to provide an important social safety net. Centenarians tend to be gregarious and funny. Rarely do they come across as grumpy loners."
Touching down in the canyon, Dorothy Custer exclaimed after her jump, "It was too short!"
"I don't know why it went down so quickly," she said. "But that was alright. There's nothing left to do but just live now."
Published by Medicaldaily.com