17 Ebola Patients Escape Liberian Quarantine, Sparking Police Search Effort As WHO Scrambles For Control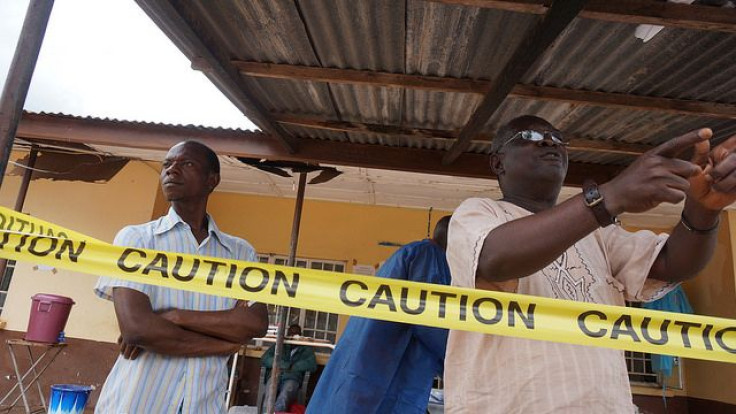 On Sunday, armed looters broke into an Ebola quarantine center in Liberia, inciting a night of widespread violence and hysteria. More than 29 isolated Ebola patients, as well as several nurses fled in fear from the raiders. Most patients have been recovered, but 17 still remain missing, and the government is racing against the clock to uncover their whereabouts before the outbreak truly gets out of control.
The site of the looting is West Point, an already poverty-stricken shantytown where residents live in shacks separated by narrow muddy alleys, in the Liberian capital of Monrovia. Police are struggling to track down the remaining 17 suspected Ebola carriers who fled the quarantine over the weekend, a process which has been stalled due to fear of contamination. "The police had to stand down because they were concerned not to put their men at risk," Information Minister Lewis Brown told Reuters. Thankfully, a new shipment of protective gear arrived in West Point yesterday, allowing officers to safely continue their investigation.
There are rumors of the entire slum and its at least 50,000 residents being quarantined, but as of now, "West Point is not yet quarantined as being reported," assistant health minister Tolbert Nyenswah reassured the public. Once the fled patients are located, they will be sent to a separate Ebola center in Monrovia's largest hospital, CBS News reported.
The looters, described by AFP as club-wielding youths, had been sparked to attack the quarantine center by the widespread mistrust of medical workers shared by many West Africans. Unfortunately, this mistrust and misunderstanding has only propeled the spread of Ebola. According to Information Minister Brown, "All those hooligans who looted the centre are now probable carriers of the disease" due to the fact that much of the bedding and mattresses they stole were visibly soaked with bodily fluids from the quarantined patients.
Following the quarantine raid, the residents of West Point went on a "looting spree" that included stealing items from a clinic most likely infected with Ebola."All between the houses you could see people fleeing with items looted from the patients," a senior police official, who chose to remain anonymous, told CBS News.
Residents of West Point, which is the largest slum in Monrovia, share mixed feelings toward the looters. Some hail them as heroes, freeing isolated patients from inhumane conditions, void of sufficient food and water. Reuters reported that anger toward Liberian President Ellen Johnson Sirleaf is widespread, with many blaming the President and her government for bringing infected patients into their community.
Others are angry that the looters have made an already bad situation even worse. It is likely that the looting and freeing of contaminated patients could accelerate the already quick spread of the outbreak in Liberia. "It felt bad. These people have put themselves at risk and the entire community at risk," Molly Cooper, leader of a local women's association, told Reuters.
At the moment, international organizations are continuing to send aid to West Africa in an effort to help treat those already infected. The World Health Organization allowed the use of experimental drugs to treat sick patients, and just recently, the medical charity Medecins Sans Frontieres opened the biggest-ever Ebola treatment site, equipped with 120 beds, on the outskirts of Monrovia.
Published by Medicaldaily.com