2011 U.S. Satisfaction Ranks Second Lowest Since 1979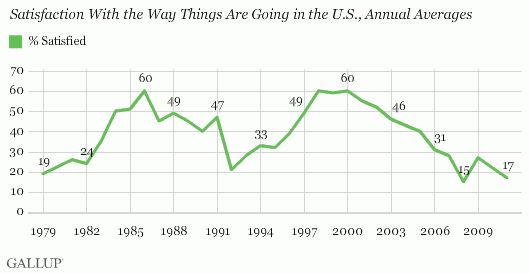 An average of 17 percent of Americans said they were satisfied with the way things are going in the United States, marking the second lowest annual average since 1979, according to a 2011 Gallup poll.
Following the lowest satisfaction level of 15 percent in 2008 Americans haven't been too happy with the way things are going in the U.S.
The highest average of satisfaction was in 1986, 1998, and 2000 which had a 60 percent satisfaction level.
Levels of satisfaction fluctuated through 2011 ranging from as low as 11 percent in August and September to as high as 26 percent in May, after the United States military found and killed Osama bin Laden.
The 15 percent level of satisfaction recorded from the Dec. 15-18 Gallup poll rose slightly from the low 11 percent recorded in August and September, just four points above the all-time low single poll reading of 7 percent after the financial crisis of 2008.
When asked what they thought the most important problem facing this country was, most Americans, 64 percent, mentioned the fall of the economy.
The biggest problem was for "economy in general" at 26 percent followed by "unemployment/jobs" at 25 percent.
Many mentioned "dissatisfaction with government/politics" at 16 percent and among the lowest was, lack of money, education, and lack of respect for each other at 4 percent.
However, the 64 percent of Americans that mentioned the economy as the most important problems facing the country is the lowest Gallup has measured over a year but it still remains above the average of 45 percent since 2001.
But dissatisfaction within the government and politicians seems to have grown as the 16 percent of Americans who say "the government" or "politicians" is the most important problem is the highest Gallup has measured since January 1996.
Although the numbers of satisfaction slightly grew within the past few months, overall, Americans remain unhappy with the way things are going in the United States as satisfaction levels are significantly down from recent years.
Published by Medicaldaily.com