22 Tough Mudder Racers Sickened From Ingesting Feces-Tainted Mud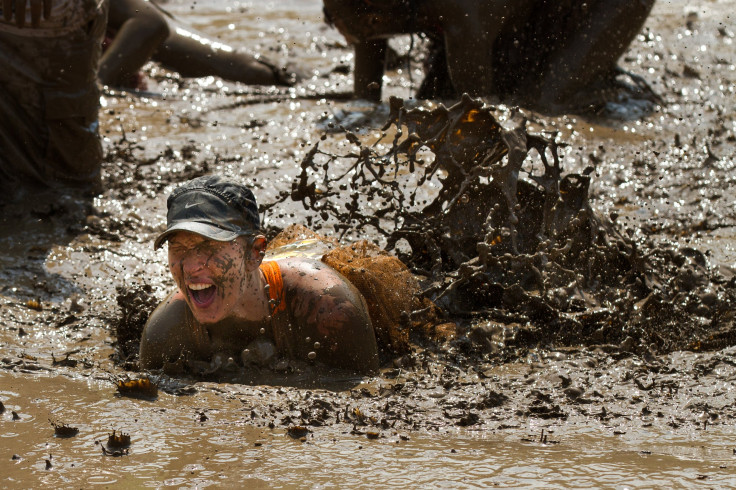 Obstacle courses, colorful 5ks, zombie-themed chases and other uniquely styled races attract hundreds of thousands of people each year, however one race has left its participants physicially sick. The Centers for Disease Control and Prevention (CDC) released a report after 22 people were identified to have gotten sick from swallowing mud laced with cattle or swine feces.
The outbreak was reported after a review of reports by clinical staff members that were logged during an adventure race called "Tough Mudder" in which participants maneuver their way through an obstacle course filled with mud. The mud carried with it the Campylobacter bacteria strain from animal feces which caused participants to become sick only after accidentally swallowing it during the race in Beatty, Nev. in 2012.
"Campylobacter is one of the most common causes of diarrheal illness in the United States. Most persons who become ill with campylobacteriosis get diarrhea, cramping, abdominal pain, and fever within two to five days after exposure to the organism," they wrote in the Centers for Disease Control and Prevention's weekly report.
Within 3.3 days of being exposed to the bacteria, 18 out of 19 patients had diarrhea, 14 had cramps, 10 had a fever, and another 10 experienced nausea. Other participants experienced these symptoms up to nine days after ingesting the feces-laced mud. Three of the affected participants were active-duty military persons who went to the Nellis Air Force Base to report symptoms such as bloody diarrhea, fever, and vomiting.
"These military-style adventure races attract high numbers of active-duty military personnel, along with young, active, extremely fit civilians. Persons typically are advised of the risks of participating and required to sign a liability waiver. Races are commonly held on farmlands where animal feces increase the risk for zoonotic disease transmission," the CDC report said.
Twenty out of the 22 participants sought medical care, while the other two reported their illness directly to the local emergency department without seeking care. One person was even hospitalized and required antibiotics, however, all those affected made a full health recovery.
"High-intensity and competitive muddy obstacle adventure course races have surged in popularity across the United States, drawing an estimated 1.5 million participants in 2012," according to the CDC.
It's more common for people to ingest the bacteria through raw or uncooked poultry, however the affected race participants were unaware of the dangers held on the cattle ranch course. The participants were required to not only run the 10 to 12 miles, but also overcome military-style obstacles such as climb walls, hurdle fire pits, dodge live electrical wires, and crawl beneath barbed wire, through water and infested mud.
Participants also reported injuries in 2013, during a race in Philadelphia. There were 38 participants who required emergency department treatment from the electrical injuries they sustained from crawling in water while shocks were hanging above them.
"The types of injuries were ones that we had never seen before at a social gathering or sports-related event, the electrical injuries in particular," Dr. Marna Rayl Greenberg, director of emergency medicine research at Lehigh Valley Hospital in Allentown, Pa., told NBC News Today. "I have been practicing for over 20 years, and I have never seen an event that shocked people. It took me a while to understand what was happening to them."
One of the cases, a 31-year-old man was having possible seizure events at the race, while another 41-year-old man was admitted into the emergency room after suffering a head injury with electrical wounds, and eventually fainting after the race. The obstacles are meant to make the race more challenging, however many medical professionals wonder if these are extremes that aren't worth the risk.
Published by Medicaldaily.com