24-Year-Old Victim of Flesh Eating Bug Can Now Feed Herself and Brush Her Own Teeth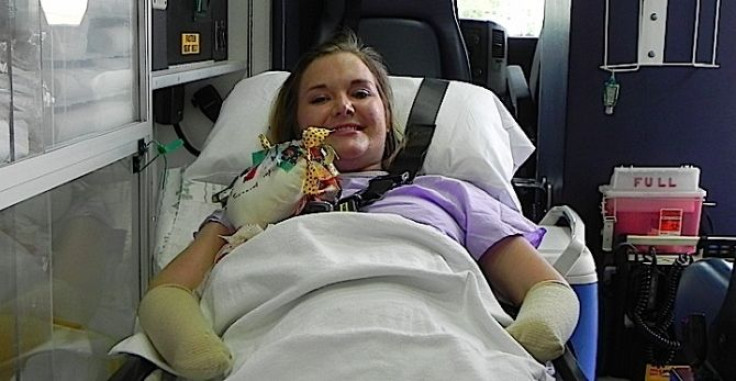 Aimee Copeland, the 24-year-old graduate student from Georgia who fought for her life battling an aggressive flesh-eating bacterial infection, is making a swift recovery and is now able to feed herself and brush her teeth, her father revealed.
Andy Copeland announced the news on his Facebook page on Saturday saying that Aimee had brushed her teeth and fed herself for the first time since being infected with necrotizing fasciitis or the "flesh-eating disease" in early May, after spending four days in rehab.
"Just a quick note: Aimee fed herself today for the first time. She can also now brush her own teeth," he wrote in a recent blog posting entitled "59 Days." "How's that for only 4 full days of rehab? Yeah, I'm beaming from ear-to-ear right now."
Aimee had been released from an Augusta hospital last week after six weeks of recovery and she is expected to spend the next two months at an undisclosed residential rehabilitation facility.
In her father's blog posting about her progress, he revealed how much the family will need for Aimee's prosthetic limbs and their fight with the insurance company to extend the coverage of their current medical plan.
"We have come to realize that $150,000 for prosthetics may have been a conservative estimate. Aimee will require a set of body-powered limbs and a set of myo-electric limbs. She will also require ongoing fittings for the ever-changing condition of her amputated limbs, which is required for continued comfort," Andy wrote.
"I have pleaded with our insurance company to extend the coverage of prosthetics beyond the stingy annual sum of $50,000 that is allowed under our medical plan," he added. "Surely they realize that there are not a plethora of quad-amputees in existence and that Aimee's extraordinary condition requires extraordinary care and coverage."
Aimee's family had been presented with a $16,500 check last week after a 5K fundraiser was held in Aimee's honor. Her parents are making preparations for her return home from rehab by adding an 'Aimee wing' to their home.
The 'Aimee Wing' will consist of a 1,800 square-foot two-story addition with a bedroom, fitness room, sunroom and study, where she can work on completing her master's degree in psychology. There will also be an elevator that will allow Aimee to go wherever she wants.
"Right now our house is not Aimee-friendly because it's very small and compact. We're going to add an Aimee wing," he wrote. "While she's getting better, we need to have this house prepared so she has a good viable home to come to."
Last week he also revealed that Aimee's dream is to be able to walk in time for her graduation in December.
"It's amazing the things we take for granted, like the ability to get up and go fix a cup of coffee and sit back down again," he wrote.
"She has to relearn that ability, to get up and get whatever she needs to satisfy her. She needs to be able to have some mobility in her life again but as we speak that process has already started, she is already 30 minutes into her first rehab session."
Aimee was infected with necrotizing fasciitis in early May after she cut her leg in a fall from a homemade zip line over a west Georgia river.
The University of West Georgia psychology graduate student had to have her left leg amputated as well as her right foot and both hands in order to save her life after a cut to her leg became infected.
Doctors had initially told her to take Motrin and Tylenol for the pain, believing nothing to be wrong. After being released from doctor's care with nothing more than some antibiotics and pain killers, Aimee and her family were horrified to discover that aggressive flesh-eating bacteria had invaded her leg injury and was quickly invading the rest of her body.
Necrotizing fasciitis, commonly referred to as 'flesh-eating disease,' is a rare but extremely aggressive bacterial infection that develops when the aeromonas hydrophila bacteria enters the body, usually through a small cut or scrape. The bacteria quickly multiply and release toxins that destroy tissue and block blood flow to the area it infects.
Symptoms of the infections include small, red lumps or bumps on the skin, rapidly-spreading bruising, sweating, chills, fever and nausea, organ failure and shock. Infected patients need to be treated immediately to prevent death because infection spread quickly throughout the body causing sepsis.
Patients are treated with powerful antibiotics and surgery or even amputation to remove the dead or infested tissue.
Published by Medicaldaily.com