25 Shot In 48 Hours in NYC: 11-Year-Old Brooklyn Girl Feared To Be Paralyzed By Stray Bullet Moves Arm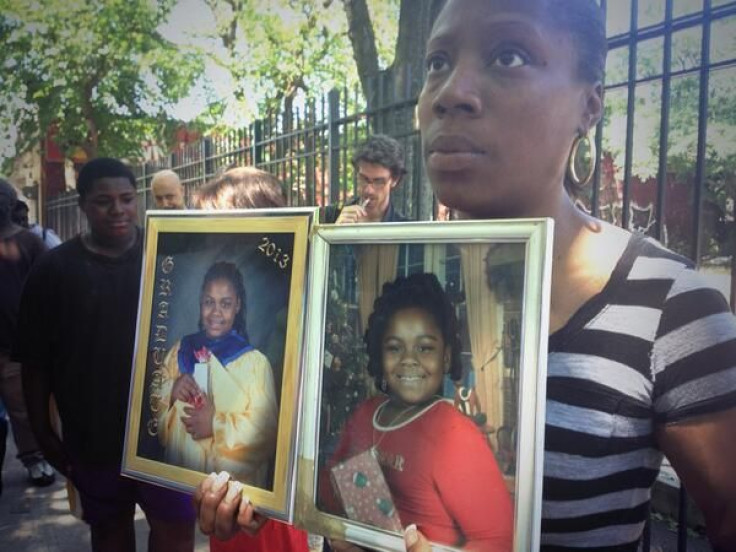 "Mayhem in the City," read the Daily News headline. Twenty five people were shot this past weekend in New York City. Six were killed and 11-year-old Tayloni Mazyck was thought to have been left completely paralyzed.
Mazyck was shot in the neck while walking with her mother in the Bedford-Stuyvesant section of Brooklyn on Friday just before 8:30 p.m. Mazyck is quoted as saying "I can't feel my body" as she dropped to the ground, gasping for air. A bullet was lodged in the young girl's spine. She was taken to a New York City-area hospital where she underwent surgery.
"The spine was severed and she will be paralyzed for life," said Prosecutor Jordan Rossman.
But there is a little sign of hope in the midst of this tragedy. Mazyck moved her arms Monday, an indication that she won't be completely paralyzed from the neck down. Her uncle, Tyrone Parker, told the Daily News, "That makes me happy. That's my baby. It's a start." Although she may regain use of her arms, doctors still believe that Mazyck may never be able to walk again.
As the police comb through evidence to hunt down shooting suspects, 17-year-old Kane Cooper was arrested in connection with the shooting of Mazyck. "When police told him he was being arrested for shooting an 11-year-old girl, his response was laughter," said Rossman.
Brooklyn, the Bronx, Queens, and Manhattan were the scenes of two days of bloodshed as a result of the gun violence. Three were killed Saturday and another three were killed on Sunday. City officials are scrambling to find out why the shootings happened, who is responsible, and what law enforcement personnel can do to prevent these events in the future.
"We're going to have Skywatch towers that are equipped not only with cameras, but also have police officers in them," NYPD Deputy Commissioner Paul Browne told 1010 WINS' Sonia Rincon. "In the areas, it gives them kind of a high ground, literally, to see from a distance what's happening."
New York City Mayor Michael Bloomberg, though upset about the city's bloody weekend, managed to maintain a positive outlook on how safe the city has become in the years since he came into office. He also attributed the increase in violence to the heat wave that New York was experiencing over the weekend.
"Including this weekend, last week we had the fewest number of shootings in any week in almost a decade. Think about that: including this weekend. That's how safe the city has gotten," Bloomberg told reporters. "Now, one weekend with very hot temperatures. We all know that when the temperatures get up there, people's temper gets shorter and the crime rate does seem to go up. And certainly, one shooting is one too many but the bottom line is, including this weekend, we have the lowest number of shootings that we've had in a decade."
Mayor Bloomberg's rattling off of statistics was likely a hard pill to swallow for the parents of Mazyck, who the mayor said he spoke to following the shootings. But Bloomberg did offer a glimpse into the actions he will take next. "You have a right to live in Bed-Stuy and not have bullets whiz past your head. That is a civil right . . . I just believe we have to do everything we can to protect those rights. I promised the father I would not flag in my desire to get guns out of the hands of minors and people with criminal records," he said.
Published by Medicaldaily.com