2,500 Calories a Night: Woman Suffers Rare Sleep-Eating Disease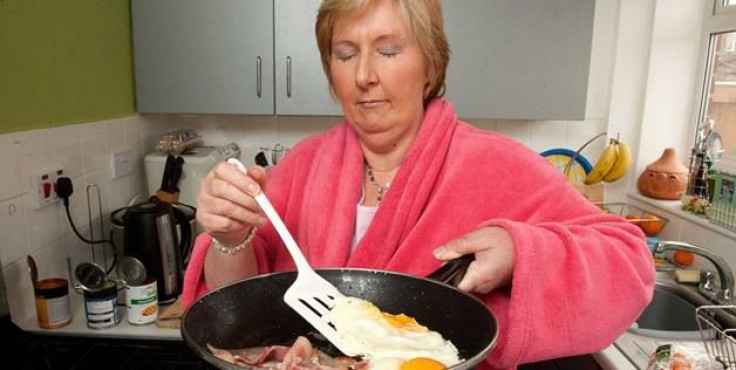 A British woman reports that while asleep she eats food compulsively, and in the morning wakes up with no memory of what she ate. Her rare condition lends a strange poignancy to the otherwise innocuous topic of late night snacking.
Lesley Cusack, 55, says she has Nocturnal Sleep-Related Eating Disorder. She claims to cook and eat 2,500 calories in her sleep-- more than the average daily recommended caloric intake for a woman her age.
"One weekend, I came down to find the cake slice covered in butter. I'd used it while making cheese sandwiches," Cusack said.
"I tend to find opened tins of things or packets and I've no idea whether I've eaten some of them cold or not."
"I've found soup in pans, but also in bowls. It all can get rather messy. I've put alarms on my doors in the hope it will wake me up. I simply turn it off in my sleep. I'm trying to lose weight but it's a constant battle. I can follow a diet to the letter but it goes to pot at night."
"The worst things that I know I've eaten are emulsion paint, Vaseline, cough syrup, raw potatoes and soap powder. The night I ate paint was the only time I've ever woken up. I can still remember standing in the kitchen touching my mouth and being very confused."
"My bedding and night clothes are constantly getting stained and need washing. I'm always finding a trail of food leading downstairs."
"The disturbed nights, waking exhausted with stomach cramp, feeling sick and finding food in the bed has become almost normal."
Almost. Cusack says that it can be extremely embarrassing trying to hide the disease. Staying with friends is difficult because she cannot know for certain that she won't end up disrupting the kitchen.
Dr Paul Reading, President of the British Sleep Society and a consultant neurologist at James Cook University Hospital, Middlesbrough, said that the disease effects a small portion of the population.
"A proportion of adult sleep-walkers will eat and even cook during apparent sleep, often consuming foods they would not normally enjoy," he said. "Weight gain and guilt are common consequences."
Other consequences for Cusack have included broken teeth and bruises, par for the course when attempting to cook and eat in the dark while unconscious.
Cusack said she decided to seek treatment for her condition when she realized just how serious the risk of bodily harm had become. She had started leaving the house and going to the shed looking for food.
"I was terrified at the thought of leaving the door open or having an accident outside," Cusack said. "Using the cooker, kettle and sharp knives means it's only a matter of time before something more serious happens."
A variety of treatments exist for those suffering from Nocturnal Sleep-Related Eating Disorder. One study suggests that the selective serotonin reuptake inhibitor sertraline (trade name Zoloft, Lustral) may be useful in combatting the disease.
Cusack is now awaiting consultation with a specialist.
Published by Medicaldaily.com