3-D Printing Saves Baby's Life [VIDEO]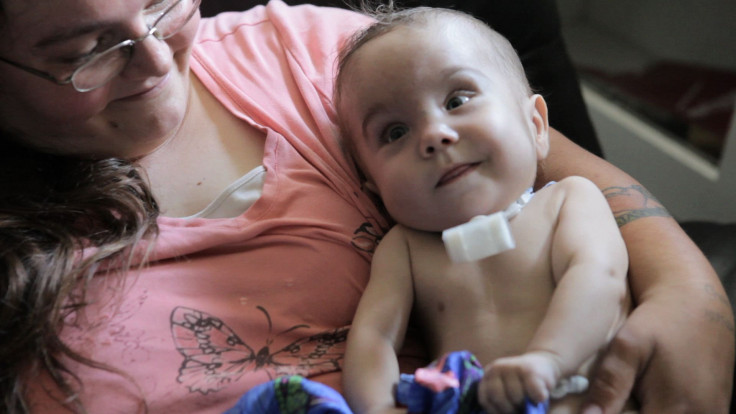 April and Bryan Gionfriddo had run out of options. During dinner at a restaurant, their 2-month-old son Kaiba suddenly stopped breathing, turned blue, and was rushed to the hospital.
The story of the 3-D printed device that saved his life is featured in today's edition of the New England Journal of Medicine.
Two weeks earlier, Kaiba had begun to have mild issues with feeding and breathing, but when he arrived at the hospital, doctors discovered he had partially collapsed airways in his chest, a condition called tracheobronchomalacia.
Also known as "softness of the windpipes," tracheobronchomalacia is a rare pediatric disease that impairs a newborn's ability to respire. About one in 2,200 babies develops the condition, but most grow out of it by age two or three.
Severe examples like Kaiba's only account for 10 percent of all cases, "and they are frightening," said Dr. Glenn Green, a pediatric specialist at the University of Michigan. He and his colleague Dr. Scott Hollister, an engineering professor at University of Michigan, devised an innovative solution that saved Kaiba's life.
They used 3-D printers to build a cylindrical splint to support and expand Kaiba's narrow airways.
"Quite a few doctors said he had a good chance of not leaving the hospital alive," said April Gionfriddo, whose son is now a happy and healthy 20-month-old infant. "At that point, we were desperate. Anything that would work, we would take it and run with it."
The scaffold was made of a bioresorbable material, polycaprolactone, so it would dissolve and be absorbed by the body after about three years. At this point, his airways should be fully developed and no longer need the stent.
The doctors used high-resolution X-ray scans of one of Kaiba's healthy windpipes to design a computer model for the life-saving brace.
Laser-equipped 3-D printers crafted the device in a few hours, and the university obtained emergency clearance from the U.S. Food and Drug Administration to implant it on February 9, 2012 at C.S. Mott Children's Hospital in Ann Arbor.
"It was amazing. As soon as the splint was put in, the lungs started going up and down for the first time and we knew he was going to be OK," said Green.
After three weeks, Kaiba was off ventilator support, and follow-up scans one year later revealed a functioning airway.
"He has not had another episode of turning blue," said April. "We are so thankful that something could be done for him. It means the world to us."
"Our vision at the University of Michigan Health System is to create the future of health care through discovery," said Dr. Ora Hirsch Pescovitz, University of Michigan executive vice president for medical affairs and CEO of the U-M Health System. "This collaboration between faculty in our Medical School and College of Engineering is an incredible demonstration of how we achieve that vision."
Green and Hollister believe this is only the beginning of using 3-D printers to build custom medical devices that can save lives.
"Severe tracheobronchomalacia has been a condition that has bothered me for years," said Green. "I've seen children die from it. To see this device work, it's a major accomplishment and offers hope for these children."
Other authors on this case study include David A. Zopf, M.D., Richard G. Ohye, M.D. of the University of Michigan, as well as Marc E. Nelson, M.D. of Akron Children's Hospital.
Source: Zopf DA, Hollister SJ, Nelson ME, Ohye RG, Green GE. Bioresorbable Airway Splint Created with a Three-Dimensional Printer. N Engl J Med. 2013
Published by Medicaldaily.com