4-Foot-9 Jayson Carter, Football Player With Growth Disorder, Gets First NCAA Carry [VIDEO]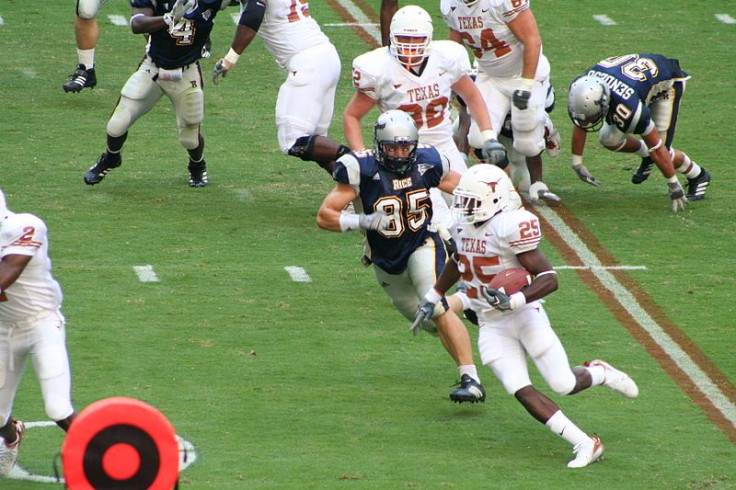 College football players are commonly associated with being bigger, faster, stronger, and taller than their peers. Jayson Carter, Rice University's walk-on running back (RB), defeats the stereotype standing at 4-foot-9-inches and weighing 135 lbs. Last Saturday, he made his National Collegiate Athletic Association (NCAA) debut late in the fourth quarter in a game against the University of Texas at El Paso (UTEP) Miners.
The Rice University sophomore downplayed his brief appearance in the college football game. Carter has an impressive track record where he ran for 18 touchdowns and more than 1,200 yards as a tailback and added 92 tackles, 152 assists, three sacks, and an interception at safety in high school, the Houston Chronicle reports.
Carter's walk on the field in his Owls powdered-blue jersey distinguished him as a Division I player — a dream that he made sure was not deferred. In his freshman year of college, Carter — a computer engineering major — wanted to try out for the football team. "Just going to school and not having anything to counter-balance it just didn't feel right," Carter told the Houston Chronicle. "So I said, 'I need to fix this.'"
Owls coach David Baliff was surprised at how Carter tackled every obstacle presented to him.
"You start researching and you find out he's valedictorian at his high school, you call his high school coach and find out how productive he was in high school and every obstacle I put up he knocked down and so we let him join the football team," Bailiff said.
Carter's biggest challenge in making the team would be passing the eye test over his size. He had to go through the normal vetting process and even saw an additional set of doctors to determine if a player of his stature was fit to play college ball. The doctors gave Carter a clean bill of health and "just determined [he] grew funny," said Carter.
The Division I player's exact genetic disorder has not publicly been disclosed, but the disorder stunts his growth. Growth disorders may be contributed to various factors, such as genetics or a hormonal disorder. Abnormal growth patterns may be recognized at birth, when the child is shorter than the average height of his or her peers, or growing less than two inches a year, according to the Human Growth Foundation. Like Carter, his older brother and uncle also have a growth disorder.
Carter does not let his stature become an obstacle for what he sets to accomplish. "If they ever come up with a device that measures heart and put it on top of my head," he said, "they'll see I'm 6-9."
The walk-on RB can lift the same weight as guys that are 6-foot-4-inches and 6-foot-5-inches, and is just as fast.
Carter's first NCAA carry, which was supposed to be an inside zone run, came on second-and-8 from the UTEP 41 with approximately six minutes to play, fansided.com reports. The Owls walk-on RB could not find any running room and ran to the outside for a 1-yard gain in the game.
"I did what I was supposed to … I didn't get negative yards," Carter said.
The Owls beat UTEP in a 45-7 win.
Published by Medicaldaily.com