4 Surprising Health Benefits Of Bone Broth, From Wrinkle Prevention To A Post-Workout Drink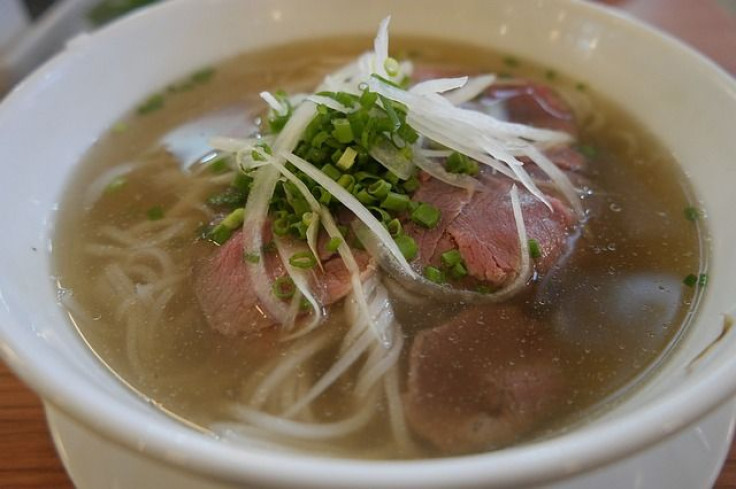 Although its name may sound unappealing, bone broth, a type of stock made from simmering animal bones for up to two days at a time, is one of the newest and most popular health trends to hit the market. Unlike other reputed "super foods," bone broth is cheap and easy to make, and its health benefits may surprise you.
1. Eliminates Cravings
Bone broth is pretty much identical to the meat stock your grandmother used to make you on cold winter evenings. The broth is made from the bones and connective tissues of animals or fish, Time reported.
In her book, "Bone Broth Cookbook," Dr. Kellyann Petrucci explains one often overlooked benefit of bone broth is its ability to help fill you, which can making fasting easier. The health benefits of occasional fasting are endless, from enhancing your sex life to improving sleep quality. Unfortunately, the practice is difficult for most, but in her book, Petrucci explains how the high amounts of nutrients in bone broth help to fill up dieters, making their fasting easier.
2. Addresses Chronic Inflammation
According to Petrucci, bone broth is also rich in glycine, an amino acid that works as a powerful anti inflammatory, and glucosamine and chondroitin, which help address inflammation in your joints. What's more, Petrucci writes that bone broth is also filled with gelatin, which coats and soothes the linings of your gut, reducing and preventing inflammation. Gut inflammation is associated with a number of health risks, including obesity.
Read: Bone Broth Is All The Rage, But Does It Live Up To Its Reputation?
3. Good For Skin And Joints
Bone broth is filled with collagen, and according to Petrucci in her book, drinking the broth helps to rebuild skin and make it stronger and younger from the inside out. In addition, Petrucci explains that the collagen in bone broth works to prevent sun damage.
However, the theory that collagen-rich bone broth helps skin is still controversial. For example, Dr. William H. Percy, an associate professor and biomedical scientist at the University of South Dakota who has spent more than three decades studying the ways the human gut breaks down and absorbs the food we eat, told Time that swallowing collagen doesn't necessarily mean it goes straight to your skin and bones. Rather, he suggested that the broth contained other essential nutrients and amino acids that the body uses to support the skeleton and skin. Either way, however, bone broth is associated with good skin.
4. Great Post-Workout Drink
While it may be strange to think of a warm broth as a post-workout drink, Rania Batayneh, MPH, author of the best-selling book "The One One One Diet: The Simple 1:1:1 Formula for Fast and Sustained Weight Loss," told Medical Daily that the nutrients in bone broth actually make it an ideal post-exercise electrolyte replenishment drink. In fact, the broth can help replace important nutrients lost during a workout and speed up recovery time.
Read More:
4 Reasons You Should Be Drinking Bone Broth Every Day: Read Here
Why You Need Vitamin D, And 3 Ways To Get Strong Bones: Read Here
Published by Medicaldaily.com