4-Time Cancer Survivor Ran From Florida To Maine, Bringing Her Closer To Goal Of Running Entire U.S. Perimeter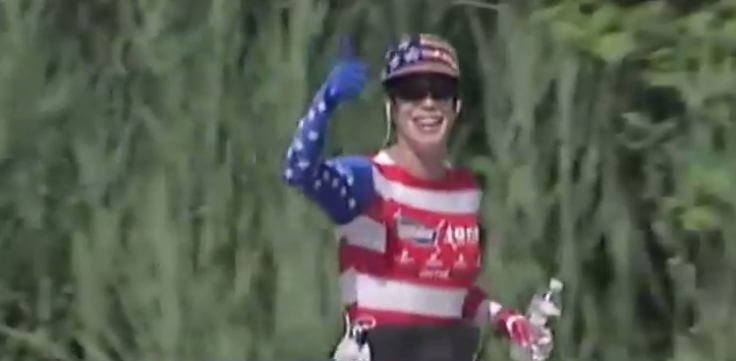 There are many ways to describe 53-year-old Helene Neville: She is a retired nurse, a grandmother, a four-time cancer survivor, and has run three quarters of the United States perimeter. Neville hopes to finish her mission of running the entire 10,000-mile U.S. perimeter by next spring and to continue to inspire people everywhere to realize their own dreams.
Neville ran her first marathon after getting diagnosed with Hodgkin's lymphoma in the 1990s and has not stopped since. "When they said I wasn't going to get better, my immune system was shot, I went home and signed up for the Chicago Marathon," Neville told ABC News. When the simple 26.2 miles in a marathon became too easy for Neville, she dreamed bigger, much bigger.
In 2010, after recovering from T-cell lymphoma, she successfully ran 2,520 miles from California to Florida in 93 days. In 2013, she ran the 1,500 miles from the Canadian/U.S. border to the Mexican border in 45 days. Her most recent 2,000-mile run from Maine to Florida was done in 68 days, and Neville described it as the most "difficult journey yet."
Although Neville has broken and set numerous records along the way, the 53-year-old isn't running for the fame and glory. Originally, Neville set out to inspire other fellow nurses to "be better ambassadors for healthy living to inspire health in their patients." Now the main objective of her mission has grown to encompass inspiring just about anyone who will listen. "I stop and talk to school children, just the general public," Neville said. "My run is not to realize my own dream but to inspire others to realize theirs," the marathon runner explained, the Las Vegas Sun reported.
The intensive running has also helped Neville become more in tune with her inner self and revealed a perspective to the world that she had been previously blind to. "It reveals all these layers of life, people, experiences that you may not have even fathomed. People out there have great spirit and you won't see them or find them unless you look for them."
According to the Daily Mail, the participation number in ultra-distance running — anything over 26.2 miles — has increased in recent years. It is important to stay smart when putting your body through grueling workouts, such as those necessary to train for long-distance races. The most common injury for these runners involves the knees and lower legs, but it is reported that only about three percent will develop stress fractures. Unfortunately, some runners are more susceptible than others to these injuries, so it's best to consult a doctor about your specific health risks before taking up intensive distance training.
Published by Medicaldaily.com