400-Lb. High School Running Back, Tony Picard, Is 'Biggest In Nation' And Unstoppable On The Field [VIDEO]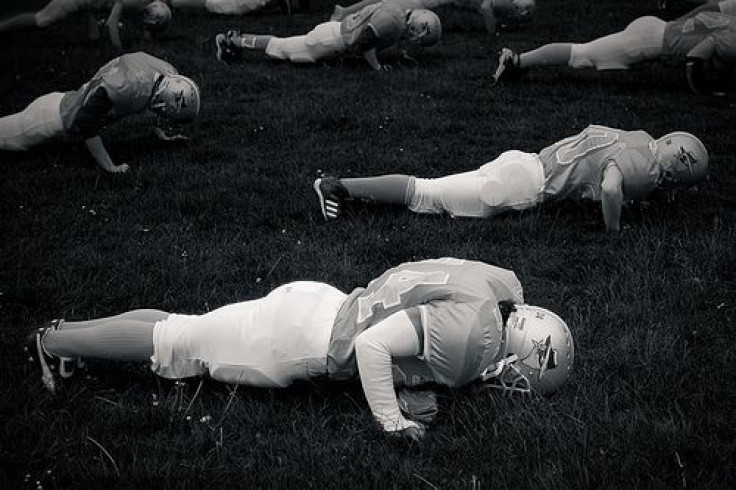 A small town high school football team from the State of Washington has gone to become a viral YouTube hit because of one of its hugest assets: 6-foot 4-inch, 400-lb. running back Tony Picard.
Dubbed "The Biggest Running Back in the World" in a YouTube video that highlights the biggest moments of his high school football career, Picard shows that a small town team can play with a lot of heart.
"I just love carrying [the ball] and hitting people," Picard told The New York Post. "I've enjoyed it. I love playing on a line, I enjoy running the ball. I do what coach asks."
The 400-lb. running back is known as the "biggest in the nation" across all levels of football in the U.S. Picard gets his size from his mother's side of the family, according to The Indian Country Today Media Network. She is 5'11" and her brother was 6'5", and 275 lbs. in high school. Picard, who also doubles as a nose guard for his high school team, the White Swan Cougars, is part Native American — specifically Umatilla-Nez Perce and Sioux.
Picard started out as a lineman before he was switched to running back by Cougars coach Andrew Bush. The high school football player was given two instructions: average four yards per carry and don't fumble. He managed to average about five yards per carry in his first 10 games this season.
Coach Bush claims it's a lot of to have Picard go out on the field as captain and see him shake the hands of the opposing team before the game. "They're just kind of staring, like 'Oh my gosh, you've got to be kidding me!'" Bush told The Indian Country Today Media Network.
Typically, when "Big Tone" is on the field, teams will have five guys — including four linemen and a middle linebacker — trying to stop Picard. This play leaves three guys on each side to stop the rest of the Cougars team, which works out to their advantage for outside running, play action, and a passing game. Coach Bush said the team averages about 450 yards offensively.
The Cougars have clinched a spot in the Washington State football championships and hold the number one spot in their division. This is the fifth time in the past six years that the Cougars have gone to state.
Picard has already rushed over 700 yards, and scored a total of 15 touchdowns this season. If Picard goes pro, he could become the biggest offensive weapon in the NCAA and NFL. The high school senior running back is not losing sight of making a career out of football and may become a future sight during NCAA games.
"People say that [I'm too big] but I try not to let it get to me," Picard told the Northwest Prep Report. "I want to play college football. It's my dream. I hope I can go the next level."
Picard has not made a decision about where he wants to play next year. He has talked to coaches from Idaho, Eastern Oregon, and Central Washington but still remains without a scholarship offer.
Whether Picard may be too big to play in the NFL remains unknown. Only two of the top running backs in the NFL last year stood over 6'0" tall. They were Adrian Peterson and Arian Foster who ran at least 1,215 yards, according to the Bleacher Report.
Ideally, a running back shouldn't stand too tall in the backfield because defensive players will easily spot the player. Also, the running back should have a low center of gravity so he can easily glide underneath the pads of defenders who want to make a tackle. Picard, however, possesses enough muscle-mass and strength to withstand hits from linebackers.
In the meantime, Picard is focused on winning state, saying there would be "no celebration until I have that state trophy in my hands," to the Northwest Prep Report. The running back plays alongside his younger brother, Albert, who stands at 5'8″ and weighs 155 lbs.
Picard, a "crowd favorite," will be missed by Bush and fans of the Cougars when he graduates next year. "It's just not going to be as much fun," Bush said about next season. Bush believes Picard will be recruited as a lineman, and that he will get his chance to carry the ball on short touchdown runs.
Published by Medicaldaily.com