47-Year-Old Miami Mom Naturally Gives Birth To Triplets; Mother's And Children's Good Health A 'Miracle'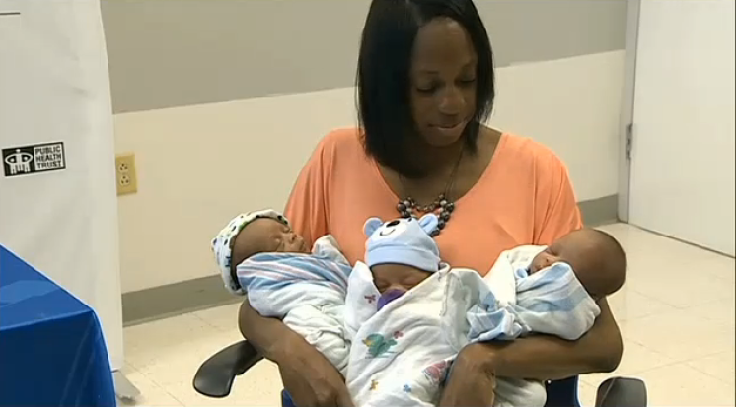 A 47-year-old mom from Florida received the perfect present just in time for Mother's Day. Sharon Lewis thought she was too old to have any more children, but nine months ago, she received a surprise — she was pregnant. As if that wasn't enough, more surprising news came when an ultrasound showed that she was going to have triplets, WSVN 7 News reported.
The most surprising part? No fertility drugs were used in conceiving these three bundles. "The tears rolled because it was unexpected," Lewis told WSVN. "I would [have] went with A and B, and she said C, like she was going [through] some more [of the] alphabet." Lewis already has two children and had no plans of having any more children.
The three healthy boys, Dylan, Denere, and Denard, were born on March 18 via C-section, each weighing 2 lbs. They have since been in the care of Holtz Children Hospital in Miami.
"Everybody is so excited and so supportive," Lewis said. "I'm glad to be taking my babies home on Mother's Day weekend." Health experts recommend that women get pregnant before the age of 35 because at 40, the chances of a woman getting pregnant in a single month drops to five percent. In Lewis's case, the likelihood of this happening is extremely uncommon.
"For it to occur by itself is very rare by itself, and for her to have triplets is another rarity, and for all of them to be healthy and good is another rarity," said UM/Jackson Dr. Salih Y. Yasin.
WSVN-TV - 7NEWS Miami Ft. Lauderdale News, Weather, Deco
Published by Medicaldaily.com