49ers Fan Dies From Tragic Fall At Season Opener; Prompts Call For Stadium Safety Improvements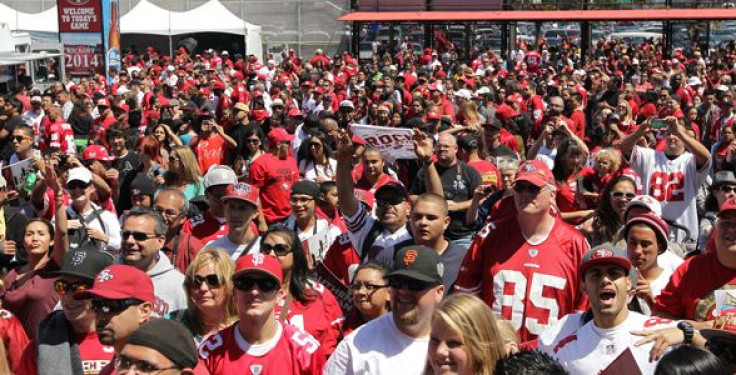 Candlestick Park's last season as the home of the San Francisco 49ers is off to a rough start after a fan fell to his death during the season opener versus the Green Bay Packers. A man in his 30s fell off the Jamestown walkway that wraps around the stadium just before kickoff this past Sunday, according to San Francisco police representative Gordon Shyy.
The attempts of police officers and off-duty medics to revive the man were unsuccessful, and he was pronounced dead at the scene. Although it is unclear how many feet the man had fallen, witnesses reported that he was intoxicated at the time of the fall.
"We would like to express our deepest condolences to the family during this difficult time," 49ers spokesman Bob Lange said in an e-mail to the Associated Press. The man's name has been withheld from reports until the medical examiner's office has time to notify the family.
On the same day as this disheartening incident, two unidentified fans attending the Indianapolis Colts and Oakland Raiders season opener sustained minor injuries after a barrier leading to the Raider's tunnel collapsed. Stadium safety across the entirety of sports has become a priority for league officials as issues continue to rise.
According to the Institute for the Study of Sports Medicine, there have been over two dozen cases involving a fan falling from a sports arena in the United States since 2003. Just last August, a baseball fan fell to his death during a matchup between the Philadelphia Phillies and the Atlanta Braves at Turner Field.
"This is going to sound so obvious: Be careful. Be aware of your limitations. Be aware of the space around you," Steve Adelman, attorney and expert on venue safety and security, told the Associated Press.
"If you're someone who doesn't have the greatest body control, don't go leaning over things where you could have a bad result if you fall. Watch your kid. Keep them close to you. The advice is really just be aware of your surroundings and don't take needless risks."
Published by Medicaldaily.com