4th Of July Recipes To Get You In The Mood: 7 Aphrodisiac Foods For The Grill Under 200 Calories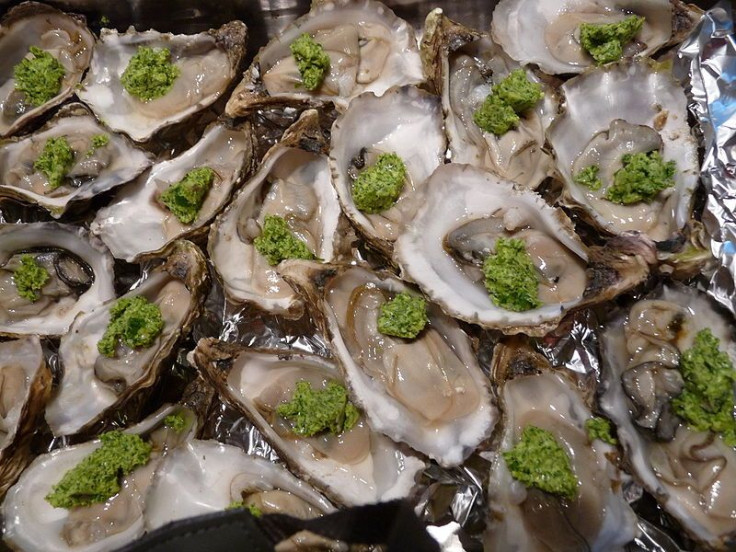 A BBQ during the Fourth of July weekend is as American as apple pie. Seventy-seven percent of grill owners will use their grills on Independence Day, heating up burgers (84 percent), steak (83 percent), hot dogs (82 percent), and chicken parts (74 percent), reports the Hearth, Patio & Barbecue Association (HPBA). But while grilling meat is traditional like fireworks, using high heat for a long period of time can potentially form cancer-causing chemicals. Cooking with high heat creates an unhealthy compound called heterocyclic amine (HCA) — chemicals formed when cooking meats "well done" that are charred from the grill, said Heather Rasmussen, Ph.D., a dietitian at Rush University Medical Center's Nutrition and Wellness Center. Rasmussen suggests to grill more vegetables as oppose to meats because they do not have the same chemical reaction as meats. During the summer, mercury rises in thermometers yield an increase in foodborne illness, which means grillers must safely handle and prepare meat and poultry products. Whether you are a guest or a host, be sure to consume some aphrodisiac foods to turn up the heat on the grill and between the sheets on this long love weekend. Aphrodisiacs serve as healthier grilling alternatives, and can get you and your partner in the mood while you strut your bikini poolside on the Fourth of July.
The effectiveness of aphrodisiacs has often been the center of debate, as their success rate has been tied to the placebo effect. But the physical benefits of these foods could indirectly increase a person's sex drive. The nutritional value of aphrodisiacs can boost your overall health and as a result can help you feel more sexually potent. For safe and effective aphrodisiacs, don't look any further than your kitchen, said Amy Reiley, aphrodisiac expert and author of Fork Me, Spoon Me: The Sensual Cookbook, to National Geographic.
1. Grilled Oyster Shooters 32 Calories
Ingredients:
8 fresh oysters in shells
1/3 cup Fresh lemon juice
3 tablespoons Worcestershire sauce
hot pepper sauce to taste
salt to taste
Preparation:
Preheat an outdoor grill for high heat. You may assemble your ingredients while the grill heats up.
Place the whole oysters on the hot grill. Cook until they open, 5 to 10 minutes - you will hear the juice sizzling on the hot coals when this happens.
Remove the oysters from the grill, and pry off the top shell. You may want to wear some heavy gloves to protect from the heat. Slide a knife between the oyster and shell to disconnect. Top each one with 2 teaspoons of lemon juice, 1 teaspoon of Worcestershire sauce, and hot pepper sauce and salt to taste. Serve in the shell while still warm.
Recipe courtesy of All Recipes.
Fun Facts:
Oysters have been synonymous with boosting a person's sexual appetite due to their high zinc content. American and Italian researchers analyzed bivalve molluscs — shellfish that includes oysters — and they found that they were rich in amino acids that prompted an increase in sex hormones, reports the Telegraph. In a study published in the American Journal of Clinical Nutrition (AJCN), researchers found that men can lose plenty of zinc per ejaculation, which lowers their sperm count.
2. Grilled Asparagus 36 Calories
Ingredients:
1 pound asparagus
3 tablespoons balsamic vinegar
2 tablespoons fresh lemon juice
1 tablespoon olive oil
1 tablespoon low-sodium soy sauce
1/8 teaspoon black pepper
Cooking spray
Preparation:
Prepare grill.
Snap off tough ends of asparagus. Combine all ingredients except cooking spray in a large zip-top plastic bag; seal and marinate for 30 minutes. Remove asparagus from bag, and discard marinade. Place asparagus on grill rack coated with cooking spray; grill 5 minutes on each side or until asparagus is done.
Recipe courtesy of My Recipes.
Fun Facts:
This food has been dubbed as an aphrodisiac because of its phallic shape and its vitamin E content, which stimulates the sex hormones in the body in both sexes. Asparagus is also rich in vitamin B6 and folate, which have been linked to boosted arousal and orgasm, says California State University Fullerton.
3. Grilled Rapini With Pine Nut Pistou 71 Calories
Ingredients:
For Rapini:
1 cup balsamic vinegar
1 tablespoon granulated sugar
2 bunches rapini, cut into 4-inch pieces
2 teaspoons olive oil
Salt and pepper
2 tablespoons (or more) Pine Nut Pistou, recipe follows
For Pine Nut Pistou:
1 cup pine nuts
1 garlic clove
1 shallot, chopped
Salt and pepper
1 lemon, zested and juiced
1 bunch flat-leaf parsley, leaves only
3 to 4 tablespoons olive oil
Preparation:
For The Rapini:
In a small saucepan over medium-high heat, stir together the vinegar and sugar. Cook, stirring occasionally, until it is reduced to the consistency of a thin syrup. Remove from heat to cool. (If it gets too thick to pour, thin it with a little additional vinegar.)
Preheat the grill to medium high. Toss the rapini with the olive oil to coat. Lightly sprinkle with salt and pepper. Cook the rapini on a perforated grill pan, turning and moving constantly, until tender and slightly browned. (Don't worry if a few leaves get charred.) Transfer to a serving platter. Spoon the pistou over the rapini and drizzle all with the balsamic reduction.
For The Pistou:
In a small, dry frying pan over medium heat, toast the pine nuts for about 5 minutes, or until golden, stirring occasionally. Remove from heat and allow to cool.
In a food processor, chop the garlic until it resembles a paste. Add the pine nuts and chop very finely. Add the shallot and a pinch each of salt and pepper. Add the lemon zest (reserve the lemon). Add the parsley leaves and pulse until just chopped. With the motor running, drizzle in the olive oil until the pistou will fall from a spoon. Season with salt and pepper to taste. Before serving, squeeze in enough lemon juice to brighten the taste, 1 to 2 tablespoons.
Recipe courtesy of Evening Edge.
Fun Facts:
These nuts have a high zinc content, which promotes a healthy sex drive. Mixing pine nuts with basil and olive also can also help enhance performance for men, reports The Doctors. Olive oil can generate sex hormones and promote internal lubrication.
4. DOLE Grilled Bananas 120 Calories
Ingredients:
4 unpeeled Dole® Banana(s)
chocolate chips
miniature marshmellows
nuts
DOLE Pineapple Chunks
chocolate syrup
DOLE Fresh or Frozen Strawberries, sliced
Preparation:
Place unpeeled bananas on grill over medium high heat. Grill 4 to 5 minutes on each side until bananas darken and slightly soften.
Peel banana and scoop the fruit out in a bowl. Fruit should be custard-like.
Serve warm or chilled. Serve with your favorite toppings such as fresh fruit, chopped nuts, marshmallows, or frozen yogurt.
Recipe courtesy of Dole.
Fun Facts:
Despite their obvious phallic shape, bananas are rich in potassium and B vitamins that aid with the production of sex hormones. The potassium and vitamin B have been linked to elevated energy levels in the body, says the University of Maryland Medical Center.
5. Honey Grilled Shrimp 175 Calories
Ingredients:
1 bottle (8 ounces) Italian salad dressing
1 cup honey
1/2 teaspoon minced garlic
2 pounds uncooked medium shrimp, peeled and deveined
Preparation:
In a small bowl, combine the salad dressing, honey and garlic; set aside 1/2 cup. Pour remaining marinade into a large resealable plastic bag; add the shrimp. Seal bag and turn to coat; refrigerate for 30 minutes. Cover and refrigerate reserved marinade for basting.
Drain and discard marinade. Thread shrimp onto eight metal or soaked wooden skewers. Using long-handled tongs, moisten a paper towel with cooking oil and lightly coat the grill rack.
Grill, uncovered, over medium heat or broil 4 in. from the heat for 1 to 1-1/2 minutes on each side. Baste with reserved marinade. Grill or broil 3-4 minutes longer or until shrimp turn pink, turning and basting frequently.
Recipe courtesy of Taste of Home.
Fun Facts:
A natural way to combat an excess of estrogen and to maintain testosterone levels is to consume honey. Gynecomastia.org says approximately three ounces of honey can increase nitric oxide/nitrite levels in the blood by 50 percent, which can open blood vessels and create erections and clitoral engorgement.
6. Simple Roasted Almonds 179.1 Calories
Ingredients:
11 ounces fresh almonds (2 cups)
water, for blanching (optional)
1 tablespoon extra virgin olive oil (optional)
1 teaspoon sea salt (optional)
Preparation:
Preheat the oven to 325 degrees F (165 degrees C).
Bring a saucepan three-fourths full of water to a boil over high heat, add the almonds and boil for 30 seconds.
Drain, then immediately wrap the almonds in a kitchen towel and rub them in the towel to loosen the skins. Pinch the almonds from the skins; the almonds should slip out easily. This step is optional and can be skipped.
Transfer the almonds to a heavy rimmed baking sheet. Add the oil and toss to coat evenly. Add the salt and toss again.
Place in the oven and toast, stirring the almonds once or twice so they brown evenly (about every 5 minutes), until golden brown and fragrant, 20 to 30 minutes. Transfer to paper towels to cool completely, about 1 hour, before serving.
Adjustments:
Omit oil and salt and toast as directed above for plain roasted almonds.
Be sure to purchase fresh almonds and not almonds that are "smoked" or "salted"- those are generally already roasted.
Total time is listed as 1 hour 30 minutes, with the"cooking" time as time allowed for almonds to cool completely.
Recipe courtesy of Food.
Fun Facts:
The fragrance of almonds has been linked to aroused sexual passion in women. Almonds are rich in omega-3 fatty acids that are essential in the production of hormones, a healthy libido, reproduction, and fertility.
7. Grilled Parmesan Potatoes and Carrots 200 Calories
Ingredients:
4 small red potatoes (about 1/2 lb), unpeeled, cut into 1- to 1 1/2-inch pieces (about 1 1/2 cups)
3/4 cup ready-to-eat baby-cut carrots, cut in half lengthwise if large
1 1/2 tablespoons butter or margarine, melted
1/4 teaspoon Italian seasoning
1/4 teaspoon peppered seasoned salt
1 1/2 tablespoons shredded fresh Parmesan cheese
1 tablespoon chopped fresh chives
Preparation:
Heat gas or charcoal grill. Cut 18x12-inch sheet of heavy-duty foil. Place potatoes and carrots on center of foil sheet. Drizzle with butter. Sprinkle with Italian seasoning, peppered seasoned salt and cheese; stir slightly to mix and coat vegetables. Bring up 2 sides of foil so edges meet. Seal edges, making tight 1/2-inch fold; fold again, allowing space for heat circulation and expansion.
Place packet, seam side up, on grill over medium heat. Cover grill; cook 35 to 40 minutes or until vegetables are tender.
Open packet carefully to allow steam to escape. Sprinkle with chives.
Recipe courtesy of Table Spoon.
Fun Facts:
This vitamin A and beta-carotene rich food is said to feed sexual appetites. Carrots can improve mucous membranes and even increase vaginal lubrication because B vitamins aid in the production of red blood cells that bring blood and lubrication to a woman's vagina.
Published by Medicaldaily.com