5 Discontinued General Mills 'Monster Cereals' To Be Available This Halloween, But Are They Good For Your Health?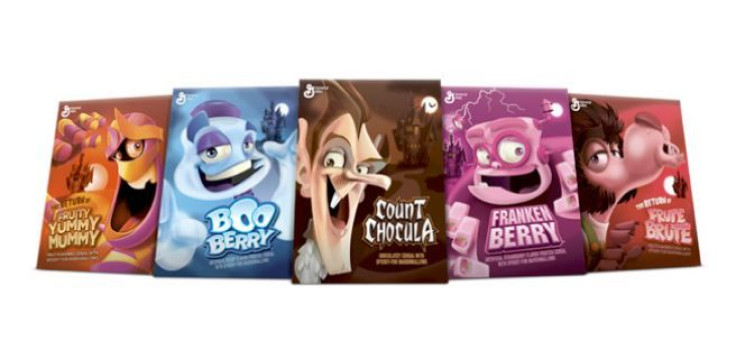 Spooky deliciousness makes its return, General Mills announced in a press release this week. Annually, three signature monster cereals – Franken Berry, Boo Berry, and Count Chocula – make a limited run on store shelves to celebrate Halloween but, this year, two others – Frute Brute and Fruity Yummy Mummy – will arrive with them. With full nationwide distribution beginning in early September, the five 'Monster Cereals' will be dressed to kill in their original packaging exclusively at Target.
"We're bringing back Frute Brute and Fruity Yummy Mummy in an effort to give our fans what they asked for," Julie Anderla, integrated communications senior manager of Big G, stated in a press release.
Frute Brute departed store shelves after an eight-year run that began in 1974, while Fruity Yummy Mummy was discontinued in 1992 after just five years. Frute Brute holds the distinction of appearing in not one but two Quentin Tarantino movies, Reservoir Dogs and Pulp Fiction. Among collectors of vintage cereal boxes, this raises its value above its fellow monster cereals.
"We chose the current flavors of Fruity Yummy Mummy and Frute Brute to be as close as possible to the original flavors while taking into consideration consumers' preferences," Ari Zainudden, marketing manager of Big G, stated in a press release.
Say what?
Nutrition
Apparently, the formula that General Mills is using to recreate these cereals is not exactly the same as in the past. Described as "pre-sweetened blends of oats and corn," the original monster cereals offered "eight essential vitamins plus iron." According to nutrition information available from ShopWell, a single serving of any of the monster cereals offers 25 percent of your daily value of iron, folic acid, niacin, riboflavin, thiamin, vitamin B6, vitamin B12, and zinc. Not bad, though added preservatives and sugars will accompany these nutrients, which collectively help you maintain a healthy nervous system, enrich your blood, and convert food into energy while generally aiding cellular metabolism.
According to General Mills, the original two monster cereals, Count Chocula and Franken Berry (both introduced in March 1971), were created in the hopes of repeating the success of Lucky Charms, which also had marshmallow bits and had been introduced in 1964. Although now the monster cereals are character-shaped, Terry Kirihara, director of research and development, described the original monster cereals as having different colors and flavors (along with color-matched marshmallow bits) but all of a uniform shape: small cylinders shaped like a circle with a cross in the middle.
Beginning with Gold Medal flour in 1880, which remains the top selling flour in the U.S. today, General Mills ranks among the world's largest food companies. In 1960, General Mills cereal packages featured a new design built around 'Goodness' with an oversized letter 'G' – now referred to as the 'Big G' cereals. Marketing its products in over 100 countries, the company achieved net sales of $17.8 billion in fiscal year 2013 (May).
Published by Medicaldaily.com