5 Exotic Cantaloupe Drink Recipes To Keep You Cool This Summer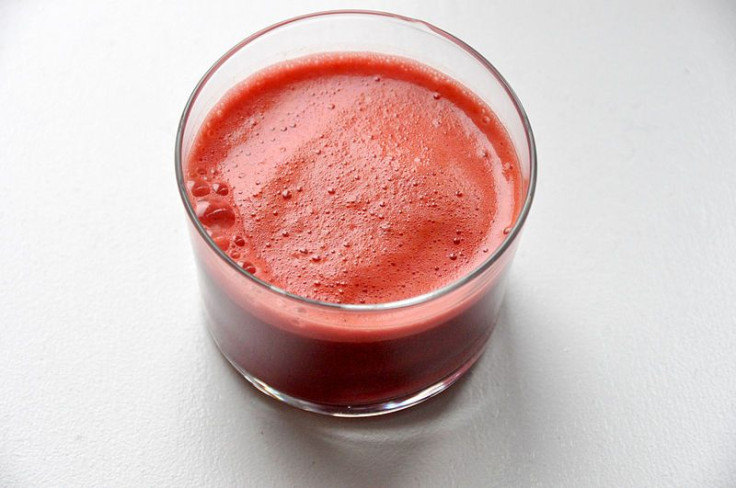 Summer weather means hot temperatures are on the rise, which can leave you feeling parched and exhausted in the middle of the day. The solution? Hydration. For a fun and sweet means to get hydrated, look no further than fruit like cantaloupe, a hydrating food that contains 90 percent water while packed with succulent rich flavor.
A healthy male adult living in a moderate climate needs approximately 3 liters (13 cups) of fluid intake while the adequate intake for a healthy woman living in the same climatic conditions is 2.2 liters (9 cups), says Mayo Clinic. While the consumption of water is necessary for the human body, it can also be tasteless in its natural form as well as burdensome for those who want to satisfy their taste buds. And this is where the cantaloupe comes in.
Eating cantaloupe is an excellent way to meet your daily intake of vitamins A and C and replenish your body. One cup of cantaloupe contains 108.2 percent of the daily value (DV) of vitamin A and 97.9 percent DV of vitamin C, says the United States Department of Agriculture (USDA). These nutrients can help lower the risk of metabolic syndrome — a compilation of conditions such as increased blood pressure, high blood sugar level, excess body fat around the waist, and abnormal cholesterol levels that altogether can put a person at high risk of developing cardiovascular disease, stroke, and diabetes.
In a cross-sectional study published in the American Journal of Clinical Nutrition (AJCN), researchers evaluated the relationship between fruit (like cantaloupe) and vegetable intakes and C-reactive protein (CPR) concentrations and the prevalence of metabolic syndrome in 486 Tehrani female teachers aged 40 to 60 years old. The results showed that women who ate the greatest amount of fruit daily had a lower risk of metabolic syndrome and the healthiest levels of CPR — an indicator used to assess levels of inflammation — in their bloodstream. Cantaloupe has an inflammation factor of 76, classifying this seasonal delight as mildly anti-inflammatory due to its phytonutrients, says Self.
The Environmental Working Group's (EWG) 2012 Shopper's Guide to Pesticides has named domestic cantaloupe on its "The Clean 15" list as one of the fruits lowest in pesticides. Common consumption of this summertime treat incudes eating it as a fresh fruit, mixed in salad, or as a dessert with assorted syrups. However, with the warm months fast approaching, it's time to turn this healthy treat into a thirst-satisfying delight that will keep your body hydrated all summer long.
Learn how to fix five exotic cantaloupe drinks this summer to keep you healthy, fit, and replenished.
1. Agua de Melon/Mexican Cantaloupe Water
Ingredients:
1 ripe cantaloupe, peeled, seeded and diced
¾ cup Sugar
6 cups Water
6 ice Cubes
6 lime slices for garnish
Preparation:
Place the cantaloupe, sugar, and 1 cup of water in the blender and liquify. Pour the liquid through a wire mesh strainer set over a spacious mixing bowl; discard the solids. Stir the remaining water into the fruity liquid. Pour the Agua de Melon into a pitcher, add ice, and stir. Garnish individual glasses with lime slices.
Healthy Fun Facts:
This refreshing Mexican summer drink can satisfy your thirst and taste buds on a hot summer's day. Cantaloupe contains potassium, which monitors your heartbeat while also supplying oxygen to the brain, says Live Strong.
Recipe courtesy of Beyond Wonderful.
2. Cantaloupe Coconut Lassi
Ingredients:
1 cup coconut water
1/2 cup light canned coconut milk
1/2 cup plain Greek yogurt
2 cups frozen cantaloupe cubes
2 tablespoons unsweetened coconut flakes
2 teaspoons honey
1/4 teaspoon cinnamon
1/8 teaspoon cardamom
1/8 teaspoon nutmeg
pinch of salt
toasted coconut for garnish
Preparation:
Combine all ingredients together (except for toasted coconut) in a blender and process until smooth! Garnish with toasted coconut. Drink up.
Healthy Fun Facts:
This quick-and-easy-to-make Punjabi low-fat drink will keep you healthy and hydrated throughout the summer months. Plain Greek yogurt contains 17.2 grams of protein in one container and has a high content in calcium, says Self. The coconut ingredients in this sweet drink, such as coconut water, light canned coconut milk, and unsweetened coconut flakes, are loaded with potassium, calcium, and chloride that can help rehydrate, replenish, and boost your body's energy levels.
Recipe courtesy of How Sweet Eats.
3. Horchata de Melon/Cantaloupe Seed Drink
Ingredients:
Seeds from 1 medium cantaloupe (about ½ cup)
¼ tsp. vanilla extract
Pinch of salt
Honey, to taste
Preparation:
In a blender, grind the melon seeds with 2 cups of water until as smooth as possible. Pour mixture through a strainer into a large pitcher. Return the seed bits left on the strainer to the blender and mix with 2 more cups water, vanilla, salt, and honey, to taste. Strain this mixture into the pitcher as well. Stir well, and add more honey to taste if desired. Serve chilled over ice.
Healthy Fun Facts:
This refreshingly sweet Mexican drink contains honey and vanilla extract to make it stand out from other cantaloupe beverages. One tablespoon of honey contains 15 grams of sugar but it is easily digested by the body once it is converted into glucose, says Self. The mixture of honey with water can serve as a weight loss aid for those looking to trim their waistlines.
Recipe courtesy of Saveur.
4. Cantaloupe Milkshake
Ingredients:
Cantaloupe - 1 cup
Milk - ½ cup (approx.)
Ice - 1 cup
Sugar - 1 Tbsp (to taste)
Elaichi Powder (Cardamom) - ¼ tsp
Preparation:
Fill one cup with Cantaloupe. Pour Milk over Cantaloupe until cup is filled to the top. Pour Milk and Cantaloupe into a blender. Add Ice, Sugar and Elaichi Powder. Blend until smooth and creamy. Serve immediately.
Tip: For an extra creamy version, try adding a scoop of vanilla ice cream to the mix - Yummy!
Healthy Fun Facts:
It's time to add some spice to your cantaloupe drink. This milkshake, like the Cantaloupe Coconut Lassi, contains cardamom — a spice to add flavor to food and beverages most commonly used in Indian cuisine. This spice has been linked to lowering blood pressure in those who have been diagnosed with high blood pressure. In a study conducted at the Indigenous Drug Research Center at RNT Medical College in India, researchers found that oral consumption of three grams of cardamom daily for 12 weeks can reduce systolic, diastolic, and blood pressure.
Recipe courtesy of Show Me The Curry.
5. Apricot-Cantaloupe Green Smoothie Recipe With Cinnamon
1 and 1/2 cups cantaloupe, cubed
4 apricots, pitted
1 teaspoon ground cinnamon
1 medium banana, peeled
3 cups fresh baby spinach
8 ounces homemade Brazil nut milk
Preparation:
Add all the ingredients to your blender and blend on high for 30 seconds or until the smoothie is creamy.
Healthy Fun Facts:
This fruit and cinnamon drink contains homemade Brazil nut milk, which is a good source of selenium — a microelement required for the body. The blending of apricots with cantaloupe provides an excellent source of antioxidants and carotenoids. These vitamins help prevent cardiovascular disease, lower cholesterol, and protect against certain cancers. says the University of Maryland Medical Center.
Recipe courtesy of Incredible Smoothies.
Published by Medicaldaily.com