5 Healthy Breakfast-In-Bed Ideas For Mother's Day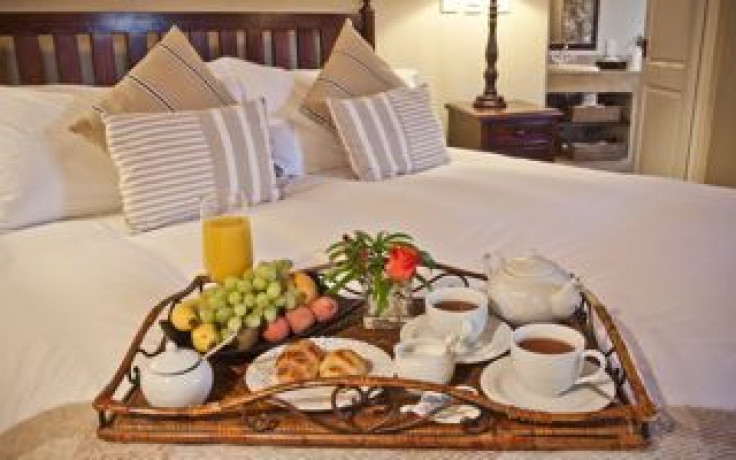 Mother's Day, coming only once a year, is the chance to give our selfless mothers the feeling that they're on top of the world. The holiday, however, comes with the challenge of how to perfectly communicate our gratitude and love.
Luckily, we've discovered an easy and tasty way to get the job done: breakfast in bed. What better way is there to show mom how much you love her than with a homemade and especially healthy breakfast? Here are some breakfast-in-bed ideas that are sure to make your mom smile.
1. Cacao and Berries Parfaits
This a great breakfast option if mom plans on being out-and-about on mother's day. It's quick, easy, and portable.
Ingredients:
1 cup plain yogurt
2 teaspoon agave
1 teaspoon cinnamon
1 cup berries
1/2 cup muesli or granola
2 tablespoon cacao nibs
Directions:
Place a 1/2 cup of yogurt at the bottom of 2 bowls or cups, then drizzle 1 teaspoon of agave per parfait and sprinkle with cinnamon. Layer 1/2 cup of berries per parfait with a 1/4 cup of muesli or granola-top with cacao nibs and you're done!
Health Benefits:
Yogurt is a known digestive aid, the probiotics keep you regular and helps to relieve some digestive issues. Yogurt also helps to decrease your chances of developing high blood pressure.
Cacao, also known as the coco bean can actually be very healthy for you. Coco can reduce heart disease risk factors and release endorphins which are the neurotransmitters that makes people happy. It also is high in antioxidants and help to lower the body's bad cholesterol, while increasing the good one.
Recipe Courtesy of Sunday Morning Banana Pancakes
2. Breakfast Burritos
Add a little spice to your Mother's Day breakfast spread with these flavorful breakfast burritos. And if mom has a spicy palette, add those snappy jalapenos to your dish. Olé!
Ingredients:
1/2 cup chopped tomato
2 tablespoons chopped onion
1/4 cup canned corn
1/4 cup egg substitute
1 flour tortilla, 6 inches in diameter
2 tablespoons salsa
Directions:
In a small skillet, add the chopped tomato, onion and corn. Cook over medium heat until the vegetables are soft and moisture is evaporated. Add the egg substitute and scramble with the vegetables until cooked through, about 3 minutes.
To serve, spread the egg mixture in the center of the tortilla and top with salsa. Fold in both sides of the tortilla up over the filling, then roll to close. Serve immediately.
Health Benefits:
This burito is not only delicious, but also a fast and easy breakfast idea that's low in calories - 231 per serving.
Tomatoes, a staple of this Mexican burrito, help to lower the risks of certain cancers, such as stomach and lung cancer, due to their acidity.
Recipe Courtesy of Mayo Clinic
3. Whole Grain Waffles
Waffles are the ultimate comfort food, and with a few changes to the standard recipe, they can be made low in calories, high in fiber, and utterly delicious.
Ingredients:
2 eggs, beaten
1 3/4 cups skim milk
1/4 cup canola oil
1/4 cup unsweetened applesauce
1 teaspoon vanilla extract
1 cup whole wheat pastry flour
1/2 cup flax seed meal
1/4 cup wheat germ
1/4 cup all-purpose flour
4 teaspoons baking powder
1 tablespoon sugar
1/4 teaspoon salt
Directions:
In a large bowl, whisk together the eggs, milk, oil, applesauce, and vanilla. Beat in whole wheat pastry flour, flax seed meal, wheat germ, all-purpose flour, baking powder, sugar, and salt until batter is smooth.
Preheat a waffle iron, and coat with cooking spray. Pour batter into waffle iron in batches, and cook until crisp and golden brown.
Health benefits:
Flax seed is high in omega-3 fatty acids and helps to improve digestive health and relieve constipation. It has also been used to reduce low-density lipoprotein (LDL), a bad cholesterol, decreasing your chance of heart disease.
Wheat germ is high in folic acid and extremely important in helping with cell division in pregnant women and women of childbearing age. It also helps to reduce the risk of heart disease, osteoporosis, bone fracture, and dementia.
Recipe Courtesy of Allrecipes.com
4. Your Not-So-Basic Scrambled Eggs
Millions of eggs are consumed by Americans each year, and as a breakfast staple, they can be transformed seamlessly into various dishes. Healthy, full of protein, and delicious, eggs are a must-have on any breakfast plate.
Ingredients:
1 tablespoon butter
8 stalks asparagus, woody bottoms removed, chopped into 1" pieces
Salt and black pepper to taste
8 eggs
2 tablespoon fat-free milk
1/4 cup crumbled fresh goat cheese
4 ounce smoked salmon-chopped
Directions:
Heat the butter in a large nonstick skillet or sauté pan over medium heat. When the butter begins to foam, add the asparagus and cook until just tender. Season with salt and pepper.
Crack the eggs into a large bowl and whisk with the milk. Season with a few pinches of salt and pepper and add to the pan with the asparagus. Turn the heat down to low and use a wooden spoon to constantly stir and scrape the eggs until they begin to form soft curds.
A minute before they're done, stir in the goat cheese. Remove from the heat when the eggs are still creamy and soft and fold in the smoked salmon.
Health benefits:
Salmon is not only low in calories per serving, but also high in omega-3 fatty acids and protein. It's also very helpful with weight maintenance and weight loss.
These eggs also provide a good source of fiber, folate, and vitamin K. It also aids in lowering high cholesterol, high blood pressure, and fatigue.
Recipe courtesy of Women's Health
5. "Hot Chocolate" Banana-Nut Oatmeal
Remember those cold winter mornings when your mom made the perfect bowl of oatmeal with your favorite toppings? Now, it's time to return the favor. Just add in a few choice ingredients and you can keep this healthy and delicious.
Ingredients:
2 cups plain almond milk
2 fully-ripened large bananas (1 1/2 diced and 1/2 thinly sliced crosswise)
1/4 teaspoon pure almond extract
1/4 teaspoon pure vanilla extract
Kosher salt
2 cups old-fashioned rolled oats
2 tablespoons unsweetened cocoa powder
2 tablespoons honey or agave nectar
1/3 cup toasted and chopped walnuts
Pinch ground cinnamon
2 tablespoons semisweet chocolate chips
Directions
Bring the almond milk, 1 3/4 cups water, the diced bananas, almond and vanilla extracts and pinch of salt to a boil in a large saucepan over high heat.
Stir in the oats, cocoa powder and 1 tablespoon of the honey and reduce the heat to medium. Cook, stirring frequently, until the oats are fully cooked to desired consistency, 6 to 7 minutes.
Transfer to 4 bowls, top with the sliced bananas, walnuts, the remaining 1 tablespoon honey, cinnamon and chocolate chips and serve.
Health Benefits:
Almonds are rich in dietary fibers and vitamin B, and help to lower LDL cholesterol.
Cinnamon, while not proven to lower blood sugar, may be a helpful supplement in treating type 2 diabetes.
Walnuts, like many other nuts, have a magnitude of health benefits. Walnuts can help to maintain your weight, lower cholesterol, increase brain functions, decrease stress, and reduce the risk of heart disease.
Recipe courtesy of Food Network
Published by Medicaldaily.com