5 Recipes With Lettuce Under 200 Calories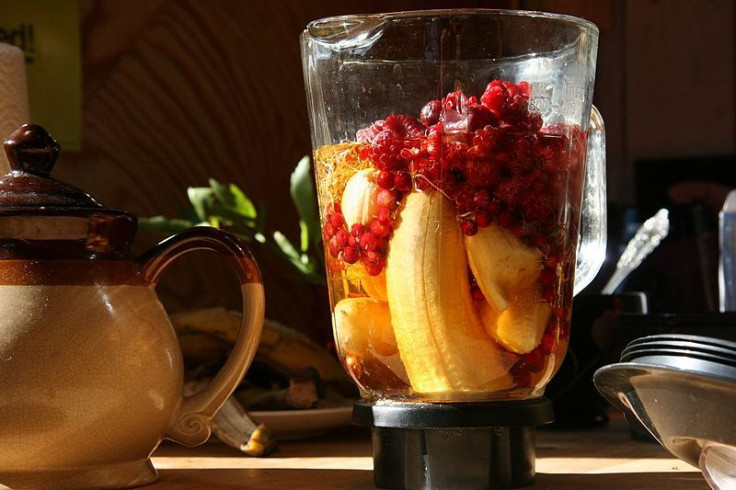 If lettuce is the main dish on your plate, chances are the only recipe with lettuce you are consuming is a salad.
Salad greens are consumed daily by most Americans, with an increase in per capita consumption of romaine lettuce from five pounds in 1993 to over 11 pounds in 2010 says the University Of Kentucky College Of Agriculture (UKAG). The ready-to-eat dish provides a quick-and-easy way to get an abundance of nutrients with no preparation necessary — unless you opt to prepare a homemade dressing. Romaine salads are particularly high in vitamin A, a nutrient vital for growth and development, and vitamin K, a nutrient necessary for protein modification and normal blood clotting says the American Cancer Society (ACS).
Chef Naval Kishore of Cocoa House said to the Deccan Herald, "In some places, people ask for 250 grams to 300 grams of packed salads which means it is 70 percent of their diet of their lunch or dinner." Salad bars give the consumers the option of what kind of lettuce, toppings and dressing they want on their salad. Hale and Hearty, a food chain founded in New York City in 1995, is known for its extensive tossed salad bar options providing four free ingredients and over 45 fresh toppings that are individually priced.
Now, as you have exhausted every salad combination out there and cringe at the thought of consuming another "individualized salad," what do you do?
Keep calm and crunch on with these five lettuce recipes just under 200 calories per serving — plus get a side of healthy fun facts by us. The best part ... These recipes with lettuce are salad free!
1. Strawberry-Kiwi Greenie Smoothie 100 Calories
Ingredients:
1-2 cups kale, spinach, or Romaine lettuce (Start with Romaine if you're not fond of greens)
1 Kiwi fruit
1 Cup of fresh or frozen strawberries
Water or orange juice
Preparation:
Place 1-2 cups of washed and chopped greens in the blender and add water or orange juice to cover. Blend for a few seconds until the greens are well chopped. Peel the kiwi fruit, discarding the fuzzy brown outer shell, and slice the fruit. Add sliced fruit to blender. Wash and remove stems from fresh strawberries, or add frozen, organic, unsweetened strawberries to the blender. Blend on Smoothie setting until the mixture has the consistency desired. If it's too stiff to blend, add more water or juice. Drink as much as you wish. Store unused portions in the refrigerator for up to two days. The flavors taste even better when they've had the chance to sit overnight.
Healthy Fun Facts:
This sweet, on-the-go green smoothie is loaded with plenty of nutritional value to replenish and quench your body. Strawberries are among the most popularly consumed berries with an excellent source of vitamin C with a reference daily intake (RDI) of 98 percent per 100 grams, says the University of Illinois at Urbana-Campaign College of Agricultural, Consumer and Environmental Sciences. This rich in vitamin C food can help the body develop resistance against infection, inflammation and harmful free radicals. One cup of romaine lettuce offers 48 micrograms (mcg) of vitamin K and 4,094 international units (IU) of vitamin A.
Recipe courtesy of Raw People.
2. Vietnamese Summer Rolls 104.2 Calories
Ingredients:
Dipping Sauce
1/2 cup fresh lime juice
3 tablespoons fish sauce (such as nam pla or nuoc nam)
3 tablespoons sugar
2 fresh red Thai chiles or 1 red jalapeño or Fresno chile, thinly sliced
Summer Rolls
4 ounces bean thread noodles (cellophane or transparent noodles)
12 8"-9" rice paper rounds
18 cooked medium shrimp (about 10 ounces), peeled, deveined, halved lengthwise
1 cup fresh basil leaves
1 cup fresh cilantro leaves plus 1 tablespoon chopped
1 cup fresh mint leaves
1 cup daikon sprouts, optional*
1 cup English hothouse cucumber, cut into matchstick-size pieces
1 cup carrot, cut into matchstick-size pieces
12 small green or red lettuce leaves
*Sold as daikon microgreens
Preparation:
Dipping Sauce
Mix all ingredients in a medium bowl. Can be made 1 day ahead of time. Cover and chill.
Summer Rolls
Put noodles in a large bowl. Pour enough hot water over to cover; let stand until softened, about 10 minutes. Drain. Transfer to a large bowl of ice water to cool; drain and set aside.
Fill a pie plate with warm water. Working with 1 rice paper round at a time, soak rice paper in water, turning occasionally, until just pliable but not limp, about 30 seconds. Transfer to a work surface. Arrange 3 shrimp halves across center of round. Top with some leaves of each herb, then daikon sprouts (if using), cucumber, and carrot. Arrange a small handful of noodles over. Place 1 lettuce leaf over, torn or folded to fit. Fold bottom of rice paper over filling, then fold in ends and roll like a burrito into a tight cylinder. Transfer roll, seam side down, to a platter. Repeat to make 11 more rolls. Can be made 1 hour ahead of time. Cover with a damp kitchen towel and refrigerate.
To serve, cut rolls in half on diagonal. Add chopped cilantro to dipping sauce.
Healthy Fun Facts:
These rice paper-wrapped salad rolls are commonly served with a bean dipping sauce. The shrimp in this low-calorie dish can account for 25 percent of the iodine daily intake with 35 mcg in a three ounce (oz) serving, says Live Strong. If you opt to use red lettuce leaves, one serving (85g), contains 127 percent of the daily value (DV) of vitamin A and 149 percent for vitamin K says the United States Department of Agriculture (USDA).
Recipe courtesy of Bon Appétit.
3. Chopped Chicken Lettuce Wraps Two - 230 Calories, One - 115 Calories
Ingredients:
1-1/2 pounds boneless skinless chicken breasts, cubed
1 tablespoon and 1-1/2 teaspoons peanut oil, kept separate
3/4 cup chopped fresh mushrooms
1 can (8 ounces) water chestnuts, drained and diced
1 tablespoon minced fresh gingerroot
2 tablespoons rice vinegar
2 tablespoons reduced-sodium teriyaki sauce
1 tablespoon reduced-sodium soy sauce
1/2 teaspoon garlic powder
1/4 teaspoon crushed red pepper flakes
1-1/2 cups shredded carrots
1/2 cup julienned green onions
12 Bibb or Boston lettuce leaves
1/3 cup sliced almonds, toasted
Preparation:
In a large nonstick skillet coated with cooking spray, cook chicken in 1 tablespoon of oil for 3 minutes; drain. Add the mushrooms, water chestnuts and ginger; cook 4-6 minutes longer or until chicken is no longer pink. Drain and set aside.
In a small bowl, whisk the vinegar, teriyaki sauce, soy sauce, garlic powder, red pepper flakes and remaining oil. Stir in the carrots, onions and chicken mixture.
Spoon onto lettuce leaves; sprinkle with almonds. If desired, fold sides of lettuce over filling and roll up.
Healthy Fun Facts:
This healthy and scrumptious dish is loaded with plenty of nutrients for the body. The consumption of dried white button mushroom extract can help increase the vitamin D levels in a person's diet as effectively as vitamin D2 or D3 supplements, says an article published in the Journal of the Federation of American Societies for Experimental Biology (FASEB). Mushrooms and rice vinegar are known to boost metabolism as they provide instant energy and good bowel movement. The addition of rice vinegar helps the body easily absorb calcium and different vitamins and minerals due to its acetic acid content, says the Chicago Tribune.
Recipe Courtesy of Taste of Home.
4. Braised Peas With Scallions And Lettuce 142 Calories
Ingredients:
A pat of butter (about 1 tsp.)
Olive oil
6 scallions (green onions), trimmed, outer leaves discarded, and finely sliced
1 head romaine lettuce, washed and sliced
2 16 ounce package frozen peas
Freshly ground black pepper
Sea salt
1 teaspoon all-purpose flour
1 - 1 1/2 cups reduced-sodium chicken or vegetable stock
A few sprigs of fresh mint
Juice from half of a lemon
Extra virgin olive oil
Preparation:
Melt the butter in a medium skillet over medium heat. Add about 1 tablespoon olive oil and the sliced scallions. Cook for a few minutes, or until the scallions are softened. Meanwhile, slice the lettuce leaves, saving a few tender inner leaves to add at the end. Turn the heat up and add the peas, sliced lettuce, and a pinch of salt and pepper. Cook for 1 minute, then sprinkle in the flour and stir until everything is lightly coated. Slowly pour in the stock, then cover and turn the heat up to high. Cook for 4 minutes or until the peas are tender.
Taste and add another pinch of salt or pepper if needed. Pick the mint leaves, finely chop, and sprinkle into the pan. Add the lemon juice. Slice the reserved lettuce leaves, then scatter those on top and serve immediately with a tiny drizzle of extra virgin olive oil. Makes 8 servings.
Healthy Fun Facts:
This primarily leafy green dish contains plenty of flavor with the addition of scallions. The green onion is low in calories, coming in at 32 calories per cup, says Self. It is no surprise that this green vegetable is also an excellent source of vitamin K like romaine lettuce, with 259 percent of DV in one cup. Peas are loaded with vitamin C — one cup of peas will give you 98 percent DV. This healthy snack also contains 21 percent DV of vitamin A and 31 percent DV of vitamin K, says Self.
Recipe courtesy of Better Homes and Gardens.
5. Lettuce and Green Garlic Soup 174 Calories

Ingredients:
Use a flavorful broth — chicken or vegetable — to enhance the subtle flavors in this thick, comforting soup.
1 tablespoon extra virgin olive oil
1 medium onion, chopped
1 bulb green garlic, stalks and papery layers removed, roughly chopped
1/2 cup rice
7 cups chicken or vegetable stock
1/2 cup parsley leaves
A bouquet garni made with a bay leaf and a few sprigs each parsley and thyme, tied together
Salt to taste
3/4 pound lettuce leaves, washed and coarsely chopped (8 cups)
A generous amount of freshly ground pepper
2 tablespoons chopped flat-leaf parsley or chives for garnish
Freshly grated Parmesan for garnish
Preparation:
Heat the olive oil in a large, heavy soup pot over medium heat and add the onion. Cook, stirring, until it is tender, about 5 minutes. Add a generous pinch of salt and the garlic and cook, stirring, until the garlic is fragrant, about 1 minute. Add the rice, stock, parsley leaves and bouquet garni, and bring to a boil. Add the lettuce and salt to taste, reduce the heat, cover and simmer over low heat for 30 minutes. The tough ribs of the lettuce leaves should be thoroughly tender.
Using an immersion blender or a regular blender (working in batches and covering the blender with a kitchen towel to prevent the hot soup from splashing), blend the soup until smooth. If using a regular blender, return the soup to the heat. Add lots of freshly ground pepper, taste and adjust salt. Heat through and serve, garnishing each bowl with chopped fresh parsley or chives and freshly grated Parmesan.
Advanced preparation: You can make this a day ahead, but you will probably want to thin it out a bit when you reheat it.
Healthy Fun Facts:
The onions in this heart healthy warm soup are a very good source of vitamin C, B6, biotin, chromium, calcium and dietary fiber, says the National Onion Association (NOA). They have a high content in folic acid and vitamin B1 and K. The flavonoids in onions act as antioxidants that can improve your immune system — thin blood, lower cholesterol, raise HDL cholesterol (good type), prevent blood clots, and treat infections associated with stomach cancer among many others. The combination of onions and garlic can provide numerous benefits to your immune system since allicin, an antioxidant that's present in garlic, makes it a powerful antibiotic to fight infection and bacteria.
Recipe courtesy of New York Times.
Published by Medicaldaily.com