50,000 Residents In Liberian Slum Placed In Quarantine Over Ebola Threat; Police Respond To Frightened Crowds By Firing Tear Gas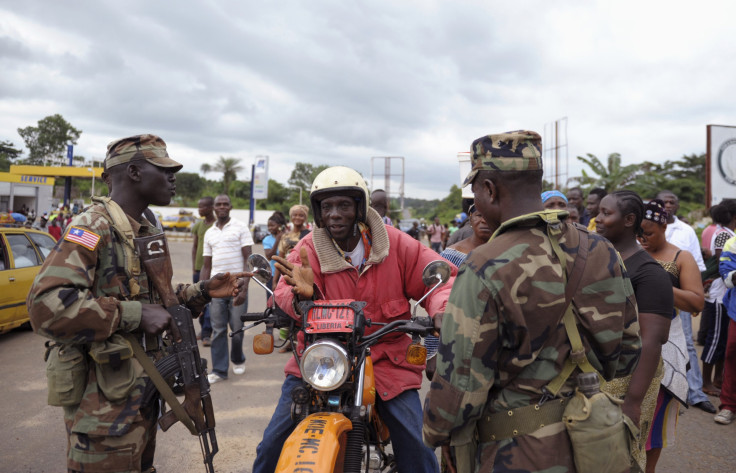 West Point, the largest slum in Liberia's capital of Monrovia, was placed under quarantine Tuesday in an effort to prevent Ebola from spreading to the rest of the city. News of the police-forced quarantine was not taken well by the frightened residents. Some responded by throwing stones in a desperate attempt to be let free, until, according to witnesses, Liberian police fired tear gas into the terrified crowds.
In less than a week, the situation in Liberia has quickly deteriorated. On Friday, a group of angry bat-wielding youths looted a quarantine center in Monrovia, freeing nearly 30 Ebola-suspected patients and stealing countless Ebola-infected materials, Reuters reported. In a brief interview with the BBC, Liberia's information minister, Lewis Brown, called the raid the "greatest setback" in the fight to control Ebola's spread since the outbreak began. Of the 29 escaped Ebola patients, the whereabouts of 17 still remain unknown, and Brown believes they have gone "back into their communities," thus propeling the virus' spread.
Despite previous announcements that West Point was not under any form of quarantine, yesterday Liberian President Ellen Johnson Sirleaf decided the slum's Ebola threat was too great and ordered the 50,000 residents to be cut off from the rest of the country. "We have been unable to control the spread due to continued denials, cultural burying practices, disregard for the advice of health workers and disrespect for the warnings by the government," she said as reported by The Wall Street Journal. "As a result and due to the large population concentration, the disease has spread widely in Monrovia and environs."
The quarantine was enacted without warning, with witnesses reporting that blockades made with "tables, chairs, and barbed wire," went up overnight. "We just saw it (the blockade) this morning. We came out and we couldn't go anywhere. I haven't heard from anybody in authority what happened," Alpha Barry, 45, who works as a money changer, told Reuters.
There were no injuries reported in the clash between Liberian police and frightened West Point residents, but without warning of the forced isolation, many did not have time to buy food or make arrangements with work. "I don't have any food and we're scared," added Barry, who explained that he has four children under 13.
As of Aug. 19, 2014, the World Health Organization (WHO) reported that there have been 2,240 confirmed, probable, and suspected cases of Ebola, with 1,229 of those resulting in death. As of yet, these cases have only been reported in the following countries: Guinea, Liberia, Nigeria, and Sierra Leone.
The WHO continues to discourage any travel or trade restrictions to be applied. Still, as reported by Businessweek, not all have followed the WHO's advice. Kenya Airways, Emirates, British Airways, Korean Air Lines, as well as several smaller African carriers have been reported to restrict or halt flights to countries in or near the outbreak's epicenter.
Published by Medicaldaily.com