6 Alarm 'Suspicious' Fire Devastates Jersey Shore Boardwalk, 12 Firefighters Suffer Smoke Inhalation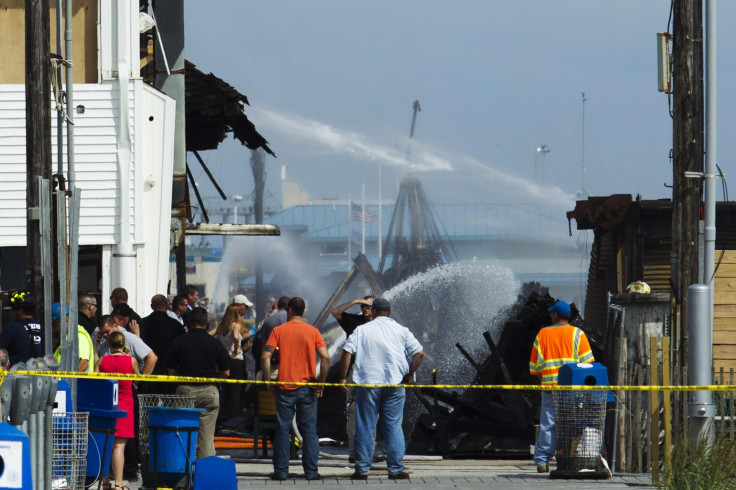 A stretch of Jersey shore boardwalk that had been rebuilt after Superstorm Sandy went up in flames on Thursday afternoon. No serious injuries were reported, but 12 firefighters suffered from smoke inhalation, Seaside Heights Police Chief Thomas Boyd told USA Today. The fire, which began near a Kohr's Custard Stand at the Funtown Pier on the Seaside Park boardwalk, destroyed or harmed about 30 businesses within four blocks, ABC News reported. Firefighters finally contained the blaze around 11 pm Thursday night.
Investigators told ABC News they believe the circumstances around the fire may be "suspicious." Their reasons include the fact that there was no obvious cause and a large number of firefighters were not immediately on hand to fight the blaze as they were in Atlantic City for the annual New Jersey Firemen's Convention.
About 400 firefighters arrived to battle the fire and nearly a hundred remained there till Friday, when they continued to pour thousands of gallons of water on smoldering remains.
Smoke released by any type of fire contains carbon monoxide, carbon dioxide, and particulate matter (soot). Additionally, smoke may contain different chemicals, including aldehydes, acid gases, sulfur dioxide, nitrogen oxides, polycyclic aromatic hydrocarbons (PAHs), benzene, toluene, styrene, metals, and dioxins, according to the New York State Department of Health. Inhaling carbon monoxide decreases the body's oxygen supply, which may lead to headaches and reduced alertness. Studies have found that long-term exposure to fine particulate matter in the air, including air pollution, may cause an increased risk of cardiovascular disease and mortality.
The blaze damaged a stretch of boardwalk that had been harmed but not destroyed by Hurricane Sandy. Some of the newly-constructed segments of the boardwalk were bulldozed by fire crews in their efforts to stop the fire. Firefighters removed a 25-foot section of boardwalk and filled in the gap with piles of sand, USA Today reported.
Published by Medicaldaily.com