6-Year-Old Chinese Boy Is Left with No Face after Playing with Fire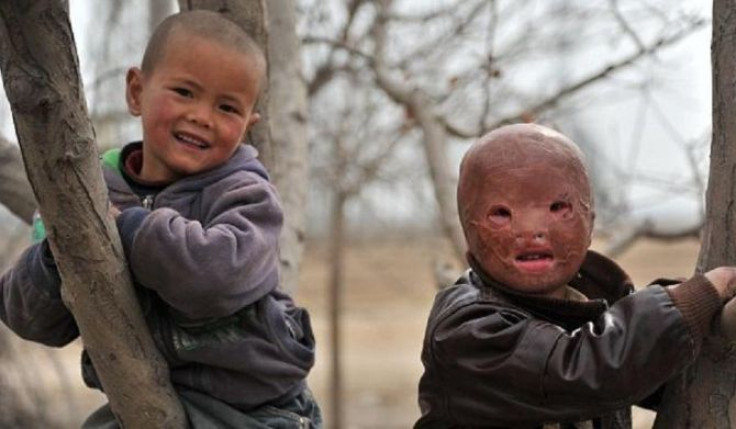 A six-year-old Chinese boy, horribly disfigured by an accident while playing with a lighter two years ago, lives behind a mask of scar tissue and has a face that is almost featureless.
Wang Xiaopeng, 6, from Yinchuan in China's Ningxia Province was left with no hair, lips, eyelids, and toes since he was severely burned in November 2010. His burns were so severe that he now has difficulty seeing and all his fingers have been amputated from the second joint, the Daily Mail reports.
He had set himself on fire while he was playing with a lighter and accidentally set a pile of corn straw on fire. His parents had rushed him to Ningxia Medical University General Hospital where doctors managed to save him.
While the boy's life was spared, he was left horribly disfigured because his parents could only afford to pay for three months of treatment. They had to spend their life savings and sell their house and land to pay for the 150,000 yuan ($23,780) hospital bill.
The family currently lives on a plot of land smaller than half an acre.
The boy's father Wang Yougiu, 32, a dairy father, earns only 2,000 yuan ($317) a month and his mother Zhengwei Xiu, 30, is a housewife.
'We know the younger children have a skin graft and cosmetic surgery the better. But there isn't the money,' the boy's father said, according to the Daily Mail.
When Xiaopeng's parents tried to take him to a nearby school, the teachers sent him home after just one day because of his scarred appearance.
"Seeing my son like this is so painful," Xiaopeng's father said, and he added that Xiaopeng feels tremendous pain in the summer when the heat and mosquitos irritate his sensitive skin.
Doctor Li Jinning, from Ningxia Medical University hospital, told The Sun that the 6-year-old needs at least three operations to get back his "human" shape. Jinning said that each phase may cost around 100,000 yuan ($15,851) totaling to about 300,000 yuan ($47,541).
Although China is a Communist country, many of its people still have to buy basic medical insurance which covers only half of the costs of their healthcare, and the remainder is usually paid by either the patients themselves or by their health insurer, which leaves the country's most impoverished struggling to pay for costly treatments and procedures for conditions like Xiaopeng's.
Published by Medicaldaily.com