60 Abortion Clnics Closed In 2014; Number Of Total Clinics A Quarter Less Than It Was 5 Years Ago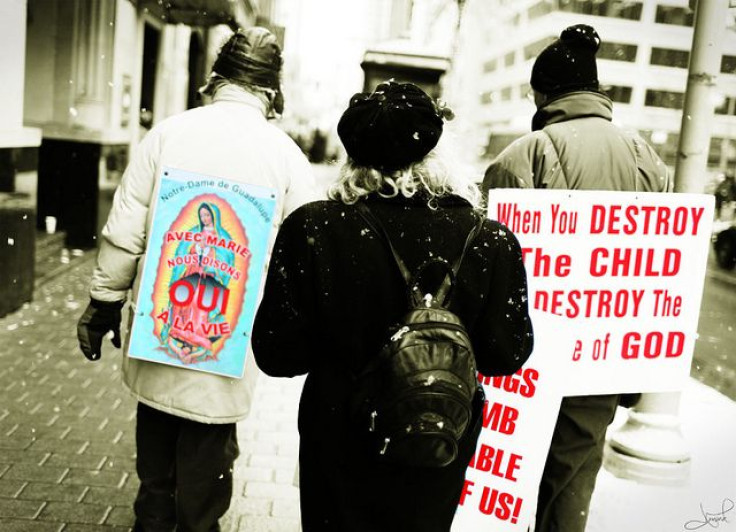 Abortion clinics have been closing at an alarming rate since 2010 — and a recent trends report from Operation Rescue, an anti-abortion group, doesn't show any signs of stopping.
The survey confirmed 60 surgical abortion clinics were closed for all or part of 2014; 14 were allowed to reopen due to court action. This brings the total number of abortion clinics in the United States — surgical and medication-only — to 739, nearly a quarter less than the number of clinics open five years ago. Though a significant amount, it's still less than the 93 closings reported in 2013.
Texas, unsurprisingly, reported the greatest number of closures after the U.S Supreme Court ruled the state "could begin enforcing restrictions on abortion clinics that critics of the new rules say will force all but seven of the facilities in the state to shut down."
"We are continuing to witness the implosion of the abortion cartel in America," Troy Newman, president of Operation Rescue, said in the press release. "The only things that are preventing total collapse are court injunctions that are blocking several state abortion safety laws from being enforced. Once those laws clear the courts, we expect to see even more dangerous abortion facilities close. This is great news for women and babies because when abortion clinics close, lives are saved."
According to the Guttmatcher Institute, one in three women will have an abortion in her lifetime. And these women aren't just sexually active teens who only account for 18 percent of total women who opt for the procedure. Women in their 20s account for more than half of all abortions, and 61 percent of abortions are obtained by women with one or more children.
Fewer abortion clinics doesn't necessarily mean fewer women will have the procedure. What it does mean is fewer women will have the opportunity to safely undergo the procedure, should they need to. Back-alley abortions sound horrifically ancient, but as Newman's survey pointed out, pro-life activists continually find "incompetent and/or criminal behavior committed by abortionists." And in 2009, a study reported 20 million abortions were not done safely, resulting in 68,000 maternal deaths.
Planned Parenthood has cited research dating back to the 60s that finds legal abortion and open abortion clinics reduces risk of maternal death and birth rates "among women for whom the health and social consequences of unintended childbearing are greatest." That reproductive resources and support found to benefit both women's and men's physical, mental, and social health qualifies as a "cartel" seems like a stretch, to say the least.
Published by Medicaldaily.com