60% Of Food Choking Cases Occur In Children Under The Age Of 4; Ways To Prevent Your Child From Choking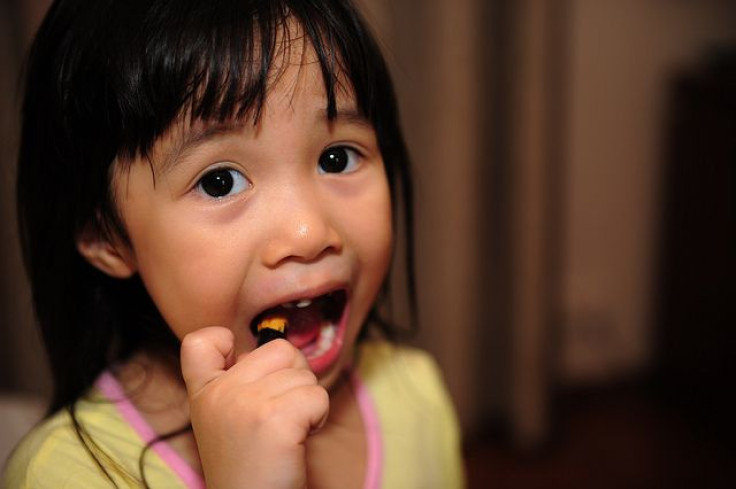 The CPR (cardiopulmonary resuscitation) timeline predicts that brain damage is possible when a person stops breathing, as is the case during many choking incidents, between four and six minutes; brain damage is probable between six and ten minutes while brain death is probable after ten minutes of breath cessation.
Choking, a typical reason for a child to stop breathing, has been identified by researchers of a new study published in Pediatrics as a leading cause of injury among children, especially for children four years of age and younger. According to the researchers, more than 12,000 children — about 34 each day — are taken to a hospital emergency room each year for food-choking injuries.
Study Results
Researchers at the Center for Injury Research and Policy of The Research Institute at Nationwide Children's Hospital, along with colleagues at Centers for Disease Control and Prevenion (CDC), examined nationally representative records of nonfatal food-related choking among children from 2001 to 2009. The children in the study included those from the age of 14 and younger. They also reviewed narratives accounts embedded within the medical records to identify details about the incidents, including the types of food involved.
The research yielded the following statistic: During the nine-year study period, about 34 children each day were treated in U.S. emergency departments for injuries from choking on food. Children under the age of one accounted for close to 40 percent of nonfatal food-related choking cases, with the mean age being 4.5 years, while boys accounted for more than half (55.4 percent) of all cases.
"Improved surveillance, food labeling and redesign, and public education are strategies that can help reduce pediatric choking on food," wrote the authors.
Of all food types, hard candy was the most frequent culprit and found to be the cause of choking in an estimated 15.5 percent of cases. Each of these categories of food types — other candy, meat, and bone — were contributing factors in between 12 and 13 percent of all incidents. It is significant to note that, by age four, more than half of choking episodes involve candy.
"Other high-risk foods, such as hot dogs, seeds and nuts, were more likely to require hospitalizations," said Gary Smith, M.D., director of the Center for Injury Research and Policy in a statement issued to the press. "These foods have high-risk characteristics that make them more likely to block a child's airway or make them more difficult to chew, which can lead to more serious choking events."
Fortunately, the overwhelming majority of patients (87.3 percent) were treated and immediately released, but one out of 10 required hospitalization, while another 2.6 percent left against medical advice. The full total amounted to an estimated 111,914 children treated in U.S. hospital emergency rooms between the years 2001 and 2009, which amounts to a rate of 20.4 visits per every 100,000 children.
Although more than 60 percent of choking episodes occurred among children four and younger, the number of choking episodes decreased with increasing age until seven years of age. After this marker, the number of non-fatal choking episodes remains relatively unchanged through age 14.
According to Mayo Clinic, the recommendation for a choking victim is to first deliver five back blocks between the person's shoulder blades with the heel of your hand, followed by five abdominal thrusts, also known as the Heimlich maneuver, if choking persists,
Heimlich Maneuver
An American doctor, Henry J. Heimlich was born in Wilmington, Delaware in 1920 and educated at Cornell Medical College. Heimlich, according to Wikipedia, first published his views about the maneuver in an informal article published in Emergency Medicine in 1974. Following is a summation, slighly amended, of how to perform the life-saving maneuver on children:
For small children, lay the child down, face up, on a firm surface and kneel or stand at the choking child's feet.
For infants, hold the baby on your lap facing away from you.
Place the middle and index fingers of both hands below the rib cage and above the navel of the child/infant. Press into the victim's upper abdomen with a quick upward thrust.
Do not squeeze the rib cage.
Be very gentle.
Repeat until object is expelled.
Prevention
As the most prevalent cause of fatality among children, according to the CDC, is unintentional injury, of which choking is just one possible source, the Nationwide Children's Hospital recommends that caregivers be aware of food choking prevention guidelines.
The most important recommendation is that children younger than five be supervised at all times while eating. It is also recommended that caregivers cut raw fruits and vegetables into small pieces and remove seeds and pits, and never give hard candies or gum to a child that age.
Additionally, the Department of Health in the State of New York recommends that
Children should be provided a calm, unhurried meal and snack time.
Children should sit up straight when eating, should have sufficient number of teeth, and a child's muscular and developmental ability should correspond to chosen foods.
Children should never eat while walking, riding in a car, or playing.
Children should not swallow solids and liquids at the same time. It is best to offer liquids between mouthfuls.
Additionally, it is advised that caregivers cook or steam vegetables to soften their texture and also cut hot dogs both lengthwise and widthwise. Because peanut butter can form a glob in the mouth, use only a small amount with jelly, or cream cheese on bread.
Finally, parents and others who look after children need to pay particular attention to small objects, toys, and other household hazards that pose choking hazards, according to the authors of the study.
Source: Chapin MM, Rochette LM, Annest JL, Haileyesus T, Conner KA, Smith GA. Nonfatal Choking on Food Among Children 14 Years or Younger in the United States, 2001-2009. Pediatrics. 2013.
Published by Medicaldaily.com